When it comes to the perfect location for a mini-getaway, it's hard to go past the Hunter Valley. After all, it ticks all the boxes of long weekend luxury. There's a whole host of gorgeous retreat-style accommodation and boutique eateries on offer. And of course, it's also home to some of Australia's very best wineries. But while luxury villas and vinos aplenty sounds like paradise, it's not the first thing most of us associate with being pet-friendly. 
But we come with GOOD NEWS – you don't have to choose between your doggo and a delicious dry red! Fortunately, this region is one of the many in Australia that is waking up to catering to pets AND people. In fact, it's now teeming with them, with pet-friendly accommodation, pet-friendly eateries and pet-friendly wineries.
We've pulled together some of our top picks so that you and your four-legged friend can enjoy the finer things in life, together!
Pet-Friendly Accommodation in the Hunter Valley, NSW
Situated on an equestrian property just 2kms from the centre of historic Wollombi village and a 2 hour drive from Sydney, Applegums is a stylish modern cottage built in traditional colonial style. It has a beautiful outlook, easy access, two bedrooms and a fully equipped kitchen. Breakfast supplies are included, and the accommodation is fully self-contained, so you can enjoy the peace and quiet (though the owners are on hand, should you need anything during your stay).
Nestled in 20 acres of countryside, you'd be mad not to relax on the deck and soak up the views, run your dog in one of our paddocks or walk on the nearby bush trails. And if it's a little chilly? Fire up the woodburner and stay cozy, glass in hand. After some serious down-time, you'll be ready to wine-taste yourself silly at some of the Hunter Valley's most renowned wineries at Broke and Pokolnin. And as for your furry family member – Applegums has been designed with your pet's enjoyment front of mind, with a secure garden and 1m high fencing, plus indoor beds or outside kennels. Your dog is also allowed indoors, for when they've tired themselves out scoping the yards.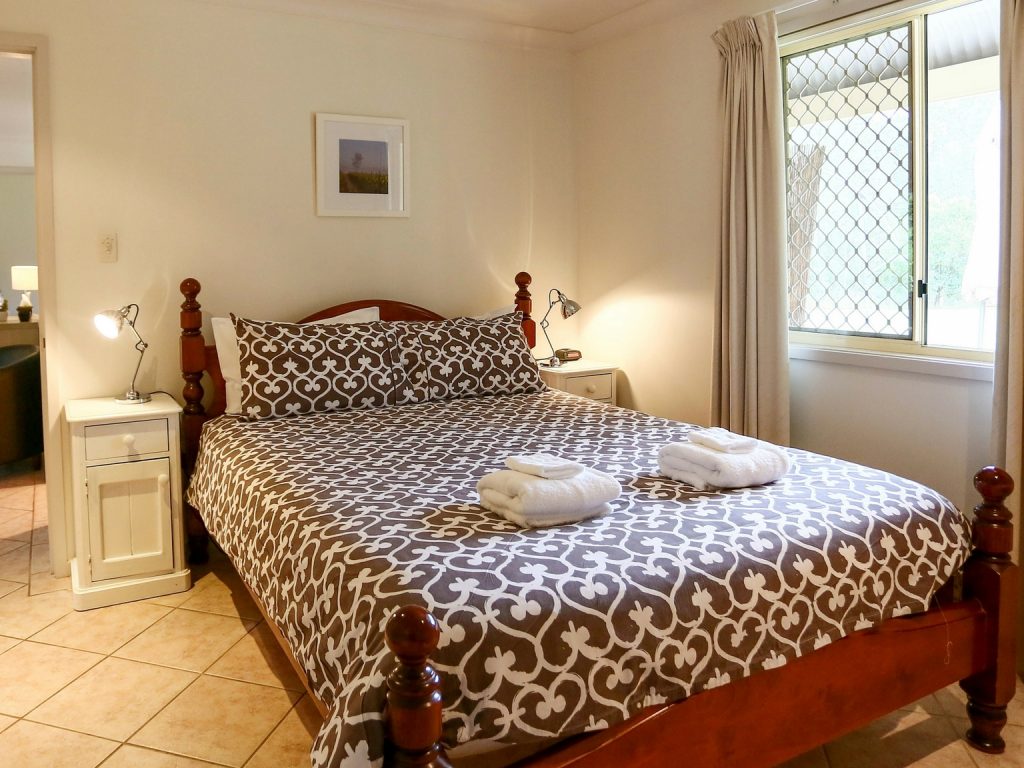 Misty Glen Cottage is the perfect vantage point from which to explore the Hunter Valley, enjoy a vino (or several!) and relax with family, friends and fur-babies alike. Sleeping 1-3 couples or a whole family, this three bedroom, self-contained and pet-friendly cottage is set in a secluded part of the vineyard with a one acre fully fenced garden and alfresco dining.
Dogs are allowed inside and dog bed, toys, bowls and tags are supplied. You can enjoy walks in the Misty Glen vineyard or swim in the dam! Plus, many cellar doors and restaurants allow dogs to accompany their owners when outside. This cottage also accommodates other pets like indoor cats and horses – you just need to enquire prior to booking.
Exploring the great outdoors with your fur-baby? Why not do it in luxury, at Sunrise Lodge. Relax, unwind and enjoy the mountain scenery and spectacular escarpment views across the Megalong Valley. Nestled on the edge of a boutique vineyard, this self-catered lodge features two bedrooms, two bathrooms, ensuite bathroom and fully equipped kitchen. Special additions include a spa bath, open log fire and EXTRA close proximity to some of the finest wine in the region. 
Your pets are more than welcome inside to stay cozy or can equally spend quality time exploring the outdoors. As a working farm and vineyard, there is plenty of secure fencing and space for your pet to romp around. Your hosts are animal lovers themselves and have a soft spot for fur-babies just like yours.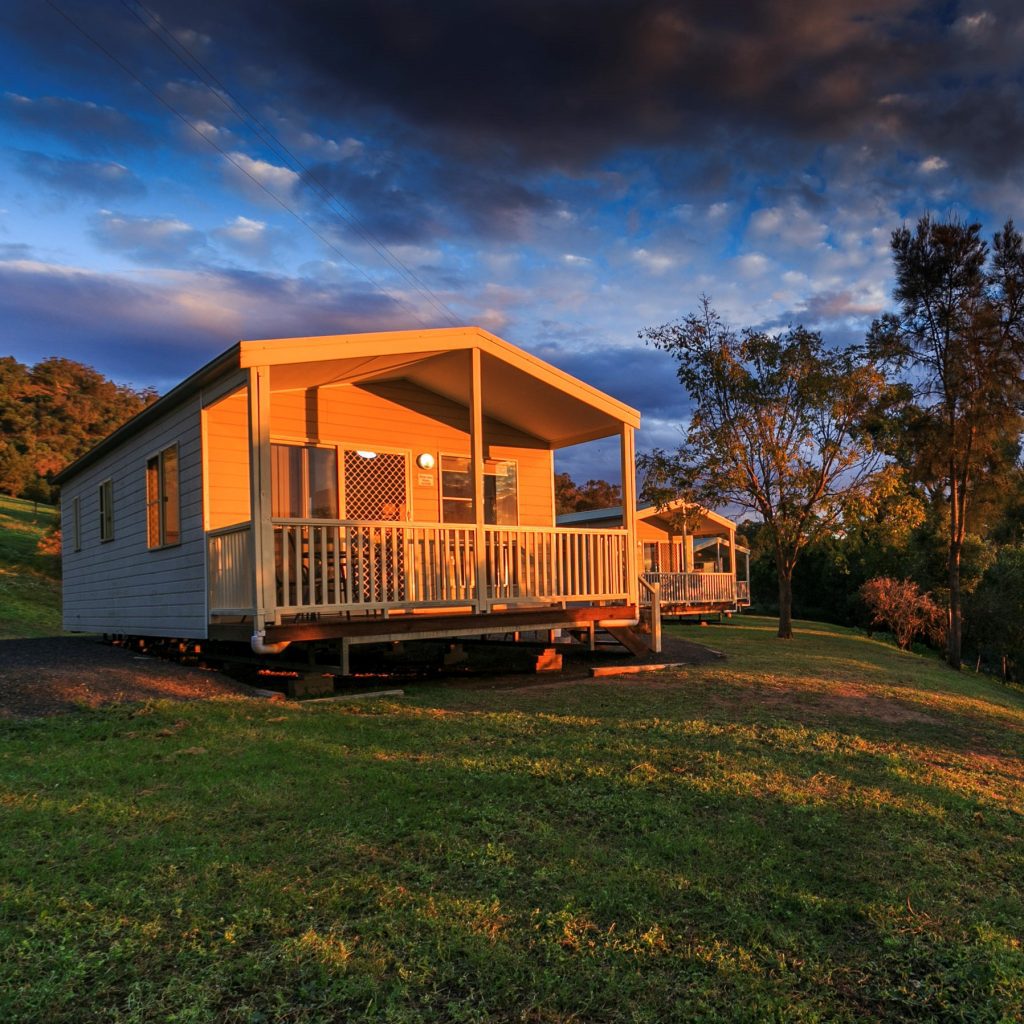 This accommodation offers something a little different to other accommodation options. While we often associate the Hunter Valley with expensive tastes, Reflections Holiday Parks in Lake Glenbawn is the perfect choice if you're looking for a slice of paradise that won't break the bank. This holiday park combines family-friendly camping and caravanning with million-dollar views over Lake Glenbawn. It's located just 15 minutes out of Scone in Upper Hunter country, with picturesque rolling hills, pristine waterways, plentiful wildlife and the best freshwater fishing on your door-step. You can choose from dog-friendly camping and caravan sites or upgrade to a cozy cabin and soak up the scenery in style.
The spacious park is equipped with all the facilities you need for a comfortable stay. Kids and pets are completely welcome and will find ample room to play amongst the park. If you're looking to stretch yourself with a spot of exploring, spend the day on the dam, scope out one of the largest rock-fill embankment walls in Australia, visit the nearby Scone, go water-skilling or try your luck catching a bass or two. And when the day is done, there's nothing like kicking back with a roaring campfire. Reflections Holiday Parks offers that retreat feeling on a family-friendly budget – and with dogs permitted on site all year round, it's a favourite pet-friendly accommodation in the Hunter Valley region.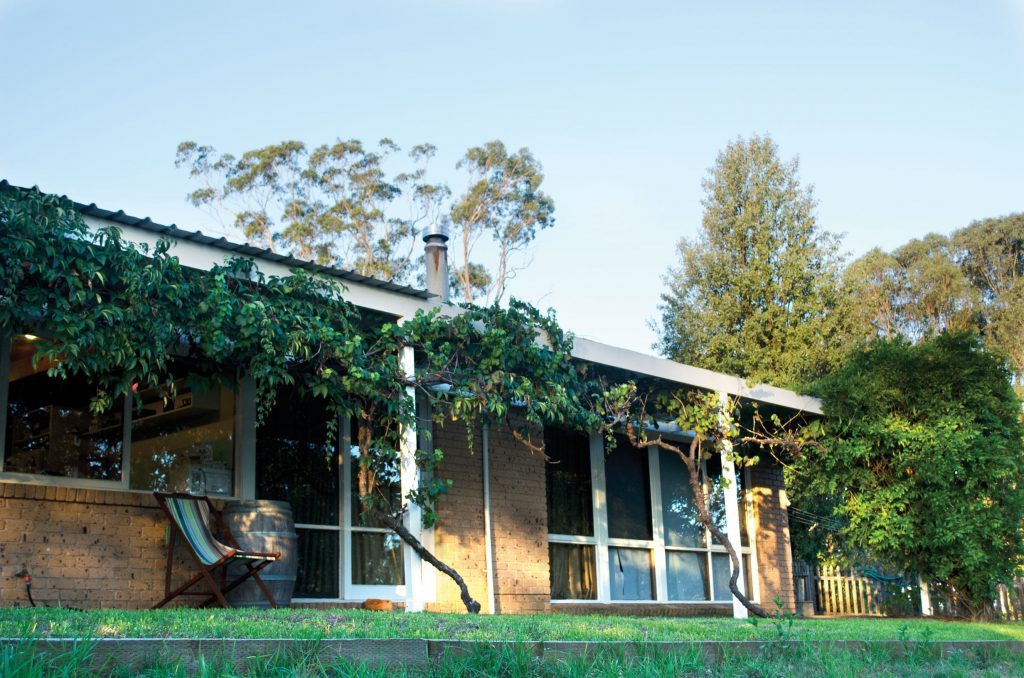 Tucked between gorgeous vineyards in Rothbury, Englewood Ridge is a beautifully decorated home where you and your pets can enjoy everything the Hunter Valley has to offer. With superb views of the Brokenback Ranges and its own 25 gently undulating and lightly wooded acres, this country house is spacious, inviting and equipped with kitchen, laundry, 4 bedrooms and three recently renovated bathrooms. 
This is a self-contained accommodation option, perfect for groups and families who want to enjoy some quiet relaxation and take advantage of close proximity to all the region's best wineries. When you're not out on the vino, enjoy HD TV, DVD players and stereo, or take a dip in the pool (which is fully fenced, for your fur-baby's safety! The gas BBQ is ready for you, with alfresco dining options where your pet can romp around without a worry.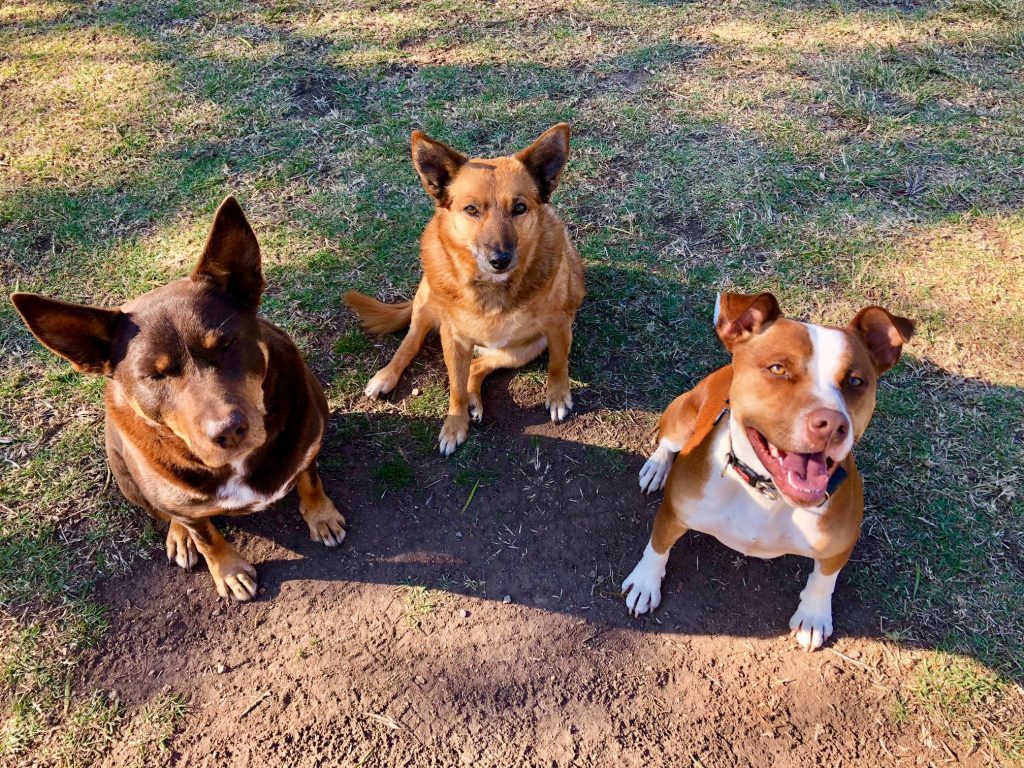 This pet-friendly property is set on 78 acres of farmland in rural New South Wales. If you're looking to sample a taste of country life, this is the place to do it! Choose between a 3-bedroom homestead or 2-bedroom cabin and make the most of the outdoor pool and spa, with magnificent valley views. The Cabin sleeps 4 people, with comfortable queen beds, supplied linen and a fully stocked kitchen, while the Homestead sleeps 6 people, with air conditioning, verandahs and a spa bath inside. Dam It Getaway already has three resident and very friendly dogs, and your pets are more than welcome. You're able to bring along cats, rabbits and even horses – just enquire before arrival so they can cater to your needs!
Pet-Friendly Cafes in the Hunter Valley, NSW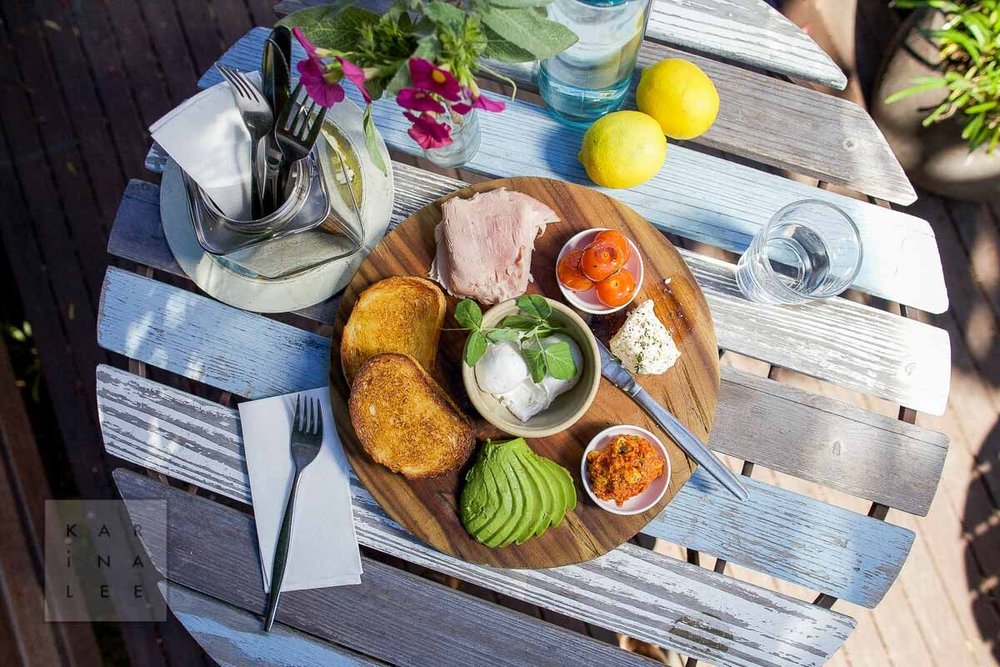 Ask the Hunter Valley locals where they go for a quality brekky, and Cafe Enzo is the name on everyone's lips! It's something of an institution, having been established in 1996! But don't think this means it's even slightly behind-the-times – Cafe Enzo is known for it's totally unique ambience and a sun-drenched, trendy courtyard that is PERFECT for people-watching. Set in the Tuscan-inspired Peppers Creek Village right in the heart of the Hunter Valley, it boasts delicious homemade delicacies and locally grown produce. 
A glimpse at the morning menu showcases staples like egg and bacon rolls with homemade tomato chutney, alongside Instagram-worthy breakfast boards (with vegetarian options!) that include everything from pistachio red pesto, binnorie feta and bershire ham off the bone. If you're looking for something a little sweeter, you can't go past their signature vanilla bean brûlée with pistachio nut biscotti or their coconut raspberry ice cream pyramid. Drooling yet?! Us too. Cafe Enzo is open 7 days a week from 8am to 4-5pm and your pets are welcome to recline and enjoy the atmosphere on the outdoor deck. 
What a find! Love Kitchen is a unique family business that has passed down organic, home-style recipes for generations. The Kerr Family source all their produce from the region, with the majority being organic and plant-based. The values of the Slow Food movement are evident in this special establishment, where they place emphasis on high quality ingredients, sourced ethically and making everything from scratch on site. 
While the menu evolves with the seasons and the chefs' creativity, you can always expect a modern culinary experience that melds indulgence and wellness, with a distinctly Anglo-Italian flavour. Think everything from a BBQ braised beef brisket burger, beef ribs and roast capsicum spaghetti, to innovative options like their vegan meatballs, cheese board and quinoa and lentil steaks! If you're looking for something quick and easy, you'll love the Burger Bar, where you can grab a delicious, organic ciabatta roll to eat on the run or in their gorgeous garden area. Breakfast and lunch is served 7 days a week, as well as their signature high tea. And while you're there, you have to check out their retail space, where you can scope out organic skin care, choccies and organic jams and condiments. Your pets will feel right at home in the alfresco dining spaces.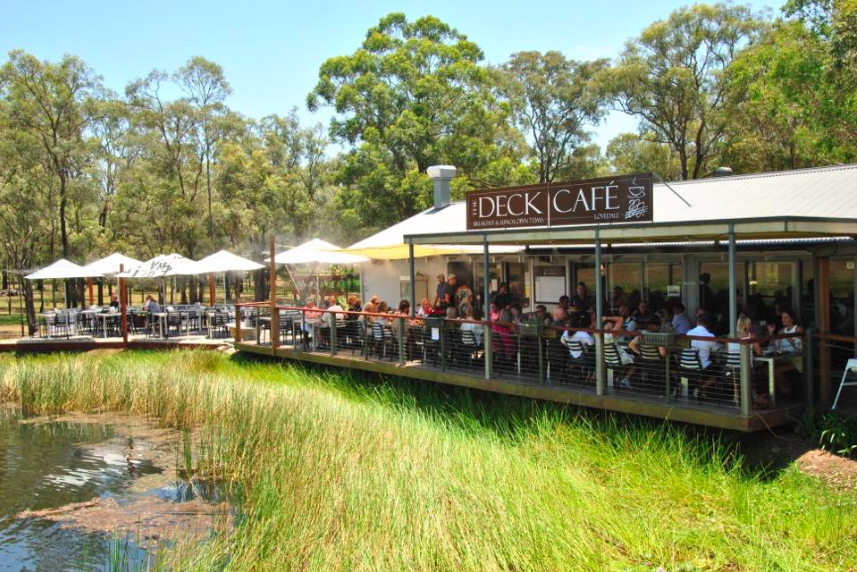 This stylish restaurant-style cafe is located at Gartelmann Wines in Lovedale. It's situation minutes off the Hunter Expressway makes it popular amongst visitors en route to and from the Hunter Valley. Set amongst forest bushland, it overlooks a picturesque dam and is the perfect place to gear up for a day on the vineyards. The menu is diverse, with lunch options that include wild mushroom risotto, wood roasted ocean trout, beer batter snapper, housemate lasagne and their signature 'Decks Salad' of quinoa, roasted pumpkin baby spinach and goats cheese. Plus, whether it's a morning fuel up of Piazza D'oro coffee or a afternoon tipple of Gartelmann wines, you certainly won't go thirsty here. 
The Deck Cafe is open 7 days for breakfast and lunch and can cater for groups and private functions too. It is proudly pet-friendly and your four-legged friends is welcome to enjoy the hustle and bustle in the al fresco dining area.
Pet-Friendly Wineries in the Hunter Valley, NSW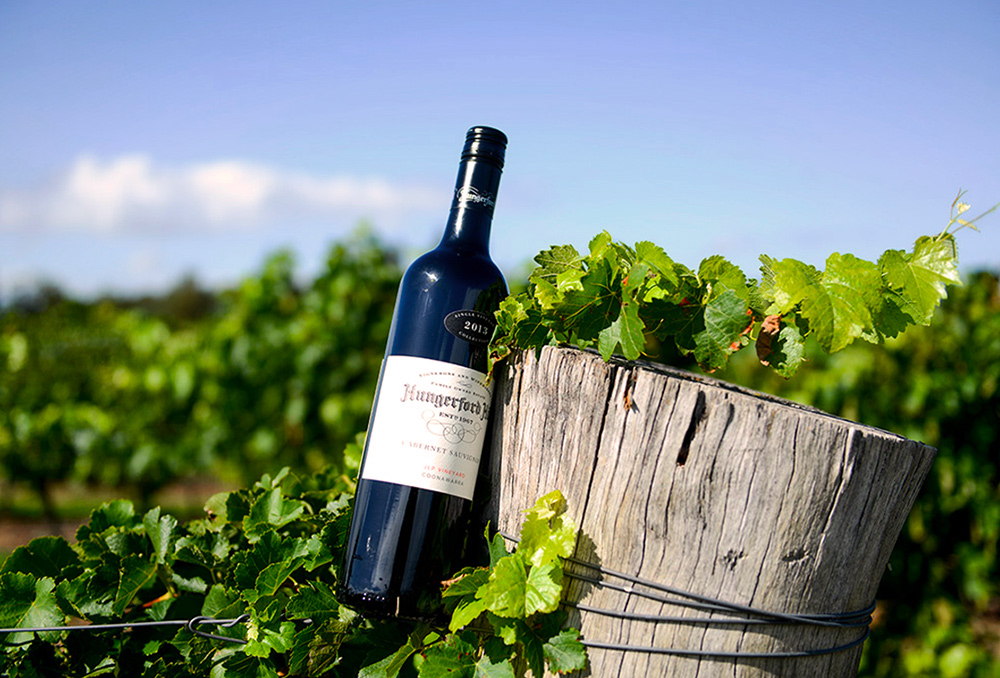 Hungerford Hill is committed to a memorable cellar door experience for every visitor! Located in the heart of the Hunter Valley, this boutique estate was established in 1967 and boasts a reputation for distinguished, award-wining wines. They focus on NSW warm climate Hunter Valley, and cool climate Tumbarumba and Hilltops regions. It's a visually stunning winery, with a unique barrel-shaped tasting room and underground working cellar. 
Hungerford Hill is a pet-friendly winery. You can bring them to a relaxed tasting in the Sculpture Courtyard and enjoy expansive views across the vineyards to the Brokenback Ranges. Sit back and soak up the serenity (and fabulous flavours!) with your fur-baby by your side.
Dalwood Estate is located on the gorgeous Hunter River, NSW, only two hours north of Sydney. Established in 1828, it is considered the birthplace of Hunter Valley wine. They're the longest running commercial vineyard in Australia. Boasting cuttings from the first Australian vine collections, they've been winning prizes at international exhibitions since their conception.
It's a legacy Dalwood Estate carry proudly. Their passionate, knowledgable staff are always ready to offer you a wide selection of unique wine-tasting experiences. As a pet-friendly winery, Dalwood Estate happily welcomes your fur-baby along for a picnic. You can enjoy the gorgeous views from the picnic and BBQ facilities, overlooking the Hunter River and the 260 acres of vineyards.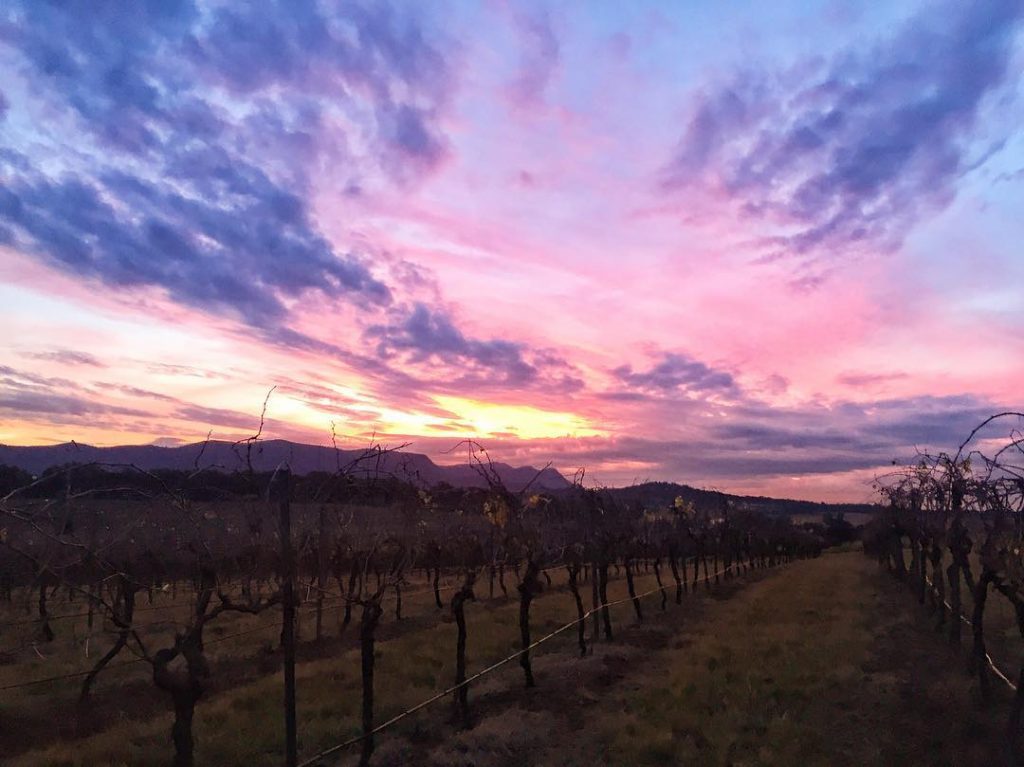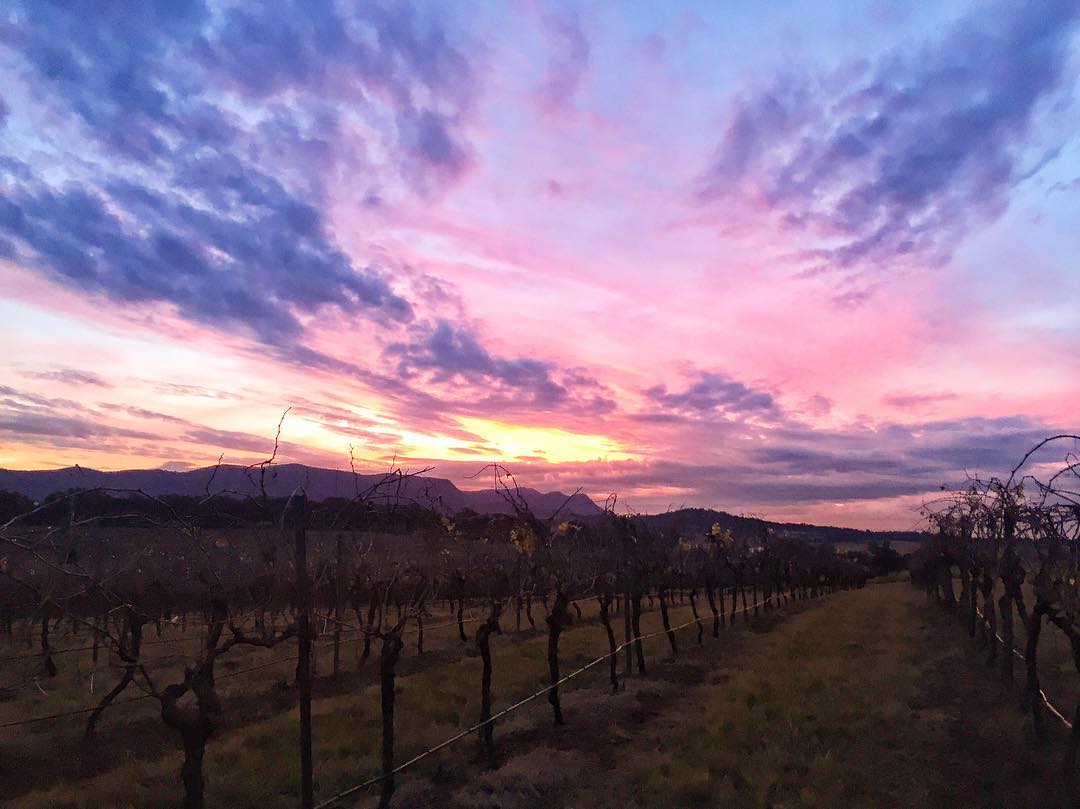 The Hanging Tree Vineyard is perched on a scenic ridge in Pokolbin, right in the heart of the Hunter Valley. It can be easily accessed via a 2 hour drive from Sydney or 40 minute drive from Newcastle. Once a cow shed, their Cellar Door is decorated with antiques and full of rustic charm. It's open for tastings Friday to Sunday (10am – 5pm) and can be visited mid-week by appointment.
The Hanging Tree Vineyard is over 40 acres and specialises in Chardonnay, Semillon, Shiraz and Cabernet Sauvignon. Their various vines range from 15 – 50 years old! The Hanging Tree Vineyard is a proudly pet-friendly winery. If you're lucky, you might even be greeted at the front gate by the welcoming party – Vodka and Muscat, the resident golden Labradors.