Australia is without a doubt one of the best places in the world to travel.  With Australia having the highest rates of pet ownership in the world there is no need to leave your fury little companion behind. Why should they miss out on the fun too. To help you get your travel bug started and your bucket list ready we have compiled what we think are the 10 must-see pet friendly destinations Australia has to offer.  Each pet friendly destination has miles of things to see and do, including offering pet friendly accommodation, pet friendly caravan parks, leash free parks, dog friendly beaches, pet friendly cafes and ensures you and your best friend won't miss out on the trip of a lifetime!
Here are the top ten pet friendly destinations in Australia:
1. South Coast, New South Wales
The South Coast is extremely popular with holiday-makers in Australia and from around the world.  Fortunately there's loads of pet-friendly accommodation there for you to choose from, whether you're bringing a cat, a dog or even a bird! These include caravan parks, B & B's, fully furnished houses to chic cottages. Take your pick!
Shoalhaven provides a huge range of off-leash areas for dog owners. On the beautiful Callala Beach promenade, you can let your dog explore the sand and lovely beaches without a leash from 4:00 PM to 8:00 AM each day. One of the many dog friendly beaches the South Coast has to offer.
Check out pet friendly accommodation on the South Coast
---
2. Great Ocean Road, Victoria
The Great Ocean Road is far more than just tarmac – it's 243 kilometers of fun and sun and considered one of the world's most scenic coastal drives.
In addition to a huge range of pet-friendly cottages and B&Bs throughout the area, you can also take dogs on trail walks into Peterborough township. There are also great off-leash areas at Port Campbell recreation reserve, and at Camperdown Lakes and Craters.
Check out pet friendly accommodation on the Great Ocean Road
---
3. Gold Coast, Queensland
Get lost and unwind with all the attractions and entertainment the Gold Coast has to offer. There are dedicated areas where you can take your dog for a nice run or walk. The Spit and Palm Beach both feature three-kilometer areas where you can ditch the leash and let your furry friend have a bit of fun. It's the perfect way to burn off the calories you've taken in at pet friendly cafes like Burleigh Social or Parc-Bah Espresso where they sell gourmet dog ice-cream for your pooch!
Checkout pet friendly Accommodation at the Gold Coast
---
4. Port Stephens, New South Wales
This beautiful harbour has something for everyone – swimmers, whale watchers, walkers, and more. There are ten designated parks and reserves for exercising dogs, while you take in the beauty of Nelson Bay or Solider's Point with your best friend right beside you.
Hawks Nest on the North Shore has 'LEASH-FREE'  dog friendly zones on all of their stunning beaches & parks.
Be sure to check out 2 Dogs pet friendly cottages at Lemon Tree Passage, with pets allowed inside and an off leash park nearby. I'm sure you will find this pet friendly accommodation caters well for all.
Check out pet friendly accommodation in Port Stephens
---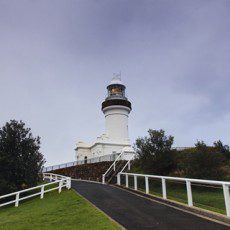 5. Byron Bay/Northen Rivers, New South Wales
Byron Bay is home to the most eastern point on mainland Australia, but it also has some hidden gems for pet owners alike. Belongil Beach is home to beautiful sand dunes where you and your dog can run and walk close to the center of town. Another must visit beach  is Tallows dog friendly Beach, it even made our top 10 pet friendly beaches in Australia list
The Northern Rivers is an unincorporated area that offers a chance to get away from the hustle and bustle of life itself and soak in the beauty of the coast. Pet-friendly accommodation is located throughout the Northern Rivers and  Mango Tree Cottage situated within the Tweed Valley region is just one of many places to unwind.
Check out pet friendly accommodation in Byron Bay
---
6. Sunshine Coast, Queensland
The Sunshine Coast has 13 dog friendly beaches and 24 dog friendly parks for you and your dog to sniff, run through fields and relax to your heart's content. There is a huge array of pet friendly accommodation on offer; not to mention the pet friendly cafes, such as The Velo Project (which has it's own doggy menu), Murray's Cafe, and New Earth Cafe just to name a few.
Check out pet friendly accommodation at the Sunshine Coast
---
7. Fleurieu Peninsula, South Australia
The Fleurieu Peninsula, located just south of Adelaide, offers incredible views over vineyards and beaches, but it's also a great spot for pet owners to visit. Many of the parks in the region, including the Onkaparinga River Recreation Park, allow dogs, meaning that you can walk along rivers, valleys, and gorges as you take in the natural scenery.
Check out pet friendly accommodation in the Fleurieu Peninsula
---
8. Tasmania
It can be a little tricky getting here but it is doable and totally worth it. Tasmania is home to a dedicated dog-walking community. You can catch some fresh air and make new friends – both for yourself and your pet. The island is chock-full of dog-friendly parks and beaches in Hobart, Kingborough, and Huon Valley as well as further afield.
Would highly recommend Tasmania for travelers caravvanning with pets as there are loads of pet friendly holiday parks on offer.
Check out pet friendly accommodation in Tasmania
---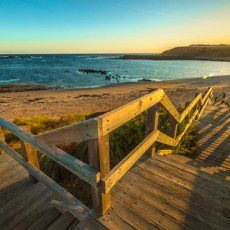 9. Phillip Island/Gippsland, Victoria
Just southeast of Melbourne, Gippsland offers stunning coastal scenery, carefully-preserved natural areas, and an array of gorgeous accommodation for you and your pets. The Best Friend Holiday Retreat, located in the Tarra Valley Rainforest, provides caravans, luxury cabins and camp sites for anyone who wants to bring Fido or Fluffy along on their holiday. Located on ten acres of land, the retreat offers off-leash areas, dog playgrounds, kennels, and even a rock pool where dogs can swim. The Tarra Valley Picnic Area is also nearby, so don't forget to pack a lunch and a few goodies for an unforgettable day out.
Across the bay is Philip Island, which offers a great wildlife park and walks along the coast. You can walk your dog along Bass Coast Shire and the parks at any time from May to November and from 7:00 AM to 10:00 AM and from 5:00 PM to 8:00PM from December to April.
Checkout pet friendly accommodation at Phillip Island and Gippsland
---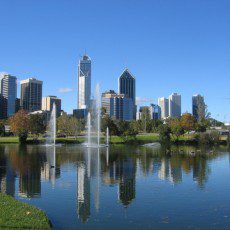 10. South West, Western Australia
The South West region offers unlimited potential for pet owners to have loads of fun on their trips. Perth offers city sights and dog-friendly parks, such as the Ashfield Flats in nearby Bassendean and North Floreat Beach in Cambridge. You can even find places to go camping with your pets along the coast in addition to pet-friendly accommodation, including caravan parks, dotted throughout the region. You can drive down the coast to Mandurah, where there are over 17 kilometers of off-leash beaches and parks for you to explore.
Check out pet friendly accommodation in South West, WA
---
Have you visited any of these destinations? Where is your favorite pet friendly destination? Comment below.