Hi there and welcome to Take Your Pet,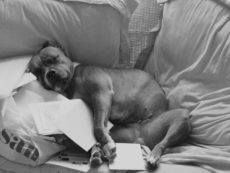 Take your Pet is your one stop online resource when it comes to finding pet friendly areas within Australia.
TYP started as an idea when my husband and I were travelling. Our very spoilt Staffy Bonnie comes with us everywhere and we always seemed to be having trouble finding off leash areas and pet friendly accommodation for our pooch when we would stop for a break along the road or visiting somewhere new. With the internet at our advantage we came to the realisation that we need something at our fingertips, so from then on Take your Pet was born.
Our aim is to list every leash free and pet friendly area in Australia and tend to keep our information updated as often as possible. In saying that this is an extremely long process and we are not invincible and sometimes may have some incorrect information or an area that needs tending to. If there is a problem and you may have been mis-guided please let us know so we can update accordingly.
Your feedback is extremely important to us so if you have any questions or queries, please don't hesitate to contact us.
I hope you enjoy this website and find it as useful as we do,
Take care, the team at Take Your Pet