Touring Adelaide and other parts of South Australia can be an exciting and an educational experience, and an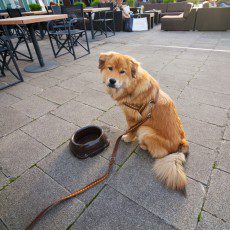 endless stream of travelers seem drawn to this section of the Land Down Under with every passing year. Yet, for pet lovers who can't bear to leave their precious companions behind when they go on vacation, a little extra preparation is needed before heading out. You need to know ahead of time some spots where you can safely take Spot, or fluffy, when you stop for a bite to eat on the go.
Of course, you will also need to find pet friendly accommodation, pet friendly caravan parks, pet friendly parks, and the rest of it. Below, however, we focus just on pet friendly cafes in South Australia to get you started:
In Victoria Square in South Australia's capital city of Adelaide, Thyme Cafe is run be a true animal lover who knows what it's like to have to leave your furry friends at home while you go out for breakfast or brunch. For this very reason, the owner has provided a dogs and pets allowed outdoor dining area with a wonderful view over Victoria Square. You can count on there being plenty of fresh water and a special treat for your pet, which will keep him or her occupied while you focus on the people food.
The Lakeside Cafe, located in the Adelaide suburb of Oakden on Sir Ross Smith Boulevard, is indeed situated by the side of a lake. Actually, there are multiple lakes and a large-sized park nearby, which will make the walk there and back as pleasant to your pet (and you) as the time spent at the cafe itself. There is a spacious outdoor dining zone for pet lovers and their pets, and most of it is under a cover that will keep you out of the wind, sun, and rain.
In the seaside Adelaide suburb of Semaphore, a popular getaway zone for tourists and locals alike, you will find the very dog friendly Whipped Bake Bar Cafe. Water bowls are provided for visiting pooches, the wait staff will love your dog almost as much as you do, and the people food served up here is made from locally grown ingredients.
Escape the hustle and bustle of Adelaide city and enjoy contemporary cafe fare at the Light Bulb Cafe. Enjoy the artwork on display, the beautifully lit interiors all while munching on your fresh food from produce sourced locally. The Light Bulb Cafe has a gorgeous leafy courtyard, making it an ideal place for those with four-legged friends.
In Grange, a seaside suburb of Adelaide, the cafe on Jetty Road is a popular place to eat when out for a day at the beach. The cafe is right by the sand, and your dog will appreciate that fact after a good run along the shore. Dog bowls await in the outdoor pet dining zone where your dog can take a break and quench his thirst. The wait staff are friendly to animals (and people), and the menu has plenty to offer as well. The cafe gets a bit crowded in the morning if the weather is nice, which is good if you like to socialize and your dog does too.
6. Red House Cafe and Vintage Shop
Red House is a quaint, little cafe housed in a renovated railway building in North Adelaide (a distinct city from Adelaide itself). It is more of a coffee shop with pastries and snacks to accompany, and the "D'Angelo coffee" is the talk of the town. Pets are allowed, so if your pet likes the taste of fresh baked goods, the lucky animal will be in for a real treat.
In the Adelaide Hills, about 27 miles southeast of the City of Adelaide is a quaint little town of only about 1,000 called "Birdwood." It gets visitors for its motor museum housed in the old Blumberg Flour Mill and for historical remnants of the gold rush days of the original Prussian settlers, who originally called the town "Blumburg" before an odd form of Anglicization turned it into "Birdwood." In the Blumburg Hotel, you can get some good, old-fashioned pub food. In the town of Birdwood, that means fish and chips, chicken or beef schnitzel, or something off the grill. The pub is quite as pet friendly as its food is delicious, and as it is the most-photographed pub in all South Australia, you should be sure to catch a snapshot of you and your pet together on its premises.
Also in the Adelaide hill country is the town of Bridgewater and the pet friendly Bridgewater Inn. The inn serves some authentically Australian dishes, and it has a spacious, outdoor garden where you can enjoy your meal with your pet, who will demand you share. The garden overlooks Cox Creek and is next to a walking trail. There is greenery all around. It is a true outdoor paradise that your pet will love.
9. The Mt. Lofty Ranges Vineyard
This is a vineyard where you can taste authentic wine grown in South Australian soil, but there is also a cafe on the premises. Dogs and pets are allowed, so you can enjoy what is termed "modern Australian cuisine" like garlicky buttermilk, slow-cooked duck eggs, truffles, and "Balhannah" lamb. The vineyard and its unique cafe are in Lenswood, up in the high country 18 miles to the east of Adelaide. Seeing the vines and the apple, pear, and cherry orchards on the drive up will be as much a part of the experience as visiting the vineyard and its cafe (with spike of course).
About 35 miles southeast from Adelaide, you may wish to visit the town of Strathalbyn. The town hosts a major antique fair toward the end of August, and there is a Sunday market at the local railroad station once a month. Besides that, there is the Appleseed Care, where you can dine outdoors with your dog or other pet and enjoy some good food and some incredibly good coffee. Afterwards, or perhaps before, you can stroll out to the Angas River only a two-minute walk away. There is a park by the river and a small bridge that lets you across. Finally, you will also find a "doggy boutique store," Toto and Bagpuss, within a few minutes' walk of the cafe.