Victoria is about as pet friendly a place as you will find anywhere in the world when it comes to restaurants and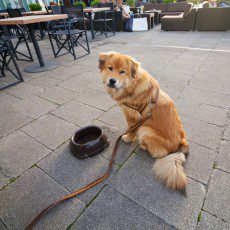 cafes. Melbourne in particular is full of animal-loving culinary establishments, but even out in the smaller towns surrounding Melbourne, there are plenty of pet-friendly dining opportunities that cater to the needs of the pet-loving Australian tourist.
Below, we look at 10 awesome eateries you can take your pet too and indulge and feast till your hearts (or tummies) content. Half of them are within the bounds of Melbourne, while the remaining half are outside the Melbourne metro zone.
1. Rooftop Cinema and Bar
In central Melbourne, not far inland from Docklands and surrounded by prime shopping opportunities, is the very uniqueRooftop Cinema and Bar. Checkout the view with skyscrapers towering in the background and eat a yummo lunch between 11am and 1pm. You can bring your dog along too so long as its daytime and they are kept on a leash at all times. Meals vary seasonally, but burgers and cocktails are common, and it is always something delicious. Oh and did we mention its 7 sets of steps to get there… But I bet its the best view your pooch will ever see.
2. Cibi Melbourne
The Cibi's Melbourne location is about 1.5 miles northeast of the Central Business District in the suburb of Collingwood. You can sit down with your pet in a comfortable outdoor seating area and enjoy authentic Japanese cuisine. You, and possibly your pet too, will not be able to resist the strong, flavorful green tea.
3. Rita's Cafeteria
About a mile or so east of Melbourne's CBD, on Johnston Street in Abbotsford, is the dog-friendly Rita's Cafeteria. Pizza and pasta are the mainstays, but there are plenty of other dishes as well. This is probably one of the few places you will find gluten-free pizza and pizza (optionally) topped with eggplant or smoked salmon. It certainly has a corner on the market with its tasty pickled octopus.
4. Mixed Business Cafe
Mixed Business Cafe is also locate downtown, only a couple miles northeast of the Melbourne CBD, in the suburb of Clifton Hill. Dogs are welcomed with a bowl of clean water, but humans have to drink out of a glass. The place is filled with retro-style furniture and looks rather unassuming, but it is a local favorite for its incredible coffee, hot, fresh bread rolls, omelets, waffles, and more.
5. Ranges at Olinda
The Ranges Olinda cafe is up in the mountains and forests, on the eastern edge of the Melbourne Area. You will find it in the town of Olinda on Monbulk Road, very near the Dandenong Ranges National Park, where luxury cabins can be rented. Pets can eat outside on the deck, and their owners are allowed to eat there too. Breakfast, lunch, dinner, afternoon tea, and all-day snacks are served. The Ranges is famous for its homemade scones and "Ranges mountain bread."
6. Innocent Bystander
Innocent Bystander lies outside the Melbourne Area, though only 50km from the city center. It is situated in Healesville off Maroondah Highway not too far from Yarra Ranges National Park. This is not only a dog-friendly restaurant with an outdoor dining deck but a wine bar where you can taste locally made wines, beers, apple cider, and more.
7. Farmers Arm Hotel
Just over 100km northwest of Melbourne in the foothills of the Great Dividing Range is the town of Daylesford and the pets-allowed restaurant at Farmers Arm Hotel. It offers an enclosed beer garden with quick bar access to dine in with Spot safely at your side. The menu blends country classics with "modern Australian," and you are encouraged to "eat, drink, and be local" (even if you're not).
8. The Fozigobble Cafe
Fozigobble is in the small town of Yarragon about 50km southeast of Melbourne, just north of Mount Worth State Park. Guests with pets eat in a garden with plenty of outdoor seating, and dogs are allotted a treat and a bowl of water. Fozigobble advertises itself as pet, child, vegan, vegetarian, and organic friendly. Its green smoothies and robust coffee are especially well received.
9. The Boardwalk Bendigo
Boardwalk Bendigo is located in the center of Victoria state, in the town of Bendigo, about 140km northwest of Melbourne. It has a spacious outdoor "dog and owner deck" overlooking beautiful Lake Weeroona. It offers breakfast daily as well as snacks and coffee. The surrounding parkland is a great place to be if you are a dogs who is eager to run and play.
10. Golden City Hotel
Golden City Hotel is a little over 90km northwest of Melbourne in the town of Ballarat. The hotel restaurant has a veranda where dogs and their owners can sit and eat in a peaceful environment. The menu is large and diverse, ranging from pizza to Asian cuisine to eggs Benedict to fish and chips. One dish that is too interesting not to try is the sticky date pudding topped with butterscotch sauce.
Do you have a great pt friendly eatery that you like to go to?