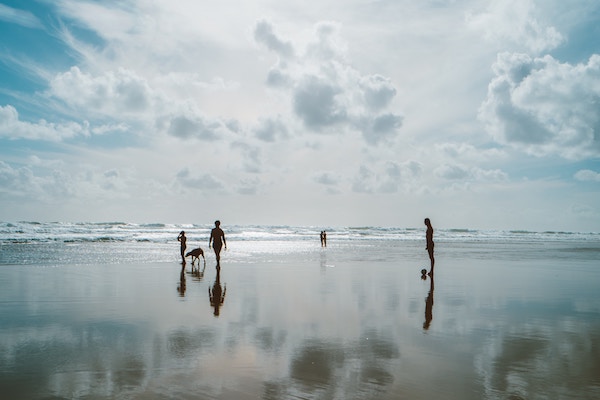 There are few things more satisfying than a dip in the ocean on a stinkin' hot summer day. But we thought of one: Bringing your four-legged best friend along with you for a beach day extravaganza.
If surf and sand is your thing, taking your dog to the beach can be a real joy. But to ensure you both have a blast, we've put together our top five tips for a pet-friendly beach trip.
1. Do Your Research:
Before you get your pet pal all excited for a swim, make sure you're visiting a dog-friendly beach. This can be dependent on a number of factors, including whether you're visiting during off-season. Some beaches will allow dogs on a leash, while others will let your pup play freely. When it comes to doing this homework, Take Your Pet is here to help – simply search our directory for pet-friendly beaches in your area.
It's always a good idea to bringing a few leashes along, including a long leash and to really survey your surroundings for potential risks before letting your dog free in the area. Any dog visiting a beach should be over four months, with updated vaccinations and ID tags on their collar.
2. Water Babies:
Not all dogs will be comfortable in the ocean and it's up to you to make sure yours feels confident around water. If it's their first time, read up on how their breed typically responds to water, and if they appear hesitant to dip a paw in, take it slow. Supervision is so important, particularly because your dog may feel overstimulated by the new environment and be keener than usual to stray and explore.
Check out the surf to ensure it's calm, not choppy, as animals can easily get overwhelmed in heavy swell and rips, and accompany your pet at all times. Consider purchasing a doggie life-jacket to provide extra protection.
3. Slip, Slop, Slap…and Sip:
Think of your furry best friend like you would yourself, when it comes to sun protection. Bringing along some form of shade, like an umbrella, will help your dog regulate their temperature and it is important to be wary of super hot sand which can easily burn your pet's sensitive paws. Doggie suncream should be applied to parts that are sensitive to exposure like ears and nose but that can't be licked off (especially if your dog has short fur, in a light colour).
Most importantly, hydrate, hydrate, hydrate. Just like you need to replenish with good ol' H20 after having a snooze on the sand, your pet MUST have access to cool, fresh water even more regularly than normal while at the beach.
4. Come Prepared:
As fun as it can be, this new environment can pose a number of potential challenges for your four-legged friend. It pays to be 100% aware of your surroundings, including other people, and keep both eyes on your dog at all times. Pay special attention to what they may try and eat and where they're stepping, in case of cut paws. A small first aid kit of bandages, ammonia, hydrogen peroxide and cotton balls is great for treating any minor injury.
When thirsty, dogs will also often attempt to drink the salty ocean water, which can be quite unhealthy. Keep a watchful eye on this and offer a steady supply of the fresh stuff instead.
5. Rinse and Repeat:
After a dip in the ocean, a thorough rinse is exactly what you and your furry pal need to remove any salt water and sand residue which can cause post-beach discomfort. Focus on their face in particular, and consider using a specialised ear rinse solution to protect ear infections.