For many Australians, it has been a tough start to 2020. With unprecedented bushfires raging across the country through late December and January, the impact on people, animals, homes and wildlife has been devastating. If you or someone you know has been affected, Take Your Pet sends you all the love, support and condolences.
And given that we spend our days supporting pet-friendly accommodation, cafes and services, our thoughts have been with all those businesses who have been doing it tough in bushfire-affected areas. With these fires coinciding with peak summer holiday season, many businesses have struggled without their usual influx of tourism and they continue to feel the impact as rebuilding and revitalisation efforts take time.
Recently, it's been heart-warming to see our communities rally around this cause. In particular, we've loved homegrown initiatives like @spendwiththem and @emptyesky, which are Instagram accounts that promote fire-affected businesses to encourage and bolster tourism.
At Take Your Pet, we thought we'd do our bit to add to this positive community action. This month, we're showcasing pet-friendly accommodation and cafes on the Mid-North Coast of NSW.
This region was hit particularly hard during the bushfire crisis and we'd love to support the many wonderful pet businesses that call it home. Check these out and be sure to add them to your next holiday itinerary. 
Note: Before travelling to these areas, be sure to check Fires Near Me application and be attentive to all emergency warnings from authorities. Safety first, always!
ACCOMMODATION:
Looking for a beach holiday perfect for the whole family? You'll love Bay Escapes Pet Friendly Villas and Cottages. Located in the pristine Port Stephens area, this is a go-to destination when you have kids and pets in tow. The dog-friendly, self-contained accommodation options include Shearwater Cottages at Shoal Bay and Echoes at Fingal Bay. Echoes is perfect for large groups, with 2x coastal villas comprising of 3x bedrooms each. Each villa has everything you need for a comfy stay; laundry facilities, TV and Netflix, free wifi, BBQ facilities, a spacious deck and fenced backyard.
Shearwater Cottages is set on a quiet street of fisherman's cottages and holiday homes. Choose between two cottages; one with 2x queen rooms and one with 1x queen and 1x twin room. With a fully equipped kitchen, sun-drenched living areas, BBQ and tropical outdoor settings, they're perfect for entertaining the whole family, after a day exploring or at the beach.
Both accommodation options are completely pet-friendly and your dogs are welcome inside and throughout the fenced backyards. Just BYO bedding and bowls! You can explore local dog beaches, try your hand at water-skiing, fishing or snorkelling or take advantage of the region's dolphin and whale watching expeditions. With pet-friendly walking tracks and exercise areas, golf courses and Hunter Wine Country on your doorstep, there's no shortage of activities on offer.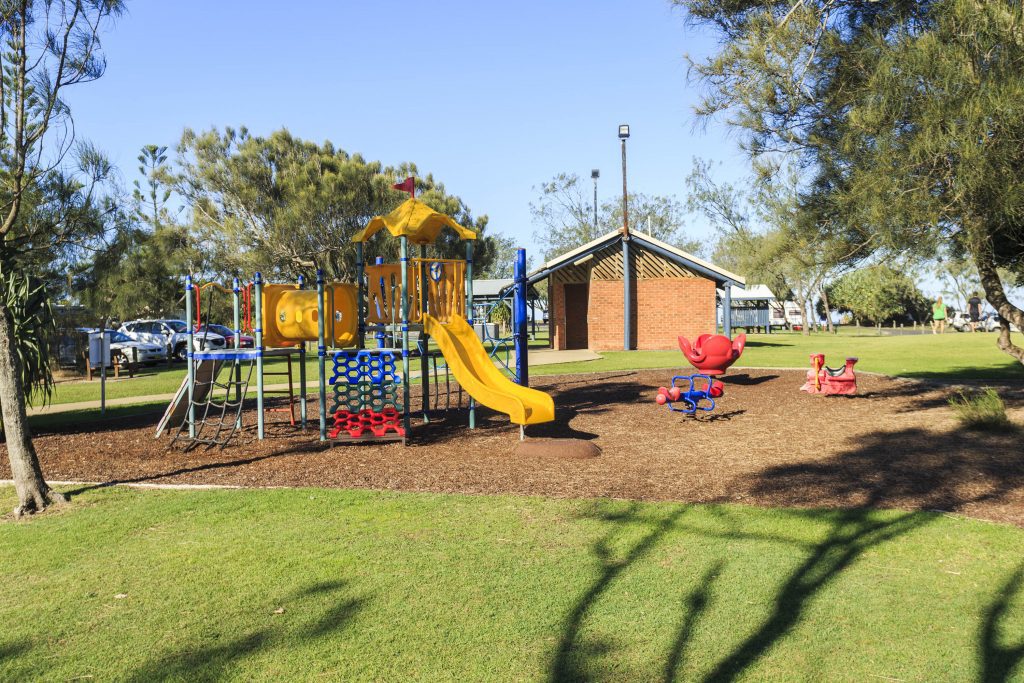 This dog-friendly getaway shows off the best of the Coffs Coast, with a beautiful bushland setting and relaxed vibe. Whether you're seeking an active holiday of whale watching, surfing and fishing or something featuring tons of food, wine and shopping, Reflections Holiday Parks Corindi Beach is the ideal base. Just a 30 minute drive from the world-famous attractions and natural delights of Coffs Harbour, there's plenty to do in the surrounding areas.
Choose from powered and unpowered camping and caravan sites or standard and deluxe cabins, suitable for the whole family. The sites are large and easy to access, with an impressive camp kitchen and other amenities. If you're travelling with kids, they'll love the school holiday activities. Pets are welcome on site all year round – just call ahead to book.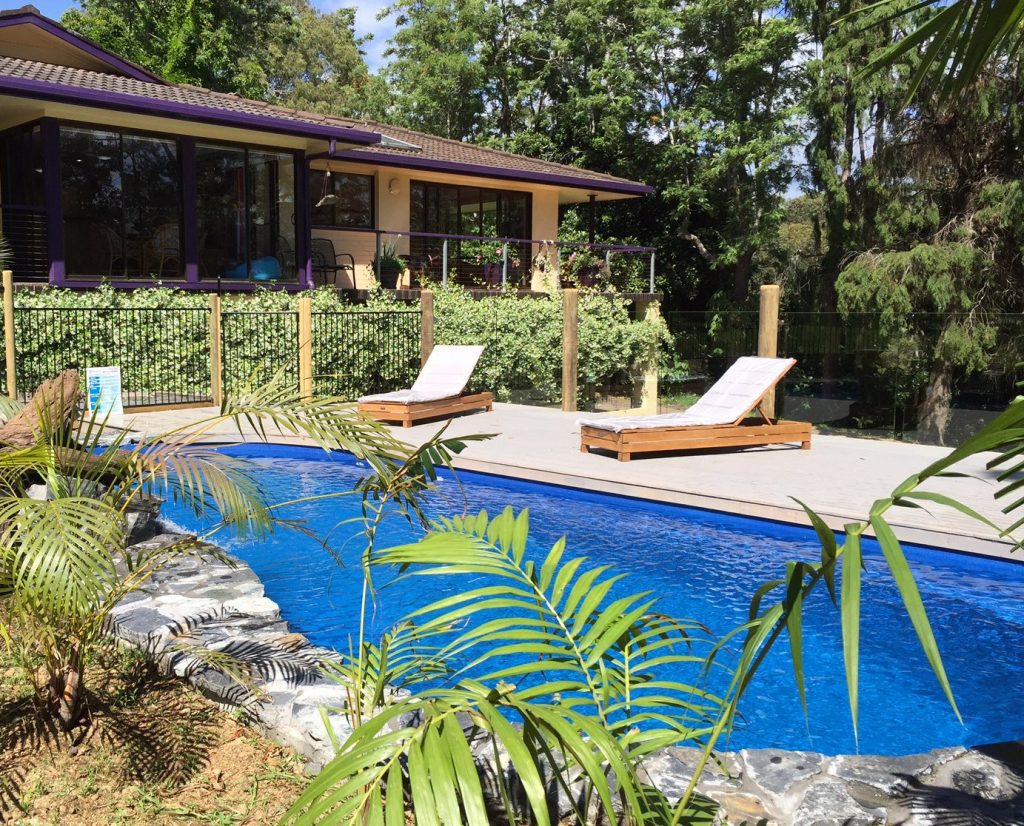 Sea Horse Diamond Beach is an absolute gem of the Mid-North Coast. Located near Forster NSW and only 800m from the gorgeous Diamond Beach, this mini resort is the perfect summer getaway. It sleeps up to 10 people (plus your four-legged family members!).
Choose from the master suite with ocean views, a queen bedroom overlooking the treetops or the lush double bedroom set amongst the garden. Sea Horse Diamond Beach is the ideal spot for entertaining, with a huge pool, sunny deck, wide verandahs, BBQ and handcrafted stone fireplace. 
You'll feel like you're in your own tropical oasis, with plenty for you and your pooch to explore. Take them for a walk to the private rainforest creek, stroll the 6 acres around the paddocks and gardens or head to the local dog-friendly beaches and cafes. When outside, your pet will be totally secure in the huge fenced yard or doggie day pen, or they can recline by the fireplace with you inside. There's also dog sitting available on request and bowls, blankets and toys provided. Not only has this resort won the 5 Paws Award for Dog Friendly Accommodation, they can even play host to horses, with 3x airy stables and a 2x acre grassy paddock.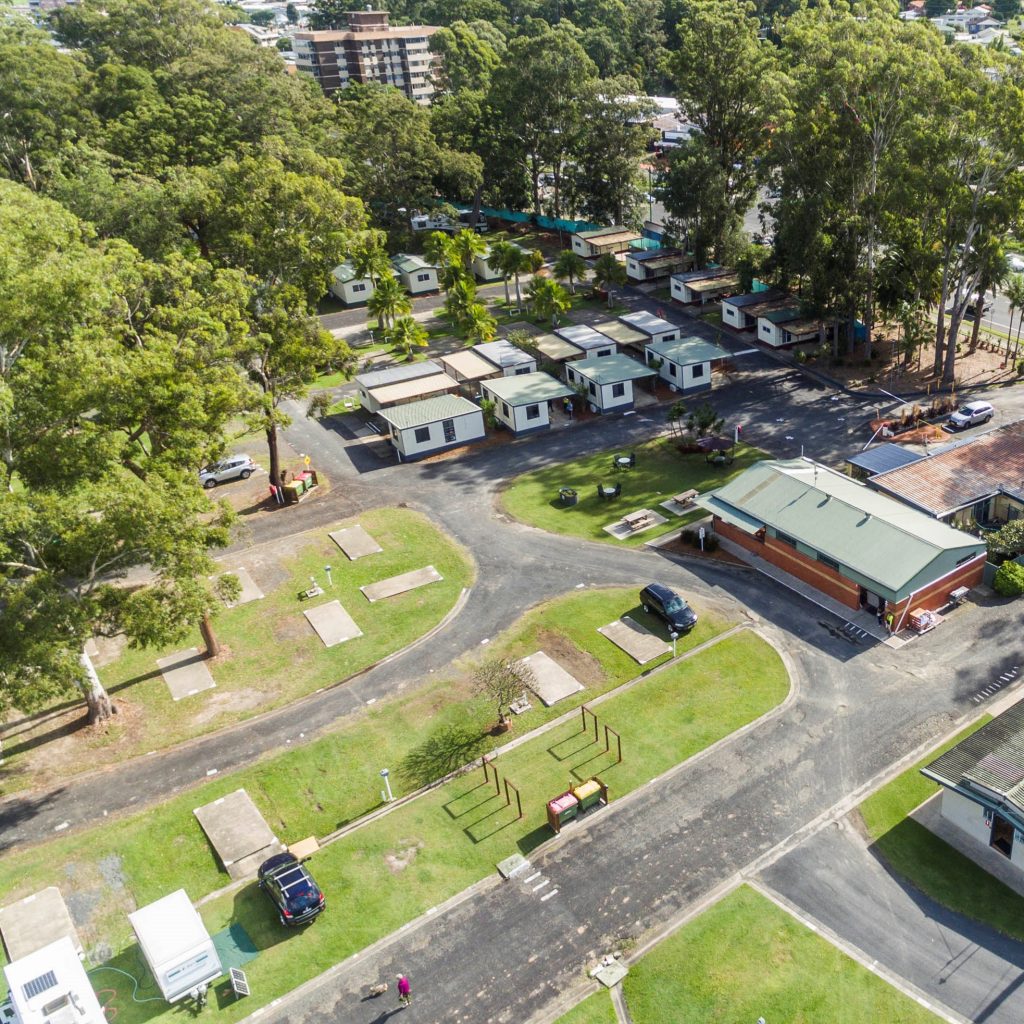 When you stay at Reflections Holiday Park Coffs Harbour, you'll feel like you're a million miles away from the daily grind. Trust us, you won't believe you're in the centre of town. Teeming with all sorts of wildlife, lush shady greenery and direct water-frontage onto Coffs Creek, there's no better place to explore the region. 
The dog-friendly beach is just a short drive away, or take the more scenic, peaceful route with the Coffs Creek Walk. Choose from unpowered and powered camping sites or cabins, and take advantage of the communal camp kitchen, BBQs, laundry facilities and wifi. There's something to suit every budget and your dog is welcome on-site and even in selected, pet-friendly cabins.
This pet-friendly caravan park is the ideal destination for your next family road trip. Set on the tranquil shores of the Wallamba River, Discovery Parks Forster is a hidden treasure of the Mid-North Coast region. Choose from powered and unpowered caravan and camping sites or upgrade to a family-friendly, riverfront cabin. With something to suit every budget and family size, Discovery Parks even has deluxe and superior cabin options, with secure deck areas and outdoor seating on offer. 
The site facilities are absolutely set up for pets, including the K9 dog-wash, pet-friendly cafe, laundry and off-leash area. Kids will have the time of their lives, running from the swimming pool to the playground to the activity room, and you can enjoy extra amenities like the boat ramp, BBQs and camp kitchen.
Discovery Parks is situated right near dog-friendly beaches and exercise areas and Wallamba River offers fishing, kayaking and water-skiing by day and amazing sunsets at night. There's plenty of coastal and hinterland national parks to explore, plus kids will love a day trip to Big Buzz Fun Park.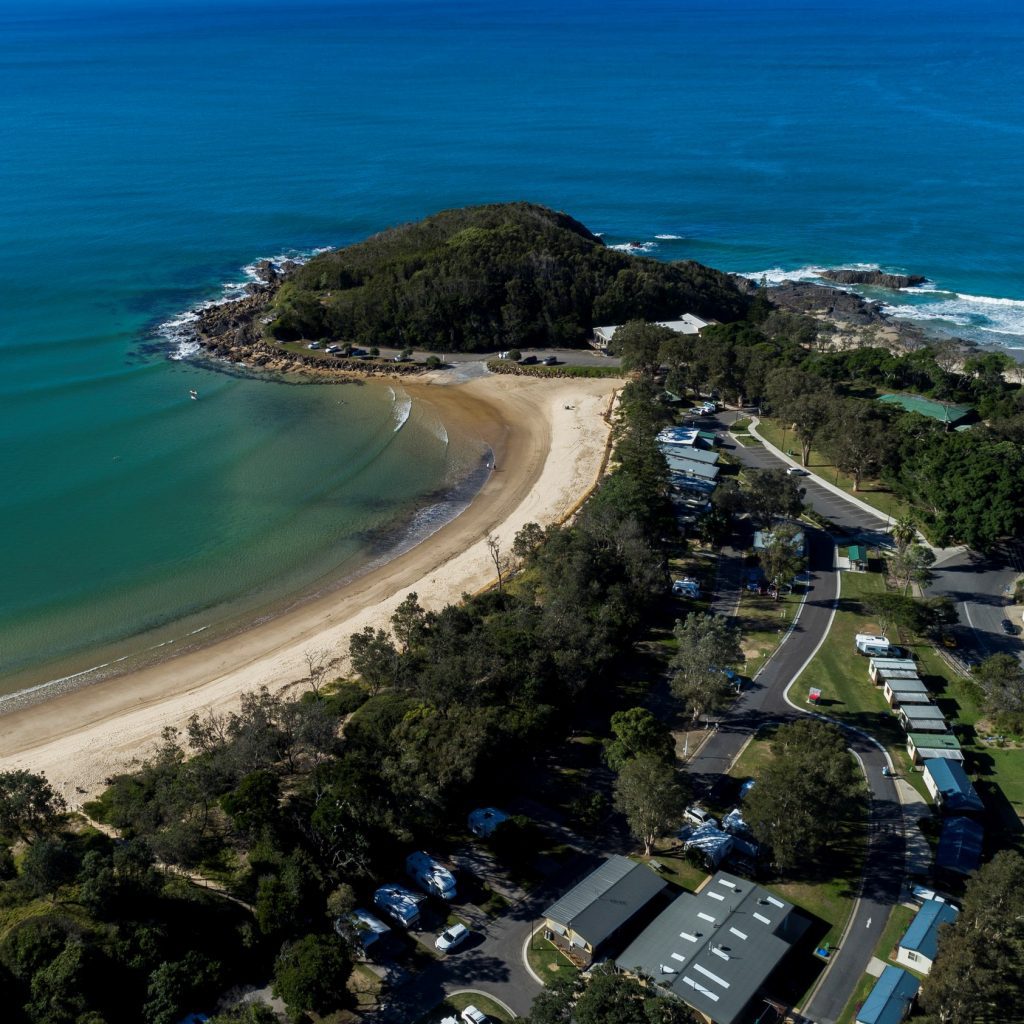 Scotts Head showcases the best the mid-north coast has to offer. Reflections Holiday Parks Scotts Head is an hour's drive south of Coffs Harbour and perfectly situated between Sydney and Brisbane. It boasts prime beachfront position and the peace and quiet will have you feeling like you've found paradise. With plenty of large sites, caravans, RVs and tents are all welcome.
There's no shortage of things to see and do in the area. Take advantage of the incredible coast with a swim, snorkel or surf. The sunset views from the famous whale tail table can't be missed. The park is located close to the local bowling club, which makes a great dining choice for the whole family. Your dogs are more than welcome on the park site in off-season periods.
CAFES: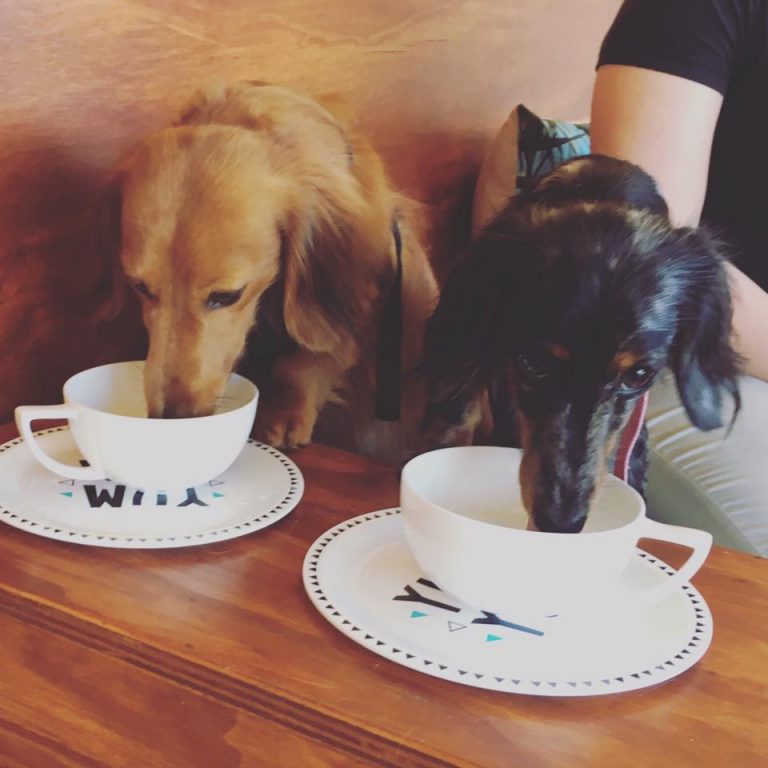 Maggie's Dog Cafe, Shop and Salon is situated in Coffs Harbour NSW at the gorgeous Moonee Beach. It's your perfect one-stop shop, where you can kick back and enjoy a coffee, pick up some new pet supplies or get your pooch the ultimate pamper package. Not only are there yummy cakes and sweet treats for you, but there's a fully fledged dog menu – all homemade goodies that are 100% nutritious for pets!
Browse Maggie's products, from luxury dog beds to stylish collars and leashes. And while you shop, treat your pet to a mini spa package or fresh new haircut at the salon right there in store!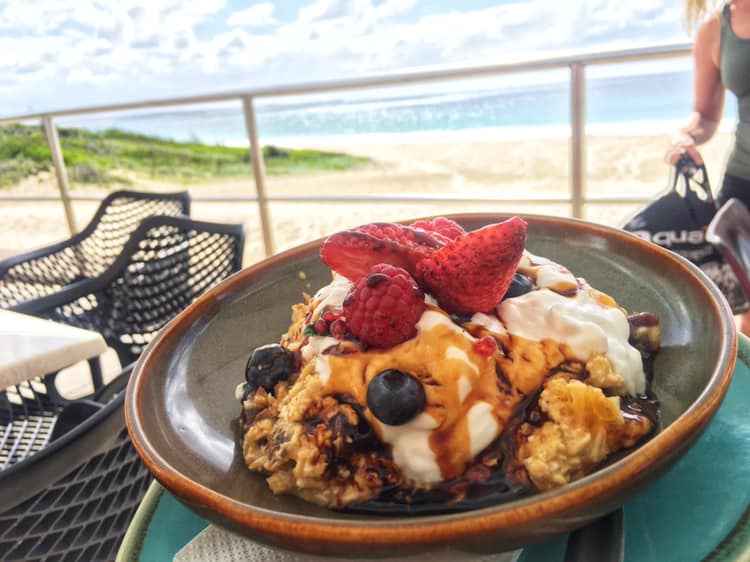 Located in prime position on the main beach of Forster, this pet-friendly find is a local institution. Perfect to visit for a coffee after an early morning swim, Beach Bums Cafe has a very friendly atmosphere that the whole family will enjoy. 
The menu is fresh and yummy, with healthy and gluten-free options on offer. They even source veggies from their own farm garden. For brekky, there are classics like bacon and egg or haloumi and egg rolls, as well as summertime nourish bowls and acai smoothie bowls. A variety of toasted panini are available all day, with fillings that range from Greek-style marinated lamb, sun-dried tomato and grilled zucchini. Most items are also available takeaway.
Dogs are welcome at Beach Bums Cafe, with a comfortable outdoor seating area and free-to-use water bowls. This spot is the ideal destination after a long morning walk together!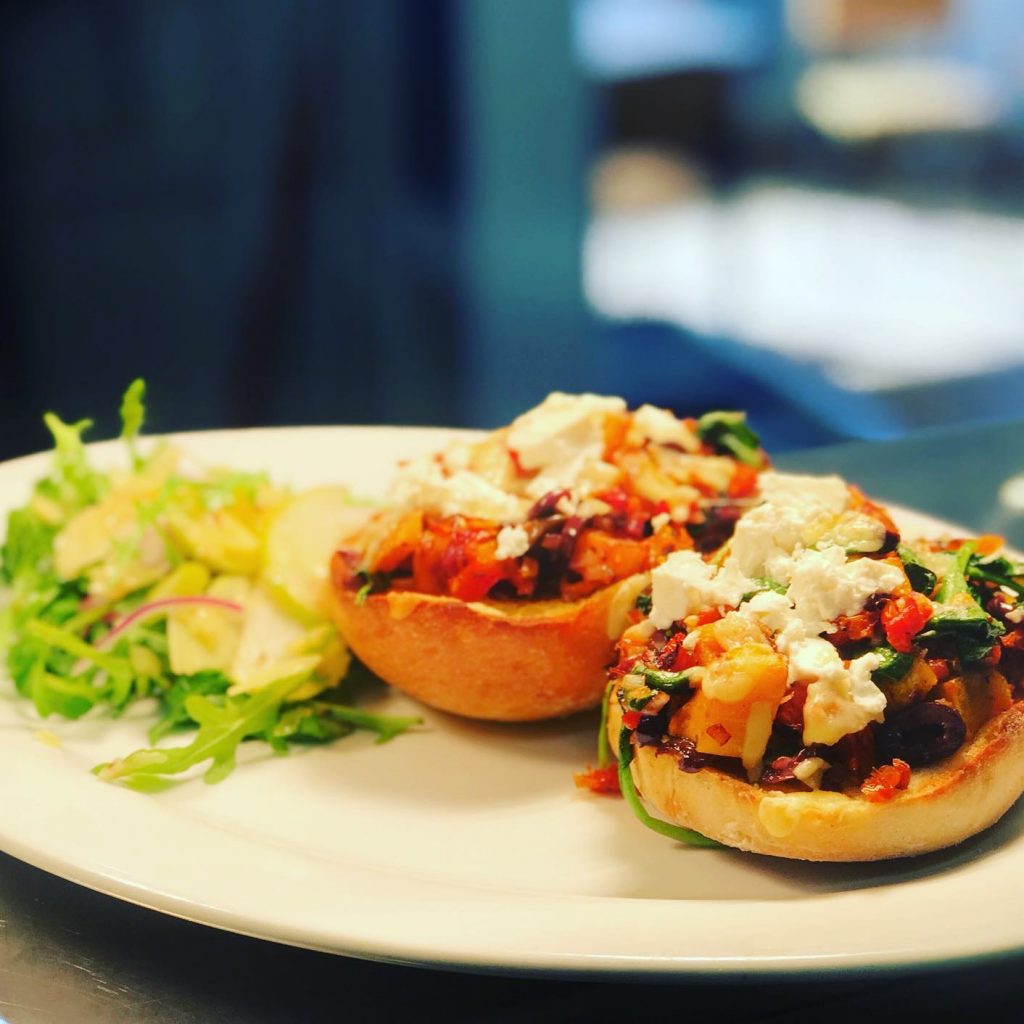 This coastal cafe is a Coffs Harbour gem. Welcoming people and pups alike, Cafe Aqua has delicious food, relaxed vibes and an outdoor deck where your doggies can recline. 
The menu is full of staples that the whole family will love. Whether you're feasting on the vegetarian brekky, the eggs benny, the triple-stack pancakes or the sunrise burger, you'll leave full and totally satisfied. Plus, there's an extensive range of coffee, milkshakes, smoothies and freshly squeezed juices on offer. And if you're popping in for morning or afternoon tea, you won't want to pass up their freshly baked sweet treats.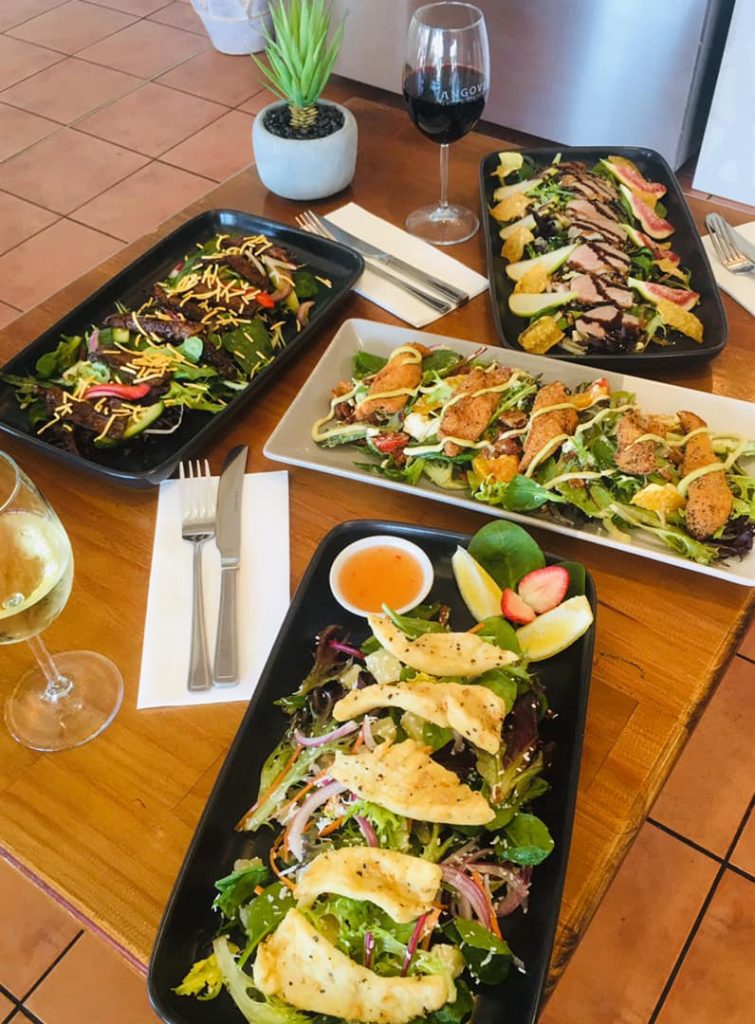 Overlooking the beautiful Hastings River, The Point Cafe and Restaurant boasts a laid-back coastal atmosphere and exceptional coffee. The menu is seasonal, nutritious and varied, with an Asian fusion influence.
Light brekky choices range from apple and mixed berry bircher and eggs done all ways to a vegetarian grill and fluffy pancake stack. If you come by for dinner, you can select from specialities like pan-friend scallops, stuffed mushrooms and crispy duck spring rolls. 
Pets are welcome at The Point Cafe and Restaurant if you sit outside in their shaded courtyard area. Water bowls are also available.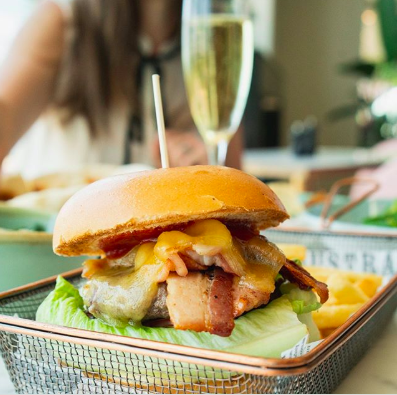 Zebu Bar and Restaurant is a Port Macquarie favourite. With an undeniably cool vibe, waterfront views and free-flowing cocktails, this bar/restaurant is where all the locals hang out.
The menu is high-quality and always on the cutting edge. There's a wide variety of healthy breakfast treats including haloumi and cauliflower keto fritters, a signature eggs Benedict, bircher muesli and a Persian-inspired avo smash. For lunch and dinner, you can't go past the crispy fried chicken wings, King prawn and mussel spaghetti, the Zebu paella and a large selection of pizzas.
If you've got kids in tow, there's a special menu waiting for them with all the classics. Four-legged patrons are welcome at Zebu, with an outdoor covered area the whole family can enjoy. Water bowls are also provided.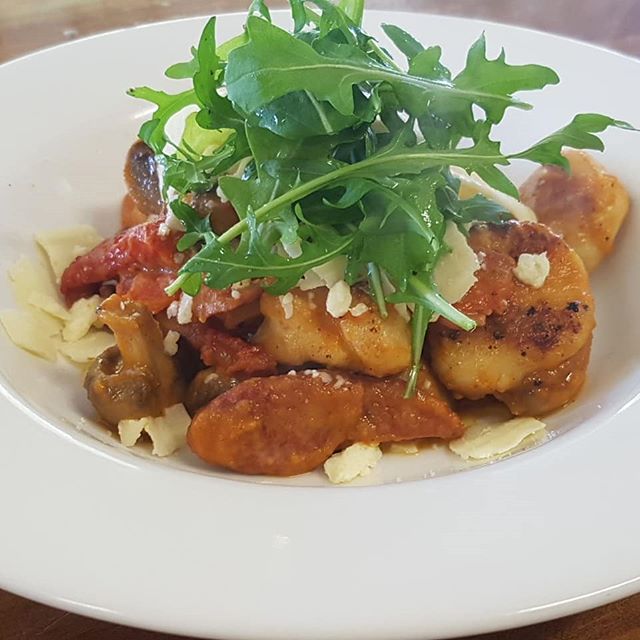 One of Coffs Harbour's favourite pet-friendly cafes, Cafe 180 has everything you're looking for. Head Chef Phill boasts 20 years experience and the delicious meals, homemade cakes (baked fresh daily!) and quality coffee certainly attest to it.
The cafe is located on Park Beach Road, halfway between the Plaza and the beach in Northside Shopping Centre. Cafe 180 offers a relaxed, warm and family friendly atmosphere. It's child-friendly, with a change table available for use, and of course, 100% pet-friendly!