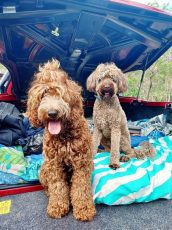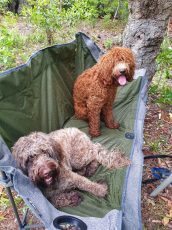 We started our trip where we live – on the beautiful Sunshine Coast! We travelled up to Inskip Point Recreation Area, stopping at Rainbow Beach to have a run around the dog beach. Inskip is a great place for dogs if you like camping – we set-up right at SS Dorrigo South close to the beach front where they could let loose.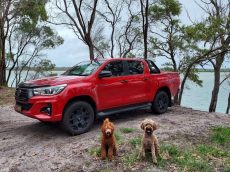 The next day we stopped by a large-fenced dog park at Tinana on our way to Woodgate Beach near Burrum Heads. We found this campsite through hip-camps and dogs are welcome. Definitely pack your insect repellent though!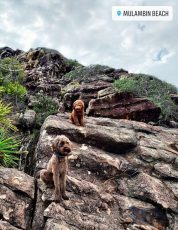 Day 3 we went to Childers to stop at a dog friendly café called 'insane caffeine' – it has delicious food and plenty of outdoor space for the pups with lovely greenery. I then took them for a run around another fenced dog park called Barkly Park in Bororen and then the final stop was Mulambin Beach – a great large dog beach with lots of exploring and rock climbing for the dogs! It was a particularly windy day so we spotted lots of wind surfers too.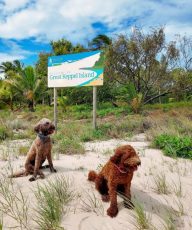 Day 4 we went to Great Keppel Island – pretty amazing dogs are allowed and very welcome on the ferry and island! We recommend Shelving Beach for a sheltered area to set-up. We also had a great explore around the island – getting up to 18 000 steps! We saw an echidna and some goats. We ended the night with some fish and chips from Beachside 66 in Yeppoon and went to the Farnborough dog beach there.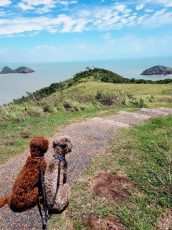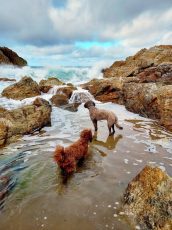 Day 5 we checked out Bluff Point and Kemp dog beach then had a delicious lunch at Giddy Goat Rockhampton, a dog friendly restaurant with spots outside.
We then checked out Agnes Waters and did the lovely short discovery trail walk and went down to Workman's beach at Agnes Waters – highly recommended!
We had a little look around the Bustard Bay Lookout at 1770 but just be careful about where you go as dogs are not allowed in some areas. We then stayed the night camping at 1770 eco camp.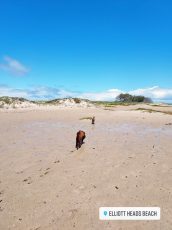 Day 6 we did the short foreshore trail in 1770 and went to Getaway Garden Café in Agnes Waters – delicious meals with a lovely outdoor area! We drove through Bargara and Elliotts Heads and checked out the dog beaches there. We then did our final stop at a very green dog park in Gympie called Archery Park and made it home for a relax!