We left after work, and just camped outside Geraldton at the Fig Tree Crossing Rest Area ($10pp,per night).
The next morning we drove into town and took Maisie for a good run and sniff at the dog exercise area, which is on Green Street. From there we drove all the way up to Exmouth with a brief stop in Carnarvon to fill up, have some lunch, do some more sniffing and running around and a toilet break. The dog exercise area is opposite Woolworths on Egan Street, it's not fenced so be wary if your dog likes to take off.
In Exmouth we stayed with family, but when we visited 3 years ago, we stayed at the RAC Caravan Park which was really nice and is also dog friendly.
We enjoyed the sunshine every day by going to the beach and enjoyed every single sunrise AND sunset. Yes, Rise and Set, Exmouth is one place in WA where you can see both.
We also went to Charles Knife Canyon, but Maisie couldn't join us as it's in a National Park, the view here at sunset was breathtaking.
Exmouth is also famous for snorkelling, unfortunately all the popular snorkelling spots are in the National Park and therefore not dog friendly. As we stayed with family, we were lucky enough to go snorkelling one morning whilst Maisie was taken care of. There are locals in town that will happily take care of your pooches if you don't want to miss out.
Another super popular adventure is to go and swim with Whale Sharks. We did this last time and highly recommend Ocean Eco Adventures, though we decided to miss out this time for Maisie's benefit. It is a great experience but bear in mind that you will need a pet sitter for a whole day.
Dog friendly beaches in Exmouth are:
Town Beach where you can park the car and walk down or take your 4wd with you. Please watch signage as only the the northern side allows dogs off leash.
Bundegi Beach further north (close to the big radio masts) and nice for SUP'ing. You can access the Bundegi Coastal Park with your 4wd and park on the beach further south but we saw too many Stingrays in the shallows close to the shore so we decided not to go for a splash there.


Exmouth to Coral Bay:
We drove to Coral Bay via the Ningaloo Station Coastal Off-Road Track, which wasn't as great as we thought it might be, it was very badly corrugated (tyres were at 20 psi and it was still bad). The campsites around there seem very nice and majority of them are dog friendly (always worth checking on WikiCamps). You DO need to be self-sufficient and have a chemical toilet, portaloo buckets are a no-go (if you don't have a chemical portaloo you can hire them from the station).

The caravan park in Coral Bay was definitely overpriced for the space you get. Luckily we only have a 4wd and a swag but people with a caravan really struggled in the bays as you could only fit your van and not the car next to it. It all felt very cramped but facilities were nice and clean.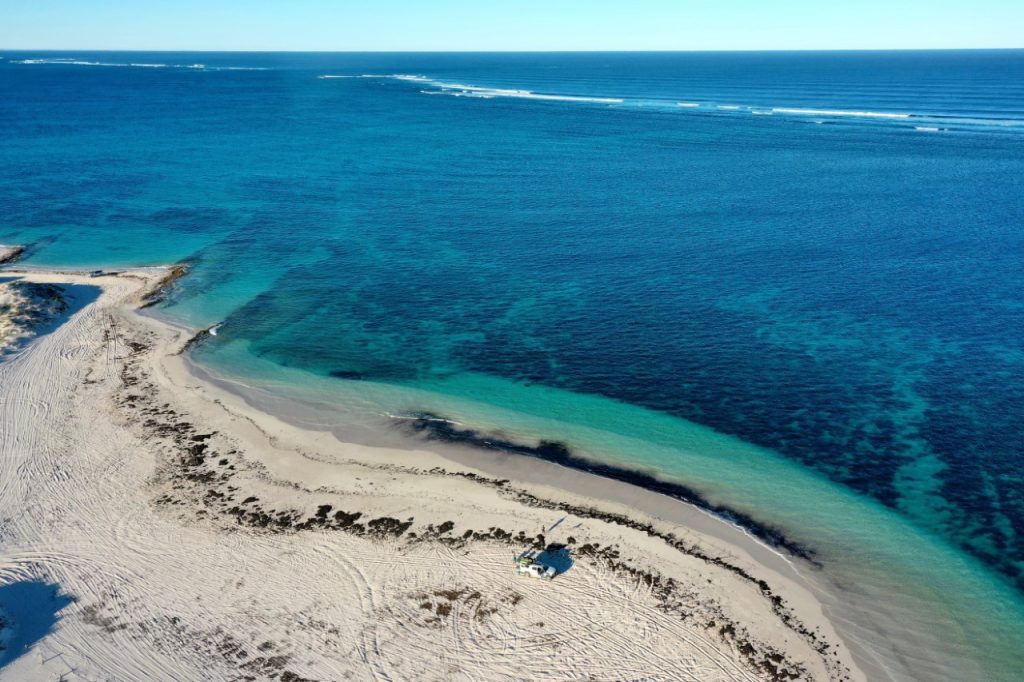 An unpowered site was $49 per night + $2 for the dog. If you have a 4wd and want to stay somewhere cheaper you can stay at the Bruboojoo Campground which is 24km north of Coral Bay at a cost of $10 per person, per night (again you need to be self-sufficient), you can't pre-book sites but if you have a look on google maps it is a nice big open area and a caretaker is on site. You can launch small boats from there too.

Dog friendly beaches around Coral Bay are:
5 Fingers Beach – 4WD only (20-22psi), awesome snorkelling spot, Corals literally start 10-20 meters off the beach depending on tide. This beach is absolutely amazing for snorkelling!!
We saw amazing coloured corals in all sorts of shapes and sizes, beautiful fish, dolphins and turtles.
Paradise Beach – another dog friendly beach in town with a drift snorkel, but dogs have to be on lead all the time, so we decided not to go there as Maisie is a crazy water baby.
Coral Bay to Shark Bay:

We drove 6hrs from Coral Bay down to Shark Bay, Monkey Mia to be exact. We stopped in Carnarvon to fill up, have some lunch, do some sniffing and running around and a toilet break.
Approx. 2.5hrs North of Shark Bay is a lovely dog friendly campground called Wooramel River Retreat, $15 per person unpowered and they have hot springs!
We decided to drive all the way out to Monkey Mia and stay at the RAC Resort – $52 for a powered site (we are RAC members so we got a discount) and $32 for unpowered sites. Unlike Coral Bay the powered sites were spacious and we didn't feel like we were in our neighbours faces all the time. Absolutely amazing facilities, spacious and modern camp kitchen and green grassy areas!
Another option is Whalebone Bay (approx. 50km from Monkey Mia) which is also dog friendly, but you need a permit for these sites and need to be self-sufficient.
In Monkey Mia we did the marine life cruise with Perfect Nature Cruises, this is a dog friendly cruise, which is awesome! There was always some shade for Maisie which she appreciated.
The cruise itself was very nice and we saw an Eagle Ray, Dolphins, Dugongs and Turtles.
In the afternoon we were lucky enough to enjoy Turtles and Dolphins playing and swimming around whilst watching the sunset – heckin romantic.
Dog friendly beaches are:
Little Lagoon (just 20min down the road)
Monkey Mia Resort Beach (dogs are allowed to be off leash far away from the dolphin experience area). You can just walk a little further up the beach towards the end of the caravan park and you can have your pooch off lead. Dogs are allowed in the water as long as there are no dolphins around (same rule applies to humans)

Shark Bay to Perth:
Nobody likes a holiday to be over. We have only been on our adventure for over a week but as we were exploring new places every day Maisie was tired, and so were we! Different environments, people and sniffs makes for a heckin' tired pooch. She napped at every opportunity and we tried our best to give her enough time-out every day. But just like hoomans, new environments don't always provide the best sleep either.
Just remember, when traveling, some dogs can become reactive due to tiredness and over-stimulation (we have seen this with Maisie in the past, she can become very skittish and growl because she is overtired and can't handle the situation).
Our drive home was about 9hrs (835km) with a pit stop in Geraldton to stretch our legs and a toilet break.
The initial plan was to stay a night in Port Gregory (just south of Kalbarri), but due to the recent cyclone many roads were closed and we had to give the Pink Lake a miss.

To all dog pawrents; when you travel in rural areas be aware of the 1080 baiting.
Whenever and wherever you travel it's a good idea to have a copy of your pooches vaccination certificate and microchip number.
Also; do your research of local vets and their emergency numbers before you go and enjoy your trip. Not every town has a vet e.g. Exmouth has only a vet in town every couple of weeks. Closest emergency vet is in Carnarvon – 364km – 4hrs drive from Exmouth!!!
destinations.
See more of Maisies adventures over on instagram @maisie_the_border_collie