A trip to the NSW south coast is as much about the journey as the destination. There's so much to see, eat and do so much of it is pet friendly too.
This isn't our first rodeo or our first pet friendly adventure, we've also enjoyed trips to Port Stephens and the Hunter Valley and have had a pawsome time!
In the time between taking this trip and writing about this trip from Sydney to Merimbula, bushfires have burned through some of these areas causing loss and devastation. However, we Aussies are made of strong stuff and many of these towns and the businesses in them are up and running and more than ready to receive visitors.
In fact, there has never been a better time to hop in the car and take a road trip because these towns and businesses need your tourist dollars more than ever. Visiting these towns and supporting local businesses means your money is going exactly to where it's needed most and remember, even a small contribution can make a big difference.
You can easily make the drive from Sydney to Merimbula in a day but as I'm not a fan of long car journeys we break the journey with an overnight stay, which means less time in the car and more time to explore. Whether you choose to road trip for one day or two, there's plenty to see, eat and do on your way to the Sapphire Coast.
Saturday – Day 1
The Best Brunch at Loaf Kitchen
91A Lawrence Hargrave Drive, Stanwell Park, NSW 2508
It's not just cars that need refuelling on road trips, people need it too. I don't know about you but road trips make me hungry so I'm keen as mustard to go to Loaf Kitchen which my friend Jane recommends.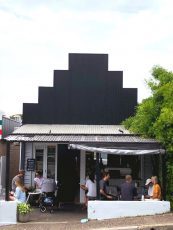 This place is the real deal with a deliciously quirky menu plus it's very family and pet friendly. We grab a table in the dog friendly courtyard – there's even a cubby house for the kids – and try to decide what to eat. I'm getting hangry!
Making a decision is proving to be quite difficult because it's one of those menus where you want one of everything. Or maybe that's just me?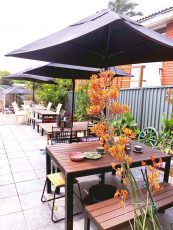 In the end, I settle for one of the daily specials, the Pumpkin Toast ($14) – roast pumpkin, dill goats cheese, pickled radish, sprouts, chilli oil and seeds on sourdough. And in case you're wondering, it tastes as good as it looks.
We leave with full bellies and a determination to return because seriously, this place is worth driving 90 minutes from Sydney for.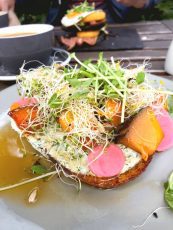 Ocean Drive across the Sea Cliff Bridge
I love a good scenic route and the Grand Pacific Drive is totally sea-nic (ha, see what I did there!) A drive down to Shoalhaven isn't a drive to Shoalhaven without a ride over the world famous Sea Cliff Bridge which is shaped like a snake with sweeping ocean views on one side and ancient cliffs on the other. It's really a sight to behold. It's a very grey day today and I don't snap any shots but here's the view at it's finest basking in the sunshine. I took this last year on our way to Berry.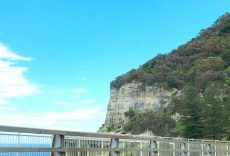 2 Little Austinmer Lane, Austinmer, NSW 2515
We hop back in the car for the 15 minute drive to Austinmer. We pop by to visit our friends, Jane, Shannon and their girls who made a sea change (excuse the pun,) earlier this year.

photo credit @maple_and_marlow
We have grand plans to head to the beach but the weather is not in our favour so we check out their new pad instead. However, Teddy's sister Maple and her fur brother Marlow take one for the team and check out Little Austi Beach AKA Doggy Heaven.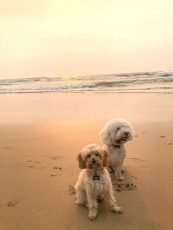 photo credit @maple_and_marlow
The beach is off leash 24 hours and there is plenty of space to run and play. There are showers and poo bags are provided. Maple and Marlow think it's pawsome and their dad agrees!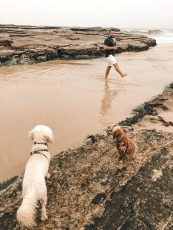 photo credit @maple_and_marlow
A Drive Through Milton
We make a pit stop (AKA toilet stop) in the pretty historic town of Milton. It's full of quirky shops and unique boutiques and home to the famous Pilgrims Vegetarian Cafe. We promise ourselves to make a full and thorough visit on our return trip although the bushfires thwarted our plans. It's still on our must visit list so just as well that Milton is back to business as usual. Don't delay, visit today!
Check in to the Sandy Studio at Mollymook
Not a fan of long car journeys, we make this a drive of two halves and spend the night at this delightful studio in Mollymook. Karen, our host gives us a very warm welcome and has created a light, airy and super stylish space with heaps of thoughtful touches.
We picked this place because it's pet friendly, has a touch of class plus location, location, location. It's just a couple of minutes walk from the local shops and a few minutes drive from dog friendly beaches.
There's a large open plan living area, complete with kitchen, dining area, sitting area and an uber comfy bed. There's a separate bathroom which even has a washing machine.
While the hoomans love the interior, Teddy is a huge fan of the garden. For an apartment pooch, having a whole garden to yourself is really living your best life. There's even an outdoor shower! Karen's place really is the perfect place to rest and recharge before re-hitting the road.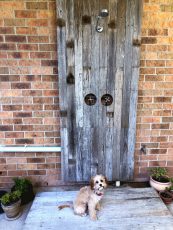 Take Away Run to The Fish Shop
The Fish Shop, 107 Princes Highway, Burrill Lakes
We're staying just a few minutes walk from fine dining restaurant Tallwood but we fancy something a little more relaxed.
We get quite excited to discover we're also around the corner from Bannisters Rooftop Bar but our excitement doesn't last because unlike Bannisters Port Stephens, Mollymook Bannisters is not dog friendly. Boo!
Still all's well that ends well because we head to The Fish Shop in Burrill Lake. We have heard great things about it and I'm pleased to report that all the things everyone said were true!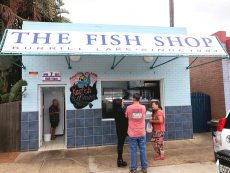 It's always busy here and once you've tasted the fish and chips it's easy to know why. It's a take away with pretty much every kind of fish imaginable. It's pretty quiet when we arrive, at peak times there can be queues out the door. Teddy waits outside and gets a very warm welcome from staff and customers alike.
We both settle on the Flake Fish ($12) and share a large chips ($8) which is the biggest portion of chips I've ever seen in my life (and believe me, I've seen a lot of large chips!) Think crispy battered fish cooked to perfection and fat, freshly cooked chips, it's perfection on a plate!
We both agree these are the best fish and chips we've had outside (and possibly inside,) the UK. They really are world class!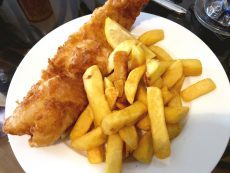 Sunday – Day 2
Caffeination at Mollymook Beach
Although Karen has a generous checkout time of 11am we're up bright and early and keen to hit the road. But first… coffee! We head to the Mollymook Beach Hut for old time's sake more than anything else. We have fond memories of stopping here on our way to The Kangaroo House (AKA the south coast's best kept secret) and as always, it's super busy.

To Teddy's immense disappointment, dogs aren't allowed on Mollymook Beach but they are allowed on-leash on the shared path. There is however, an off-leash exercise area at Bill Andriske Oval but times are restricted.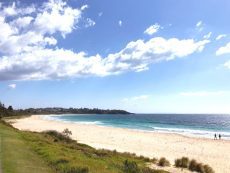 It's super windy this morning and we almost get blown away so we scrap our plans to check out the 24 hour off-leash Colliers Beach.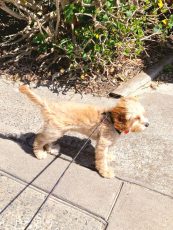 The beach is popular with surfers for the reef breaks and it's pups and their pawrents will love the sandy beach. We have heard great things about it and we're definitely adding it to our list for next time! Thanks to Karen our Airbnb host for snapping this pic!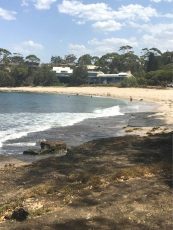 31 Pacific Street, Mossy Point, NSW 2537
Our tummies are rumbling by the time we rock up to Mossy Point, a little hidden gem of a place and we're here to refuel at The Mossy Cafe. The Mossy describes itself as not just a cafe but a destination and we couldn't agree more.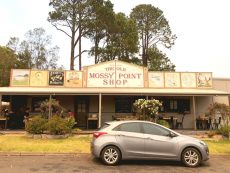 The vibe here is super relaxed and the food deliciously eclectic and locally sourced. Many of the dishes are cultural/cuisine hybrids, there's vegan, vegetarian and gluten free options and the coffee is decent, as it should be with the coffee suppliers roasting on the premises.
I can't go past the Mexican Brunch Bowl ($19.5) with tortilla chips, house made Mexican chorizo, fried egg, tomato salsa, charred corn, red onion, house made queso fresco cheese, house made beans, smoked jalapenos and sour cream. It's crazy good!
David has the Loaded Brekkie Fries; ($18.5) a bowl of beer battered chips with bacon, house made baked beans, fried egg, smoky BBQ aioli and shallots. They do not disappoint!

The building itself is as quirky as the menu – it's warm and welcoming with a variety of indoor and outdoor spaces, it feels more like you're round your friend's house than visiting a cafe and is child and pet friendly too.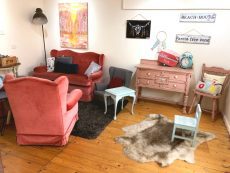 There's heaps of dog friendly seating both on the front deck and around the back, Teddy is more than happy on the deck where he gets lots of pats and cuddles.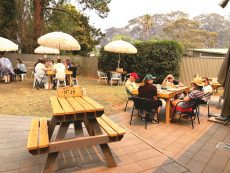 After brunch we take a minute's drive to the headland to check out the view of the coastline although by this stage the smoke is coming thick and fast.

Missing out on Mogo
To our eternal regret we're feeling too full and it's getting too smoky to stop in the historic town of Mogo. We fully intend to explore on our return trip but by then the bushfires cut off roads to, and are ravaging this tiny town.
There's good news and bad news from Mogo regarding the bushfires. Sadly, the Gold Rush Colony 1850s historical theme park (complete with pet friendly cabins) was lost in the fires but thankfully many of the shops and cafes were able to be saved.
Mogo Zoo
222 Tomakin Road, Mogo, NSW 2536
The highly regarded Mogo Zoo will be re-opening in February. Although dogs aren't permitted in the park, you can check them into doggy daycare at Casey's Beach Vet Clinic. Rates are super reasonable, under 5 hours is $13 and over 5 hours is $18.
Many readers told me how much they loved the visit to the zoo which offers a range of up close and personal experiences, like feeding the giraffes! How fun!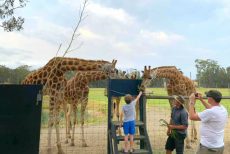 photo credit: Natalie Roseworn
And from Mogo, it's onwards to Merimbula! Stay tuned for my forthcoming post on where to stay, eat and play in Merimbula.
The Return
We have big plans for our return journey, planning to take in Milton and Mogo in particular and including another overnight stay. However, as the Princes Highway is closed due to the raging bushfires we re-route and travel back via Canberra instead.

Canberra is my favourite and I have many happy memories of the capital city from our previous Canberra adventures. Interestingly, there are a number of Canberra hotels offering dog friendly accommodation but as parliament is sitting, dog friendly hotel rooms start from $400 which is way out of our budget.
15 Kennedy Street, Kingston, ACT 2604
We do stop in Canberra but only long enough to grab a delicious lunch at Penny University in Kingston. Teddy is more than happy with the large dog friendly area out the front.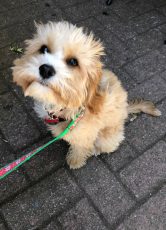 My Instagram friend Nina is my go-to for all Canberra food recommendations and she has never let me down. Lunch at Penny University is no exception.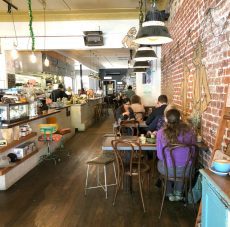 My Kanga-Reuben Sandwich ($23) is next level delicious but David's Not-Quite-Chicken-Katsu Burger ($25) served in a potato bun, lettuce, Japanese mayo and barbecue sauce served with chips is the more photogenic or at least is in the best light! This is lunch worth coming to Canberra for.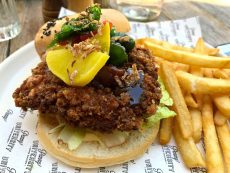 I'm definitely the worst traveller in the family and am not a fan of long car journeys and our route via the Snowy Mountains and Canberra takes about 6 hours door to door (plus a 1 hour lunch break.) Teddy is a champ in the car. He's super comfy in his Kurgo car seat which is big enough for him to lie down in and high enough for him to see out of. It's a win, win!

Big Fun at the Big Merino
Corner of Hume and Sowerby Street, Goulburn, NSW 2580
Although we're keen to get the driving done, we can't resist stopping in Goulburn to see The Big Merino. It's this small dog's first big thing but I'm sure it won't be his last!
All food, drink and accommodation was thoroughly enjoyed and independently paid for.
Thanks to The Annoyed Thyroid for her blog contribution – you can check out Sam's website here