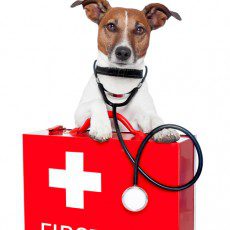 As a devoted pet owner, you want to keep your fur baby happy and healthy at all times. Whether enjoying a fun-filled holiday or planning a long distance move, more and more Australians are finding pleasure in taking their pets along for the trip. Taking Fido along can be exciting and rewarding, for both the pet owner and the dog. With so many options for pet-friendly lodging in Australia, finding pet friendly accommodation should not be a difficult task. With all the hustle and bustle of pet travelling, however, it is imperative not to overlook one very important detail as you travel with your canine companion. Whether traveling by automobile or by plane, pet safety should be a top priority. Pet owners and care givers alike should be well-informed on the care and measures to take in the event of an emergency. This is easily accomplished by consulting with your veterinarian or with a pet care professional. In addition to this knowledge, it is crucial to have first aid supplies during travel.
How to Ensure a Safe, Tail-Wagging Good Time
When thinking about pet safety as you travel, you need to be prepared for any emergency. You may be a long distance from your trusted veterinarian, or from any pet emergency clinic should the need arise. Although you do your best to ensure your dog is free from harm, pet travelling accidents may occur at any time. If an emergency or accident does occur, be prepared by keeping an all-inclusive pet first aid kit with you at all times. Play it safe and have everything you need all in one handy travel kit. As you travel with your dog, you want to enjoy a stress-free time. Encountering a pet emergency while travelling and not having the necessary tools to treat your pet can be a devastating experience. Go on holiday or make your move with the peace of mind you deserve. This is easily accomplished by getting your hands on The Creature Clinic First Aid Kit designed for pet emergencies. Here's hoping you'll never need to use it, but it is very reassuring to know it will be there if your dog has an unfortunate accident while travelling with you.
What is a Pet First Aid Kit and How Can It Help In an Emergency?
A pet first aid kit for small to medium sized dogs will include the basics (and the extras, too) for treating cuts, abrasions, bleeding or even a potential heat stroke until you can seek treatment from a professional. The Creature Clinic First Aid Kit for pets has been specially created by veterinarian Dr Joanna Paul. Such a kit is complete with everything one might need, but typically does not include when packing for a trip. Taking a look at the Creature Clinic First Aid Kit, you'll first notice the brightly coloured carrying tote bag. It is clearly marked for a pet emergency, so the user can administer first aid without delay. Contents include necessary implements such as a pet digital thermometer, scissors and forceps. Equally important and included in the kit will be cotton swabs, bandages, iodine, antibiotic ointment, and a tick removal tool. A thermal blanket is another extra, and this is imperative for keeping an injured pet warm. These items are just a sampling of offerings that can treat an injured pet and possibly prevent a life-threatening episode.
A First Aid Manual Rounds Out the Package
Of course, most dedicated pet owners will want to be informed of the necessary measures to take to treat pet emergencies while travelling. This is why a pet first aid package such as the Creature Clinic kit also includes a manual. The manual is meant to be used as a study guide. Be prepared before a pet emergency arises by reading this guide before travelling with your furry best friend. Such a manual will explain normal pet behaviour, so you may recognize unusual danger signs that warrant immediate care. It will also explain how to safely approach an injured pet in an emergency situation. You'll also find information pertaining to common pet emergencies. Because many pet owners are unaware of how to perform pet cardiopulmonary cerebral resuscitation (CPCR), the manual will provide easy to follow instructions. Don't leave home without it when travelling with your pet.
We here at Take Your Pet have come across many pet first aid kits over the years but we have come to the conclusion that this is by far the most detailed and comprehensive pet first aid kit available on the market and would highly recommend it.
To find out more or purchase The Creature Clinic First Aid Kit please click here