With over 60% of Australians identifying as proud pet parents, it's increasingly common for people to take their four-legged friends away on holidays with them. This presents a fantastic opportunity for AirBNB hosts to welcome pets too. But what makes a genuinely pet friendly getaway? And if you're a guest bringing your fur baby along for the ride, what kind of (p)etiquette should you follow during your stay? 
In this post, we're dealing out some advice to make sure both parties reap the benefits of a pet friendly AirBNB. All it takes is communication, clear policies and some good ol' common sense!
For AirBNB Hosts: Preparing A Pet Friendly AirBNB
Make Your Policies Crystal Clear:
It's best to set expectations right from the start, so both you and your guest are clear on all pet friendly policies. Make sure your AirBNB listing states any specifications around how many pets are allowed at the property, where they can go and if there are any additional fees involved. This information needs to be unambiguous, easy to locate and agreed to before the booking is confirmed. 
Ensure Inside Access:
Ok, we'll say it – the best pet-friendly accommodations doesn't insist on keeping pets outside! Having a great time around the dinner table while Fido looks forlornly through the sliding door isn't fun for anyone. Of course, not every AirBNB will be able to allow dogs inside, but if you want to earn the title of being truly pet friendly, it's absolutely worth considering if you can. Be sure to be clear on to where four-legged friends are allowed, including where they should sleep and how much they are able to roam on the property. 
Figure Out Fencing: 
Even the most obedient of hounds can be tempted by the wonderful whiff of a sausage sandwich or overly friendly feline across the road when they're away from home, so if your property has a fence, it's going to stand out to travelling pet parents! If it is fully fenced, make this clear. If it's not, specify what areas of the property are contained i.e a gated verandah or outdoor area.
Safety First: 
Just as a secure yard is a good idea for holiday digs, security is also essential in areas where there are height or water hazards. Pools and spas should be fenced and all balconies or upstairs decks should have secure balustrades that are both dog- and child-proof.
Offer Pet Friendly Amenities:
Extra conveniences often make all the difference to a relaxing, pet friendly holiday. If you can offer amenities like leashes and poo bags, doggie bedding and bowls or even a few chew toys, this will make your AirBNB extra welcoming for a pet owner. And to make it extra easy for guests to clean up after their companions, make cleaning products, coverings for furniture and extra towels easily accessible.
Source Nearby Off-Leash Areas:
There's no point allowing pets in your AirBNB if you're right in the middle of a national park or a six-lane highway. If you want pet parents to have a truly great stay, be sure to showcase nearby pet friendly attractions and cafes, exercise areas, dog parks and off-leash beaches. 
Add In Special Extras: 
There are plenty more luxurious additions that can make a pet friendly AirBNB stand out from the pack. Do you offer professional doggy sitting on site? What about organised social outings or a spot of pet pampering? If caring for fur babies is your thing, then be sure to showcase this with your AirBNB listing. Your visitor will relish the opportunity to spoil their pet and do something a bit different to their usual routine.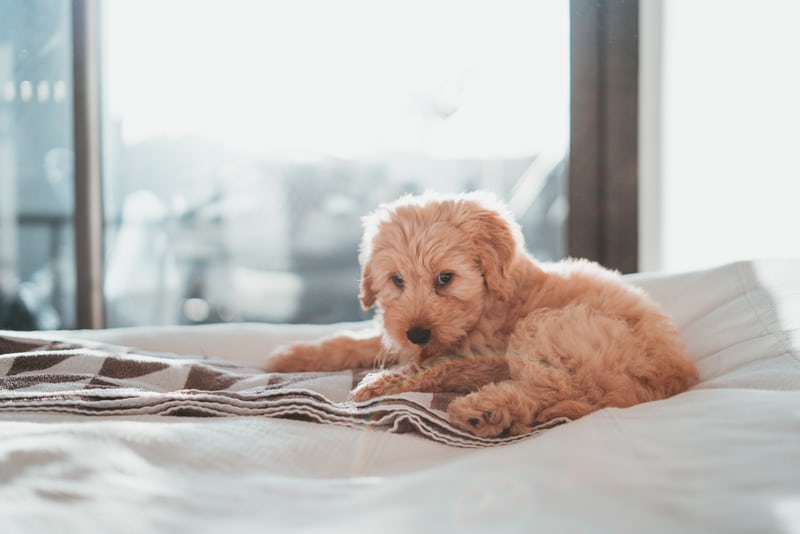 For AirBNB Visitors: (P)Etiquette For Your Air BNB Stay
Check The Fine Print First: 
Always double check that your AirBNB is pet friendly and learn their policies before you set off for your holiday.  Some Air BNBs may restrict pets inside, only accept one pet at a time, disallow you from leaving them alone at the property or expect them to stay kennelled during the stay. Confirming beforehand saves awkward conversations or misunderstandings on arrival. 
Manners Matter:
This one is house guest 101 – all about using that common sense and considering how you would want others to treat you and your pets in the same situation. Some things to keep in mind include:
Clean up any messes immediately, minimise odours, bring plenty of poo bags and be discreet with litter trays. 

Be considerate of any furnishings and don't let your dog onto any furniture, or inside, without the approval of the AirBNB host.

Practising your commands, particularly recall. Your pet will likely be excited or disoriented in their new environment, so it's extra important that they respond quickly and effectively to your commands.

Stay Vigilant:
An AirBNB will be an unfamiliar environment for your pet and it pays to be aware of changes in their behaviour. Take the time to properly introduce your pet to the property, allowing them to explore under supervision. Assess for any potential dangers like pest traps, poisonous plants, uneven terrain and sharp objects. Especially if there are other animals on the property or kids nearby, you should be proactive in your pet care. Supervise them as much as possible and be quick to act in any situation. Do not let them out unrestrained around children or other pets until you are sure they can safely socialise. Keeping an eye and ear out for behavioural traits, body language and triggers. 
Come Prepared:
You want to pack with purpose so that your pet has everything they need in this new setting. Some top items to consider:
Buy compact food. Dehydrated or freeze-dried food can be an easy go-to when in an AirBNB without your typical cooking set-up. Unless you know your AirBNB is already equipped, bring a can-opener, water and food bowls with you. Treats can be great for reinforcing good behaviour!

Remember your pet's medication and any remedy you use to ease anxiety. A comprehensive first aid kit, any relevant health paperwork and your vet's phone number never go astray either.

Take a portable and secure enclosure, like a baby gate, and any necessary carriers, restraints and leashes.

Bring your pet's bedding so they are surrounded by a familiar smell. If they are sleeping away from you, consider bringing

a piece of your clothing so they can be comforted by your scent and stay calm.

Stock up on a small supply of cleaning products, like deodoriser, paper towels, doggie bags and litter trash bags.