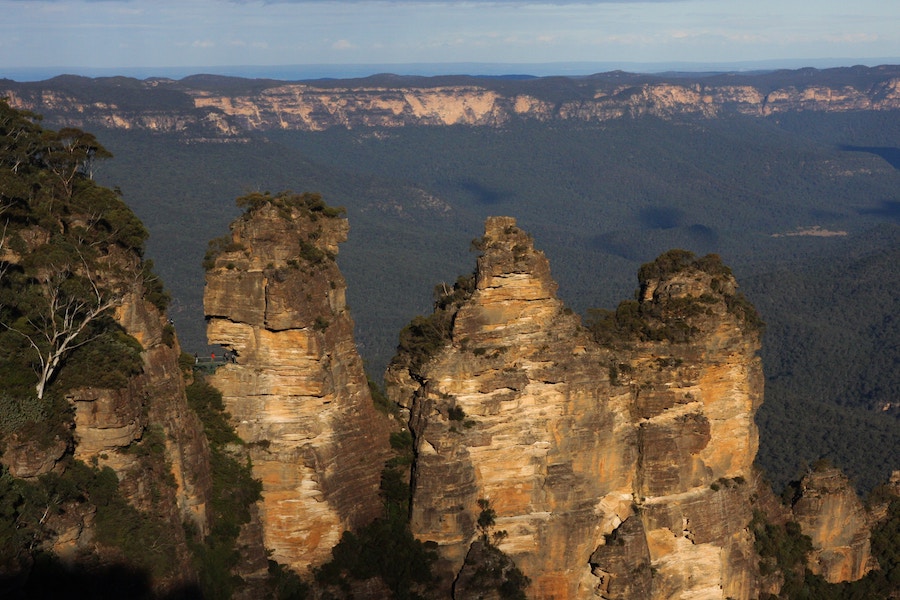 When it comes to winter getaways, you really can't go past the Blue Mountains, NSW.
This region packs a punch, with cozy cottages, foodie hot-spots, stunning bush walks and boutique and vintage shopping. And it's even better in the cooler months, where you can make the most of wood fires, cute cafe nooks and taking in that chilly morning air as you explore the scenery.
The Blue Mountains includes suburbs such as Katoomba, Leura, Blackheath and the Megalong Valley. With lots of ground to cover, we've pulled together our go-to pet-friendly accommodation and cafes.
While you're at it, you might want to explore some walking tracks that welcome four-legged hikers or scope out some excellent boarding houses if you need to leave your pet in trusted hands. 
ACCOMMODATION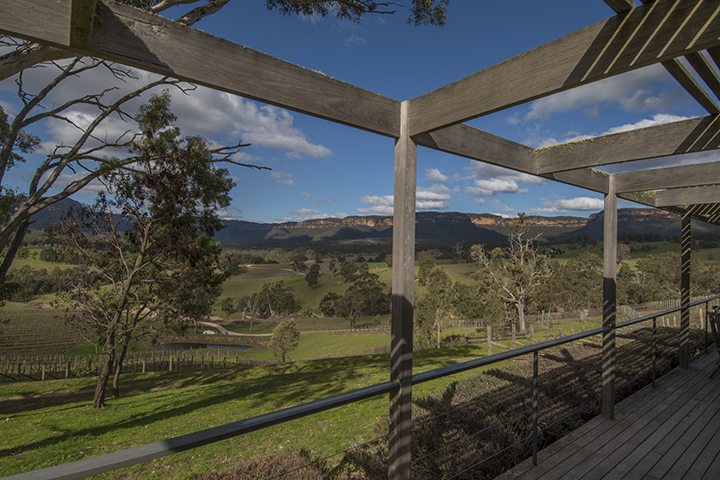 Soak up mountain life and get away from the grind with a visit to Dryridge Estate Sunrise Lodge. With stunning escarpment views across the Megalong Valley, this self-catered, pet-friendly accommodation is nestled on a boutique vineyard. Set on a working farm, half the estate is covered in conservation-protected Megalong Granite Forest. You can also enjoy the abundance of native flora and wildlife and picnic along the crystal clear Megalong Creek.
With two bedrooms, two bathrooms with under-floor heating, a spa bath and an open log fire, you and your family will have plentiful space to relax over the winter months. Not only that, but the pet-friendly lodge is kitted out with exceptional Dryridge wine and the cellar is available to guests for additional purchases.
You can be assured that your dogs will be absolutely welcome, both inside and outside the property. All backyard space is fully fenced, especially given that the farming nature of the property. There is plenty of space for your pets to romp around and ample opportunity for you both to explore.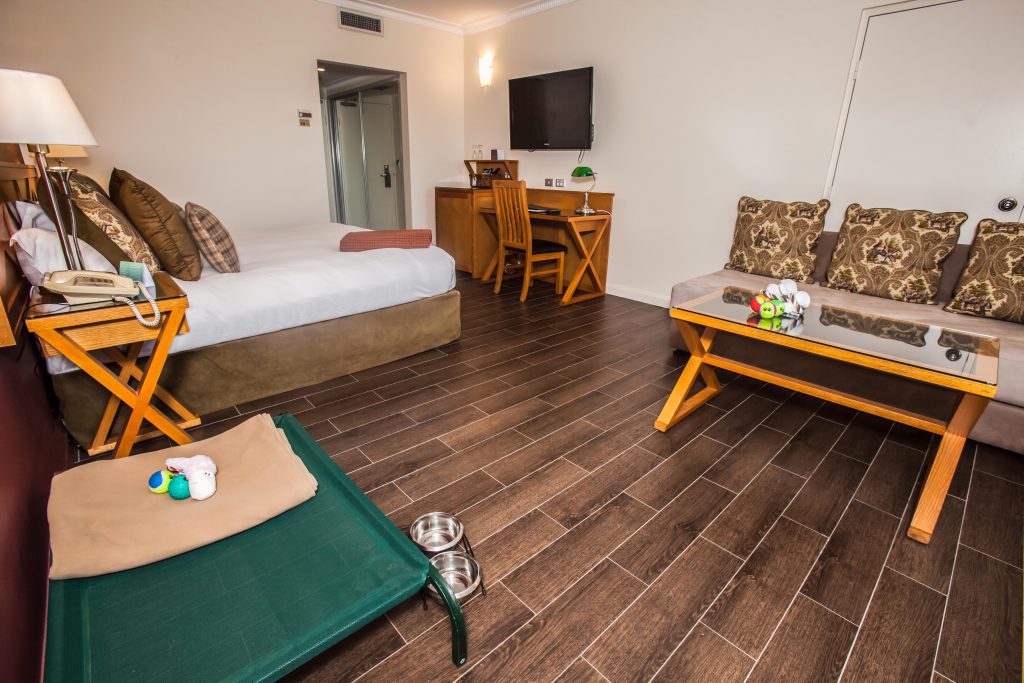 Go off-grid with this up-scale accommodation set amongst the charming Blue Mountains village of Laura. Set on the cusp of the dramatic Jamison Valley, in the World Heritage-listed Blue Mountains National Park, Fairmont Resort is the perfect place to escape for the winter. Better still, it's only 90 minutes from Sydney, making it an easy option for holiday makers taking a break from the big city. Whether you're looking for a romantic getaway, a family holiday, a wedding venue or a business retreat, their facilities cater for every need.
Fairmont Resort has one spacious pet-friendly room available to book upon request. Not only will you be treated with a deliciously comfy king bed, but your fur-baby will have a pet bed all to themselves. This room is also connected to a fully fenced courtyard, giving your pet ample opportunity to stretch and explore outside.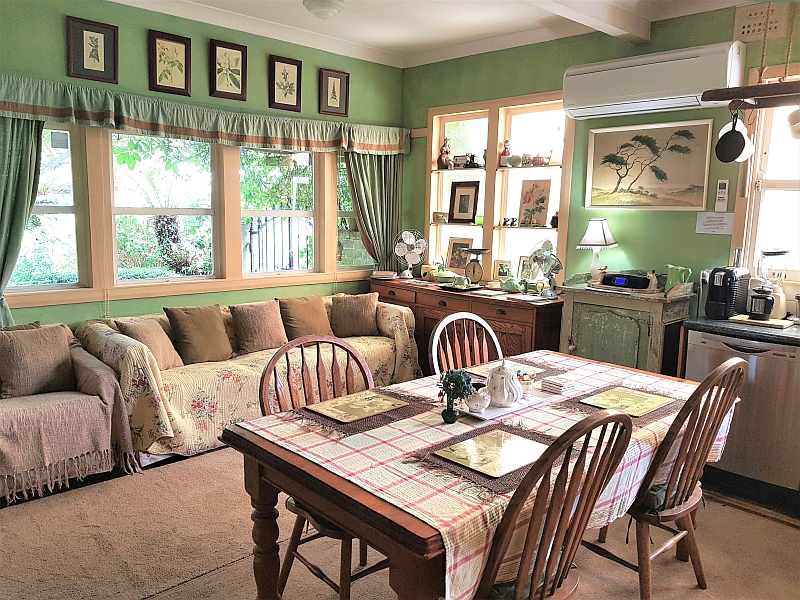 Redefining quaint and character-filled, Secret Garden Cottage is a gorgeous pet-friendly accommodation in Katooma. Only a short 10 minute walk from the main street and train station, this is an easy location to explore via foot or the local bus network. This cottage has such a welcoming air about it and is filled to the brim with antiques and collectables that will have you captivated. It's kitted out with a fireplace and aircon/heating.
Visit the best national park walks the region has to offer, along with a range of tourist attractions like the Three Sisters. Or if you prefer, you can always recline in the clawfoot bathtub with a book and kick back with Foxtel and some DVDs on the flatscreen TV and couches. Secret Garden Cottage contains a queen and king bedroom, comfortably sleeping two couples or a family.
And of course, your pets are welcome too (small to medium size dogs specifically). They'll be content curling up in front of the fire, or getting out and about amongst the Katoomba trails and cafe culture. 
BOARDING HOUSES: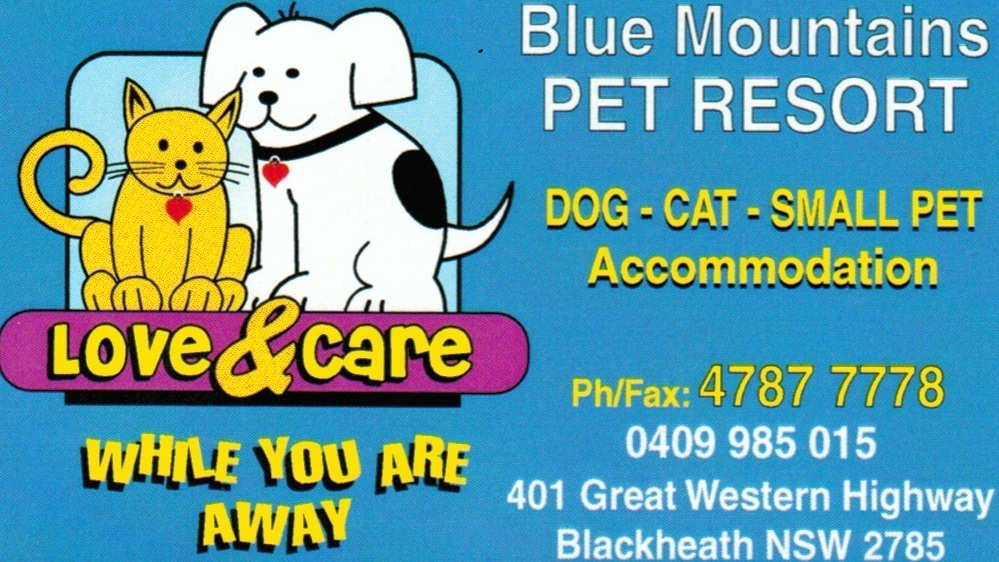 You're not the only one who could benefit from some fresh mountain air! At Blue Mountains Pet Resort, your pets can enjoy a little bit of luxury amongst the tranquil town of Blackheath and 17 acres of bushland. Cats and dogs are welcome – and even chickens too! With a combined 70 years of experience in the Australian pet industry, managers Susan and John will ensure that your fur-baby is healthy and happy throughout their entire stay, with 24 hour supervision on offer. 
Your pets will be spoilt for choice when it comes to daily activities. Cats will take their rightful place as kings and queens of the world, with individual sleeping quarters, chandeliers, pure sheepskin bedding and electric blankets, while dogs will indulge in an exciting "sniffy" walk, heated indoor pens and all-day playtime. All animals enjoy premium food like cooked beef, chicken and fish fillets, biscuits, raw bones and even tasty stew!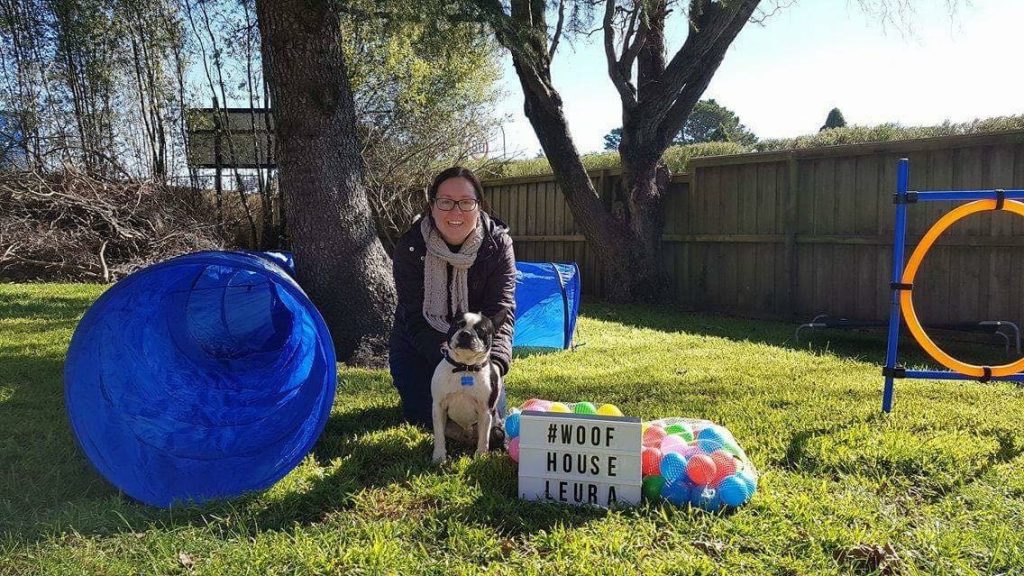 Woof-House is a perfect option if you're looking for short-term dog minding. If you're heading off on a bushwalking where pets aren't welcome or you're committing to a full day shopping experience, your pooch may be happier at Leura's boutique doggie daycare. Located at the Blue Mountains Animal Health (24 hour emergency vet), Woof House only cares for a small number of dogs every day, guaranteeing that your pet will be attended to as much as they need. 
They have plenty of facilities on offer, including comfy beds, a securely fenced garden, 4x heated, indoor and purpose-built dog runs, and tons of homemade treats and toys available. You'll also have peace of mind knowing vets are on call if needed. The daycare service is super affordable, with a casual rate of $10 per hour up to 3 hours, $35 for 3-6 hours and $45 for 6-9 hours. Pensioner and multi-dog discounts are available. Walk-ins are welcome, but proof of vaccination will be required. 
CAFES: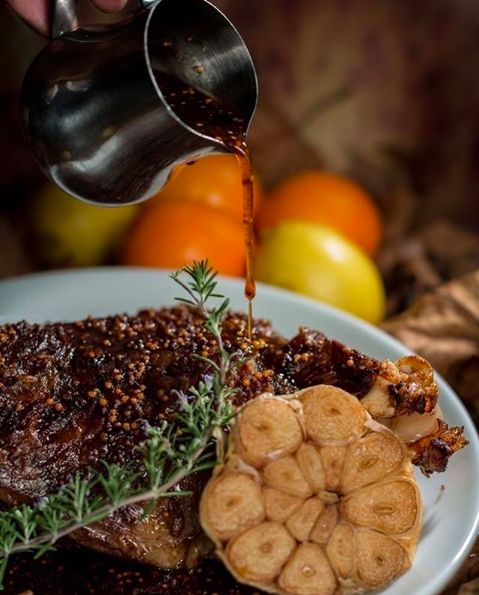 Leura Garage is an institution around the Blue Mountains region. It's an award-winning restaurant, cafe and bar located in the heart of Leura. Tucked inside an old mechanic workshop, it is a total treat for the senses with silky smooth tunes, delicious flavours and an ultra cool combination of leather, timber, steel and stone interiors. 
Laura Garage offer fresh, local food and wine and place a big emphasis on sustainable practices and energy consumption. On the seasonal menu, you can expect to sample small plates of grissini, calamari fritto and chicken wings glazed with honey, soy and chilli. There's super fresh salads ranging from quinoa, carrot and red cabbage, to seasonal pear and crispy pancetta. You can also grab polenta chunk chips, fries and truffled potato mash on the side, because #balance. And if you're in the mood for a serious feed, go for the pulled pork bun or aubergine burger. Leura Garage also does tasting and banquet menus perfect for larger groups. Leura Garage is open every day 12pm til late.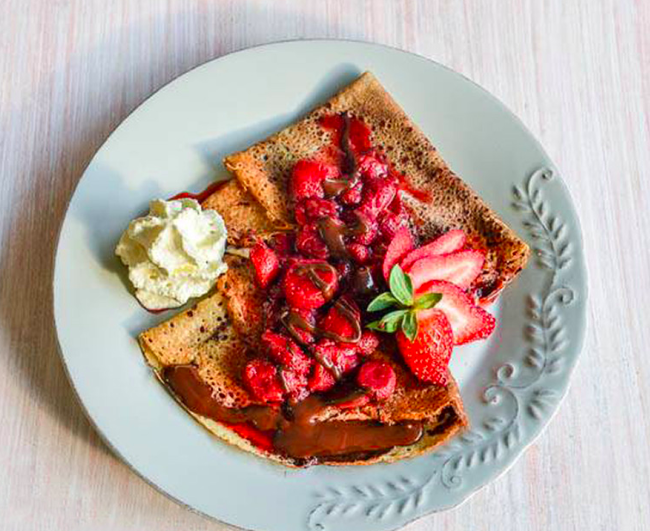 This Katooma hot-spot is an accredited Slow Food Cafe. Little Paris Cafe follows the French way of seasonal, local and speciality produce and is known for their Trunkey Creel Toulouse sausage, bacon and ham. The food is super authentic, ranging from savoury and sweet crepes, croquet monsieur and souped du jour to classic quiches and omelettes. Indulge in a sweet treat, with their house baked gateaux and yummy nougat. The coffee is organic and fair-trade, by boutique local roaster Fish River Roasters. 
Your pets will love the spacious outdoor area, where you can grab a table tucked away from the hustle and bustle of the main streets. Water bowls can be provided. Little Paris Cafe is open Monday – Friday 8.30am – 2pm and Saturdays 9am – 3pm.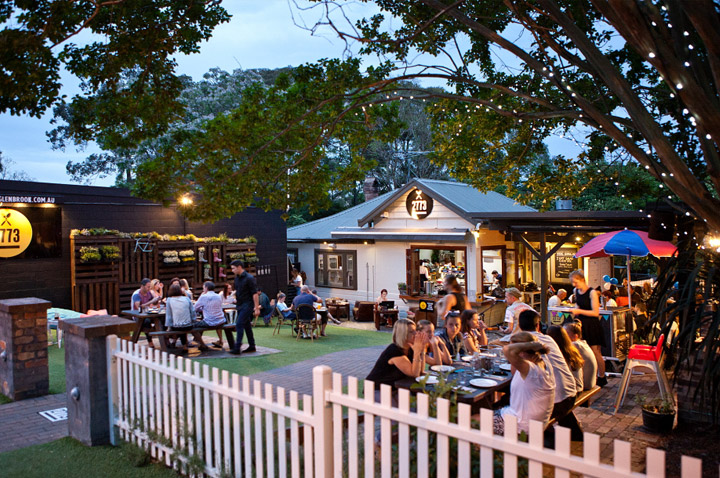 Nestled in beautiful Glenbrook at the foot of the Blue Mountains, you can't go past Cafe 2773. With in-house roasted coffee, a menu full of local, organic produce and an extensive selection of local beer and wine, this is a place to bring friends, family and fur-babies alike. There's an enclosed outdoor play area perfect for children and they'll love checking out the farm area with chickens, veggie patch and two miniature pigs! Cafe 2773 even allows you to grab a picnic rug and enjoy your feast on the grass, and there's live entertainment on the weekends! Your dogs can enjoy the ambience in the plentiful outdoor areas. 
The menu is diverse and super creative, with choices like chia pudding with coconut pannacotta, an intriguingly-named 'hash brown mountain, a divine brekky board and macadamia pancakes on offer. For lunch, you can chow down on an All-American burger, nachos or lobster mac. There's plenty of kiddie options too. Don't forget to sample a house-made dessert or treat yourself to something from the ice-cream cart. 2273 is open Sunday to Wednesday 7am – 5pm and Thursday to Saturday 7am til late.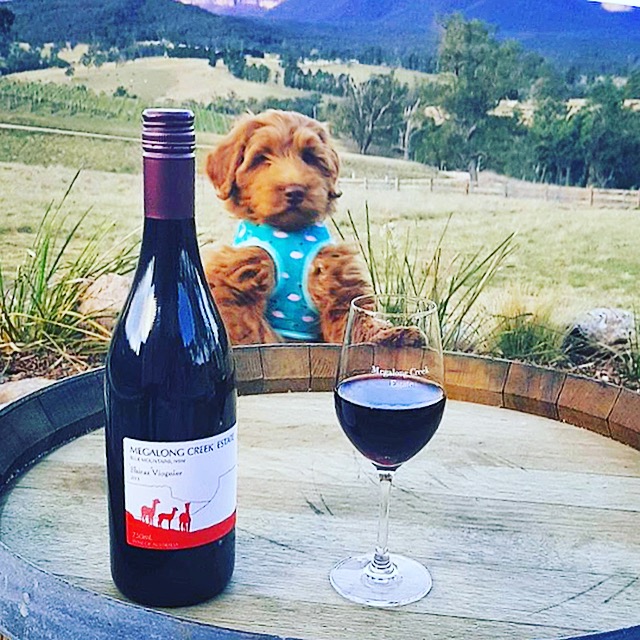 If you're looking for more of a 'liquid lunch', check out one of our favourite wineries in the region. Located in the Megalong Valley, Megalong Creek Estate is led by Jacob Stein, the award-winning third-generation wine-maker of Robert Steins wines. Megalong Creek Estate grows and hand-picks their grapes locally and transports to Mudgee for wine making. Wines are 'single vineyard' and include Viognier, Pinot Grigio and Shiraz. 
This boutique vineyard is VERY pooch-friendly. As a working farm with lots of wide, open spaces, there's plenty for your pet to explore while still staying safe. You can relax with a wine while they bound about and chase the many exciting 'farmy' smells!
PARKS:
You might be content sitting in front of the fire, but your pet may get a case of cabin fever (pun intended!) Head to one of these local reserves so they can run off that energy.
Remember to show good petiquette! Follow the off-leash hours of use. Ensuring your dog is under effective control at all times. Dispose of waste in the bins provided. Your dog should have a current vaccination and cannot be left unattended.
Located in Blackhealth, this is a small area with 24 hour access, a secure fence and a dog waste bag dispenser. 
Located in Katoomba, this is a large reserve with 24 hour access. There's a dog waste bag dispenser on offer and a great shared oval for games. 
Located in Wentworth Falls, this is a large area with 24 hour access. With a shared oval and dog waste bag dispenser, you can easily while away hours here.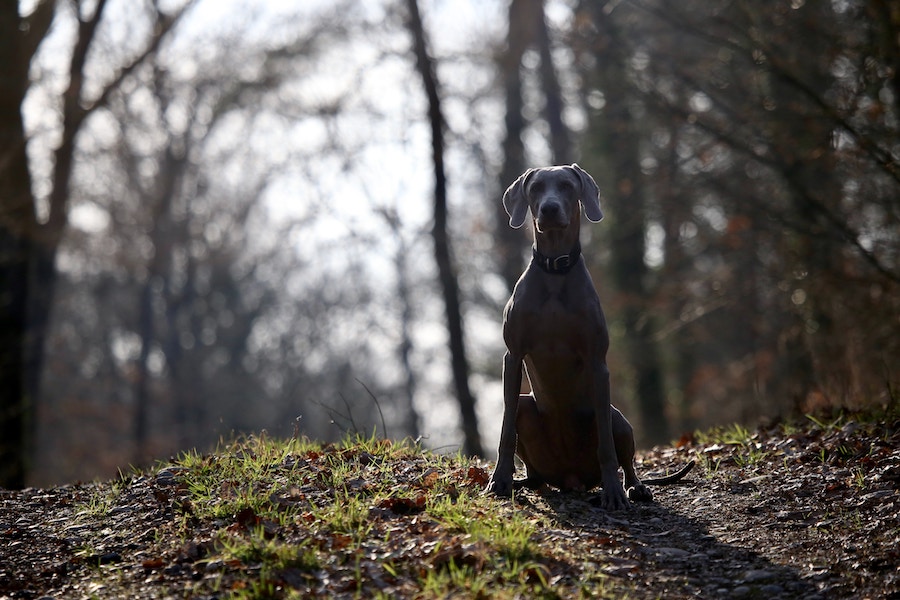 BUSHWALKS:
Your four-legged explorers aren't permitted in any national park area in the Blue Mountains, but that doesn't mean there isn't fun to be had! You just need to sniff it out. These walks are all dog-friendly (your pooch should be on a leash unless there is signage that specifies a leash-free zone) 
A medium-grade 3km trail located near the foot of the Blue Mountains, Florabella Pass boasts incredible bird life and rock formations. The terrain is quite rugged, but it's dog-friendly with parking at each end of the walking trail. You can access it via Florabella St, Warrimoo or Ross Crescent, Blaxland. It should take approximately 2 hours each way. You'll get great views of Glenbrook Gorge, Florabella Creek and Pippas Pass. 
This walk is close to Katoomba. It's around a kilometre to the waterfalls, but it is a steep decline into the valley and it's advisable to leave yourself a few hours to complete. The cascade itself is stunning, dropping 20 metres into a deep pool. With lots of large steps and a metal staircase, small dogs may struggle. But it's a perfect challenge if your pooch is up for it!
This reserve has historical significance, with walking trails following the original, early 20th century tramways of the Blue Mountains. This is an easy grade walk around Darks Common, Bluff Lookout and Chalmers Lookout. It's great when you have a pocket of time and should only take 1 hour return. Access this trail via Emu Rd, Glenbrook and enjoy stunning views of Glenbrook Gorge, Penrith and the Nepean River. Car-parking is available and your pooch is welcome to come along on a leash.