The Central Coast of NSW is the ideal destination for a family holiday. Located just over an hour from Sydney, it's easy to escape the bustle of the big smoke and soak up the region's beachside charm. Whether you're seeking out great surf, fabulous national parks or fun for the kids, there's a little something for everyone. 
Visit Avoca or Terrigal for ultimate ocean views and delicious dining options, or hit up Long Jetty for fabulous vintage shopping and even more fabulous coffee. The region is nothing if not relaxed, and that attitude extends to four-legged folk too! We've done our research and found the pet-friendly cafes, beaches and bush walks you have to try.
CAFES: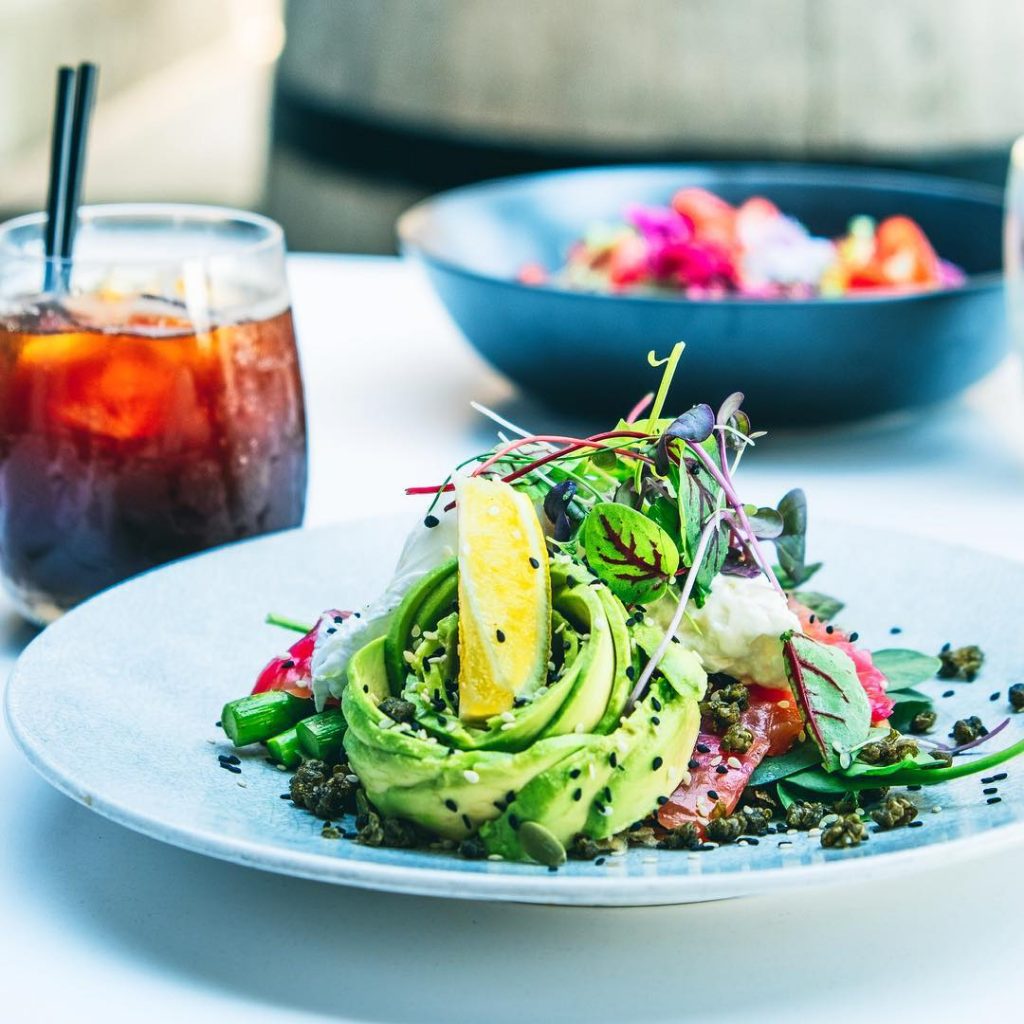 Cove Cafe is nestled in what Terrigal locals call the Haven. And boy, is that name fitting! This pet-friendly eatery boasts beautiful ocean views right on their doorstep. You can take advantage of it via their spacious outdoor veranda, and your pets are welcome there too! It's the perfect spot to start your day with a caffeine fix, before going shopping in Terrigal's boutiques, or refuelling before an afternoon swim. The Cove Cafe is open every day from 7.30am – 3pm. 
The menu is all about fresh, local produce. If you're visiting for brekky, you can kick off with one of the unique, varied coffee blends they offer. Follow it up with their vanilla bean buttermilk pancakes with white chocolate crumble, the harissa scrambled eggs or perhaps their take on the Rueben featuring slow-cooked pulled beef, grilled halloumi and sourdough. If you're passing by for lunch, you can't go wrong with a starter of the Sydney rock oysters or the miche mini cob loaf with garlic, cheese and chives. Mains range from the chicken tikka bowl to dukkah-crusted Australian barramundi and coconut squid with fresh asian slaw. And best of all, the cocktails are always flowing, with a signature Cove champagne concoction, 'Amy's Ameretto' or the 'Icy Soy Boy'; an espresso martini loaded with vegan chocolate.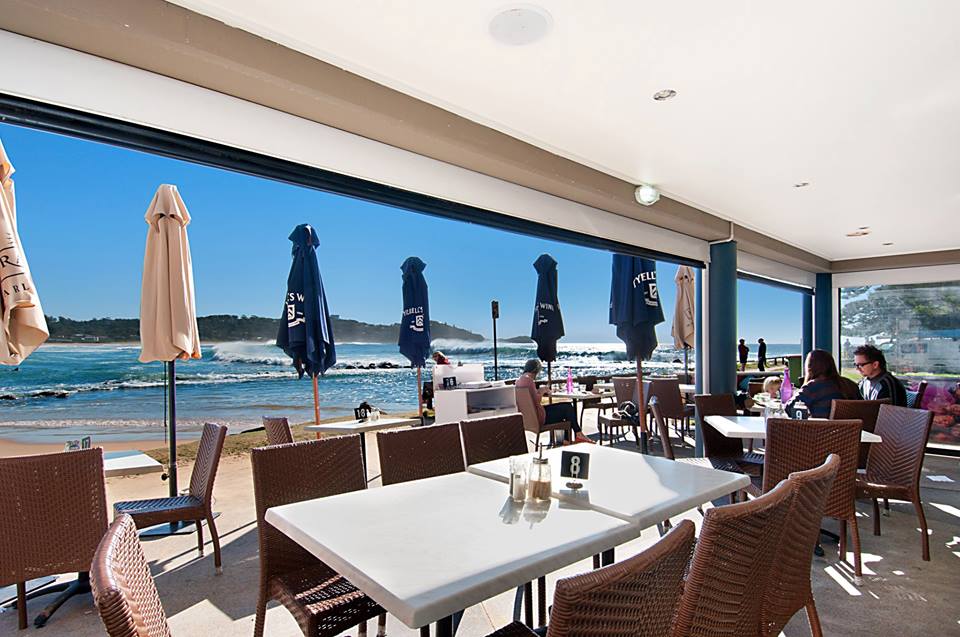 Whether you're a keen surfer, a cinema-lover or a coffee fiend, Avoca Beach has it all. With great breaks, boutique shops and the sweetest movie theatre, it's all about a sophisticated take on the simple pleasures. Point Cafe is attached to the local surf club and boasts beachfront views. Grab a sit with your doggo on the outdoor deck and soak it all in. 
With all-day breakfast on offer and an HUGE menu, there's something to suit every palette. Options range from roast pumpkin bruschetta and house-made granola to brekky burgers and pancetta + halloumi avo smash. For lunch, there's wraps, salads and divine seafood tasting plates. You can't go past the popcorn cauliflower or the signature lemon pepper squid. And of course, there's an awesome kids menu for the little ones. The Point Cafe priorities local businesses, with free range eggs, fruit, veg, honey and award-winning sausages all sourced from Coastie partners.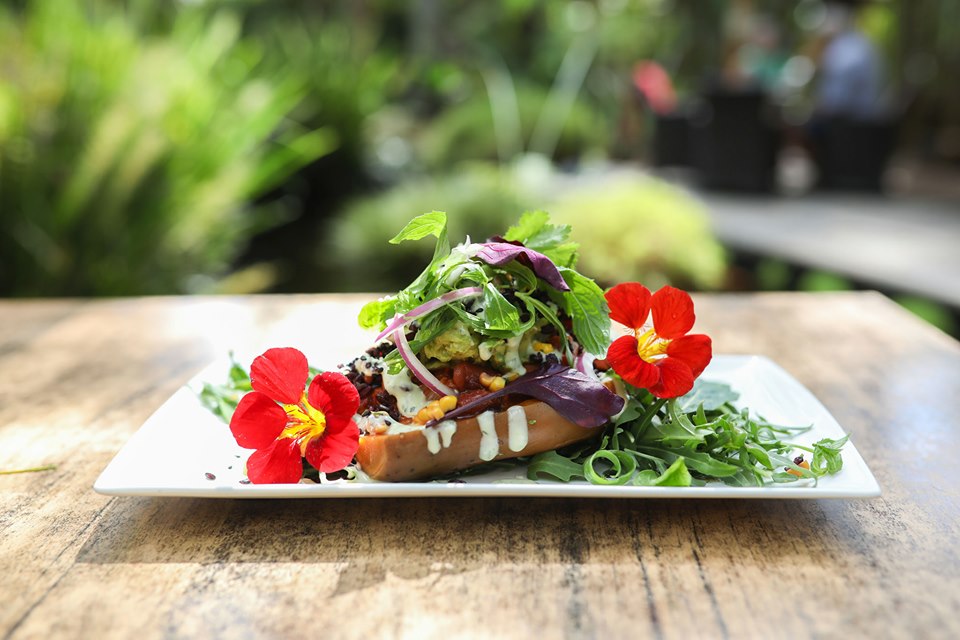 While most of the Coast capitalises on beachside charm, this little oasis in Holgate is something totally different. Drawing on Balinese inspiration, Bamboo Buddha is set amongst serene gardens and koi fish ponds. It's spacious, with lots of outdoor seating where your dog is also welcome. And speaking of downward dog, they even offers yoga classes, run by experienced local practitioners.
Bamboo Buddha has an entirely vegetarian and vegan menu and can meet a whole range of dietary requirements. Brekky staples include avo smash, tofu scramble and toasted banana and coconut loaf, and organic produce is in plentiful supply! If you're visiting for lunch, go for their crispy risotto, the Buddha burger or a fragrant vegetable curry. Top it all off with a cake and coffee!
This is a family friendly go-to! Set right on the headlands of Shelley Beach, Munchas Surf-Club Cafe is perfect when fuelling up for a day in the waves. It's predominantly outdoor seating with some undercover areas, so it's safe to say that your pet is free to play. Plus, the dog-friendly North Shelley Beach is only a stones throw a way!
The menu is simple and full of classic favourites at affordable prices. The Mexican breakfast wrap is a tasty choice, and you can't go past the mushroom stack loaded with spinach, feta and dukkah spices. For lunch, you can sample the sunset burger with cajun chicken breast, the panko-crumbed prawn salad or the zucchini, halloumi and asparagus fritters. The 'Mini-Munchas' menu is also stocked with kid-friendly favourites. It's open daily from 6.30am – 4pm.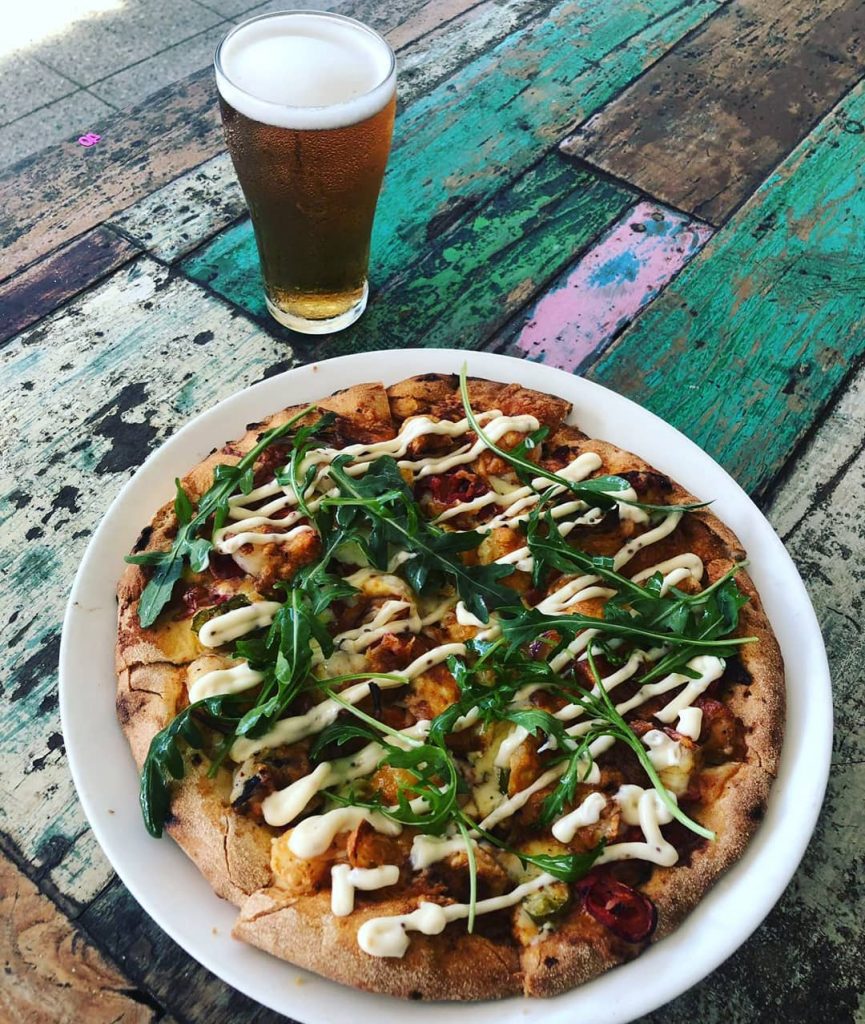 Kincumber Hotel is a classic pub experience, tucked between Avoca, Terrigal and Copacabana. As the owners like to say, every road on the Central Coast leads you to Kincumber Hotel! It's super family friendly and well-connected to public transport, with a spacious outdoor courtyard where pets are more than welcome. 
There's a whole range of tap and imported beers on offer and the menu is full to the brim with tasty pub faves. Go for the classic schnitty, pizza and bangers and mash, or take things up a notch with the pork belly smothered in chilli slaw and Sriracha mayo. There's solid pasta sampling to be done, with a flavoursome braised beef ragu and creamy carbonara, and the tortilla tacos and bourbon wings are definitely more-ish!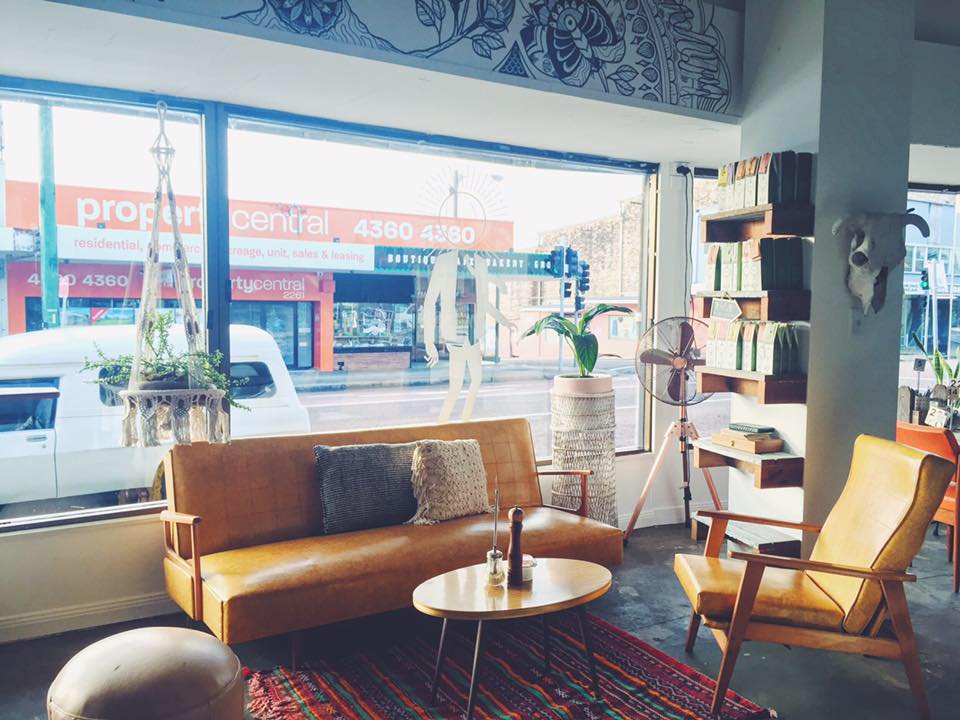 A walking, talking paradox, The Glass Onion somehow manages to blend city chic with coastal casual. This espresso bar and cafe put the quirky suburb of Long Jetty on the map, since its conception in 2011. Known as the 'Newtown' of the beachside region, Long Jetty is now a treasure trove of vintage shopping, top-notch food and some of the best coffee you'll find coast-side. The Glass Onion is very #Instagrammable with fabulous interiors, comfy couches and cozy nooks. And what could be more Insta-worthy than taking your four-legged caffeine fiend out for brunch! Dogs are more than welcome in the outdoor seating area – just be sure to keep them on a lead, as the Onion is right on the intersection of a busy main road. 
The menu is diverse and ever-changing, with organic, local produce at the forefront. Try the twice-cooked pork belly with Asian greens and chilli caramel soy, or the rosemary lamb skewers with quinoa tabouleh. If your tastes are a little more simple, don't despair – the smoked salmon smashed avo, bacon and egg rolls, and house beans and potato hash are sure to do the trick. Plus, the drinks menu doesn't disappoint, with everything from organic, fair-trade tea to fresh juice to tasty, tangy elixirs for those mornings where you need a pick-me-up. They're open 7am to 3pm.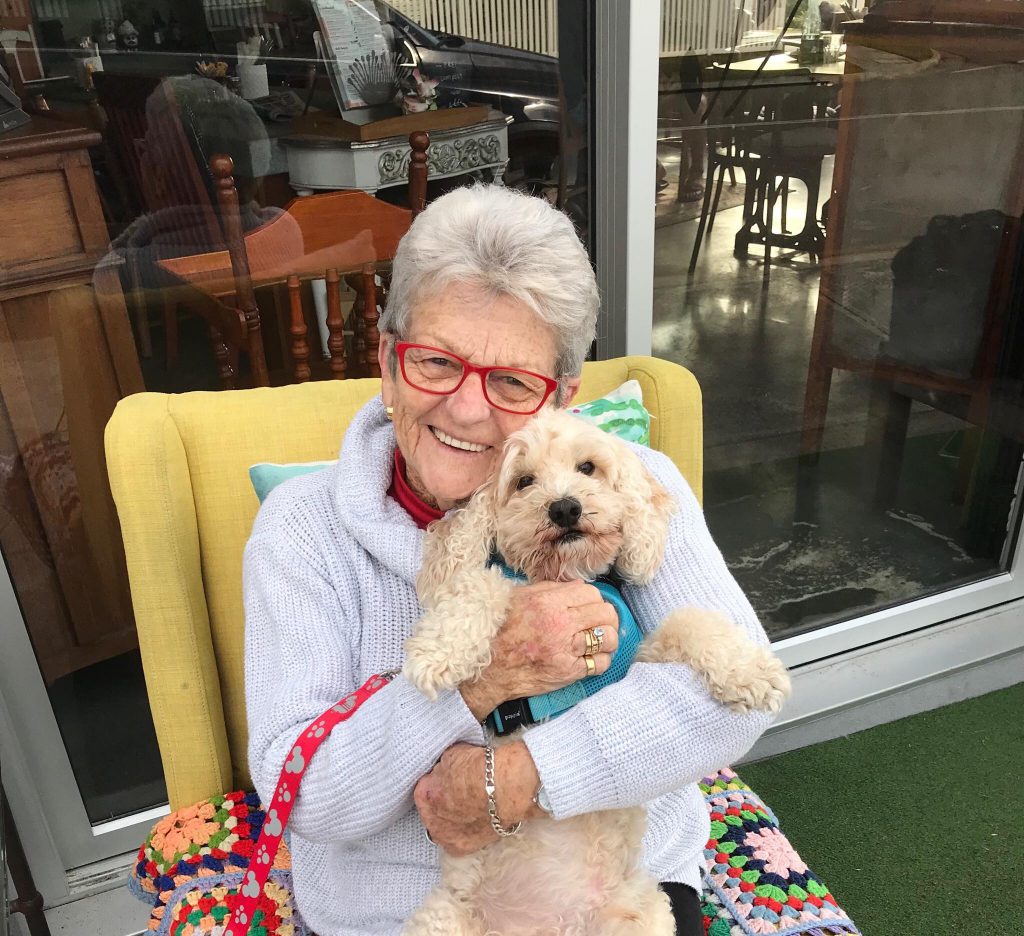 Nestled in Toowoon Bay, Two Birds is a must-visit. This cafe-gallery hybrid offers up delicious food, set amongst everything from handmade jewellery to artisan homewares. It's got a totally charming, boutique feel to it, and is full of vibrant colour, cozy nooks and vintage interiors. Your pets are welcome in the outdoor eating area that wraps around the cafe, and the friendly wait-staff will even supply water bowls. 
The menu is home-style and super affordable, with creative twists on cafe classics. With options like a spiced Indian lentil burger, mushroom bruschetta and a lamb burger with house-made beetroot hummus, you can count on a filling feed! Pro tip? You MUST try the Blue Jay – their signature corn fritters upon a bed of spinach, avo and tomatoes, smothered in balsamic and aioli. Supporting local businesses and creatives is a priority at Two Birds, with organic, gluten-free, vegetarian and vegan options also on offer. It's open daily 8am – 2.30pm.
BEACHES:
Located in the upper north-end of the Central Coast, Pearl Beach is fabulous for a family day out. The surf is typically quite calm around here, making it ideal for kids. Plus, there's plenty of picnic areas, lush green and lots of seating, so it's ideal for a picnic! Dogs are welcome in the 400m off-leash section which starts at the beach's most northern point and runs down to Agate Ave carpark.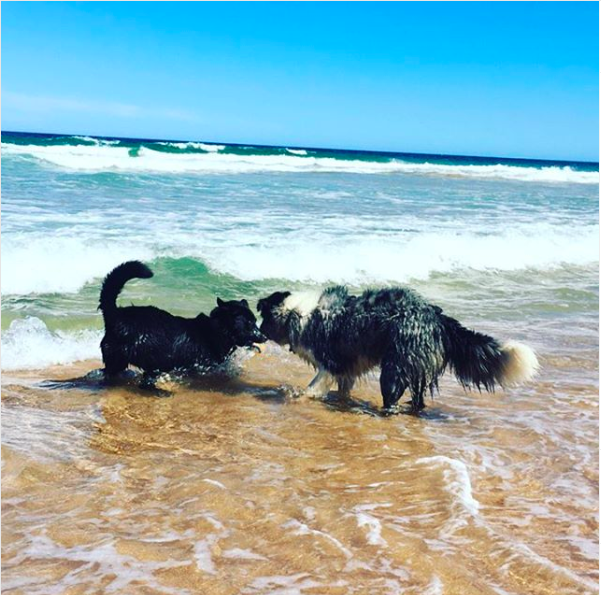 Boasting super easy access and parking, this beach appropriate for human babes and fur babes alike. There's room to catch some great surf, but the beach is also safe for general swimming. With a long stretch of sand and a simple stroll across the neighbouring Toowoon Bay, you can get some exercise in after your swim or opt for the local kiosk for a coffee or ice cream. It's always off-leash, making it a no-brainer if you're holidaying in the area. 
Known as 'Copa' to the locals, this beach is a super popular swimming and surfing beach. With an ocean rock pool that's perfect for kids, patrolled swimming and a whale viewing platform, it's fantastic for families when the surf is low. Cochrane Lagoon is the peaceful and off-leash dog friendly area, that sits between Copacabana Beach and the neighbouring MacMasters Beach. There's plenty of cafes nearby, as well as a kids playground and skate park.
The Entrance is one of the family-friendly hotspots on the Central Coast. With tons of cafes and restaurants, playgrounds and a huge oval which regularly hosts carnival rides, there's always something to do. You can stroll the boardwalk esplanade and enjoy the lakeside views, or even hit up the daily pelican feeding! For dog-friendly escapades, you can't go past North Entrance Beach, which has a 500m stretch of sand on offer. Your pooch will run off all their energy and they can be leash-free when between Wyuna Ave and Stewart Street.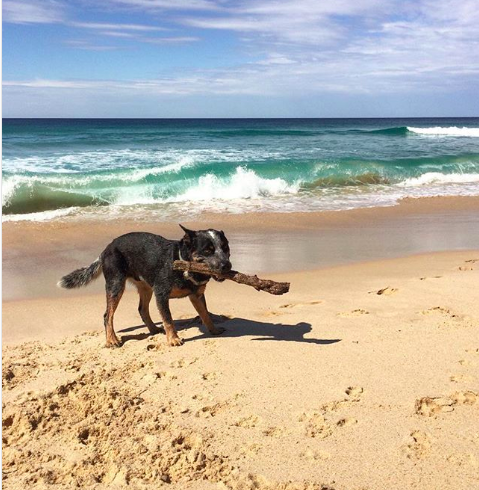 If your dog loves nothing more than the 400m sprint, then Lakes Beach is the destination for you! The off-leash area spans from the Ocean St access point to the Northern carpark. This gives your pet free reign to run the straight stretch of sand to their heart's content. The beach is patrolled and safe for kids too. This is a great choice if you're exploring the north end of the Central Coast. 
Whether you're surfing or simply looking for a beachside stroll, Avoca is the place to do it. It's a patrolled beach that offers great swimming and surfing, as well as a rock pool that's perfect for kids. There's a off-leash section in the middle of the beach, from the lagoon to south of View St. If your pup enjoys swimming in calmer waters, check out Avoca Lagoon right nearby. The surrounding suburb is also full of boutique shops, cafes and their famous family-owned cinema. 
PARKS AND RESERVES: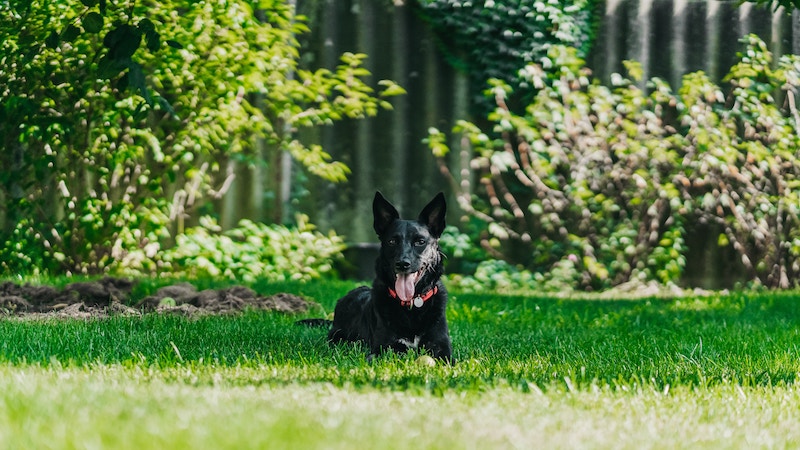 Part of what makes the Central Coast such an ideal family destination is how much green space there is. There's always a children's playground or park nearby, and that also means plenty of off-leash space for your pooch to get their exercise fix. Here are some of the go-to spots you need to know. 
This is a great fenced area where your pooch can explore. It's closed for maintenance on the first and third Wednesday of each month until 12pm. Find directions here.
A medium sized exercise area that's perfect if you're visiting the North Central Coast. Find directions here.
Head to Adcock Avenue behind the bike track, and you'll find a fantastic oval for your dog to run wild. It's medium-sized, with play equipment, good parking and toilet facilities. Find directions here. 
With plenty of parking and great accessibility, this park is an excellent choice for families. Your dog can get their exercise fix while the kids try their hand at bike-riding the cycle track. Find directions here. 
This is a great path that runs behind the oval. It's small, but lovely and open. Keep in mind that dogs are not allowed on the oval itself. You can access it from McEvoy Ave, Australian Ave, Newark Ave and Osbourne Ave. Find directions here. 
BUSH WALKS:
Known as the eco-tourism gem of the Central Coast, Strickland State Forest is a fantastic place to explore solo, with family and even with your four-legged hiker in tow. The Strickland Falls Track is a 1.5km loop. The scenery is stunning, with diverse flora and fauna that is particularly lush with wildflowers and tall eucalyptus trees. You can see the small waterfall on this track, which is gorgeous a few days after rain. Enjoy picnic facilities, toilets and an all-weather shelter. The walk starts at the carpark near the Banksia Picnic Area. 
Another great, pet-friendly walk in the State Forest is the Arboretum Track. It's a 2.3km track. You'll be treated to views of some of the Central Coast's oldest trees; 150-year old Australian Red Cedars, Bunyas and Hoop Pines.