Ahh Melbourne, what DON'T you have going for you?! Cafes that are seemingly built for Instagram land, pumping nightlife, arts and culture, and out-of-this-world shopping. Yep, there's no doubt you can easily spend anywhere from a long weekend to a few weeks in Melbourne town, and never run out of things to do.
Best of all, this city is super pet-friendly, with multiple accommodation options always springing up. We've gathered a few of our go-tos below. But what holiday would be complete without visiting the foodie hot-spots? We've also pulled together some cafes and bars that welcome people AND pets. Trust us, they're the stuff of doggie dreams!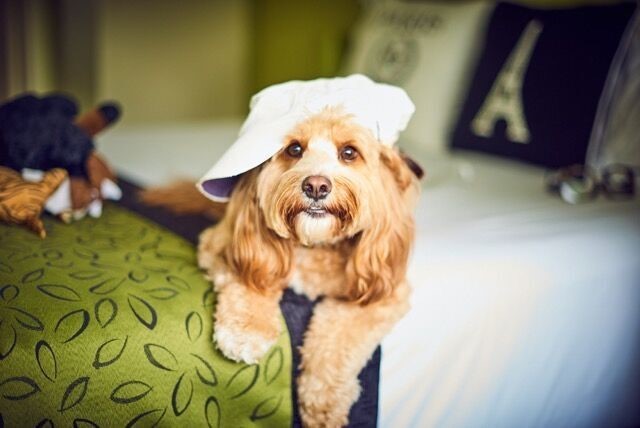 This accommodation is located in the tranquil, tree-lined streets of East Melbourne. Birches Serviced Apartments is the perfect location for those who want to soak up the entertainment and sporting options the city has to offer. Each apartment is spacious and fully equipped with all you need for an easy, luxe city stay. All units have are wifi and parking and an airport shuffle are available. You can also utilise kitchenette facilities when you're not out gorging yourself on the city's finest fare. Birches Serviced Apartments also have facilities for guests with a disability and prioritise equal access.
There are select, dedicated pet-friendly rooms available on request, for a small surcharge. The apartments are spacious enough for your fur-baby to get comfortable and are surrounded by plentiful parks when they want to explore. Only a block away from Darling Square and a leisurely stroll to the historic Fitzroy Gardens, there are many gorgeous walking spots that are perfect for pets. 
This pet-friendly apartment is smack bang in the centre of it all, fusing city chic with an urban garden ambience. With 2 bedrooms, 2 bathrooms, underground parking and a double balcony, it's a great choice for couples, small families and friends getting together. And of course, your dogs are welcome too (small to medium breeds only).
Urban Eden can cater to whatever your needs are. If you're looking to bunker down and relax, you'll love the comfy lounge, smart TV, free wifi and gorgeous outdoor entertainment setting. If you want to get out and about experiencing all things #culture, you won't be disappointed. Foodies will lose their minds in the famous Prahran market and indulge in the finest antipasto and seafood. With only a three-minute walk to Chapel St, there are plenty of amazing restaurants at your fingertips. The iconic Yarra River is only 600m down the street from the accommodation, with wonderful views of the Herring Island. Get active on the ample trails and paths along the waters edge or enjoy the natural sculptures along the river.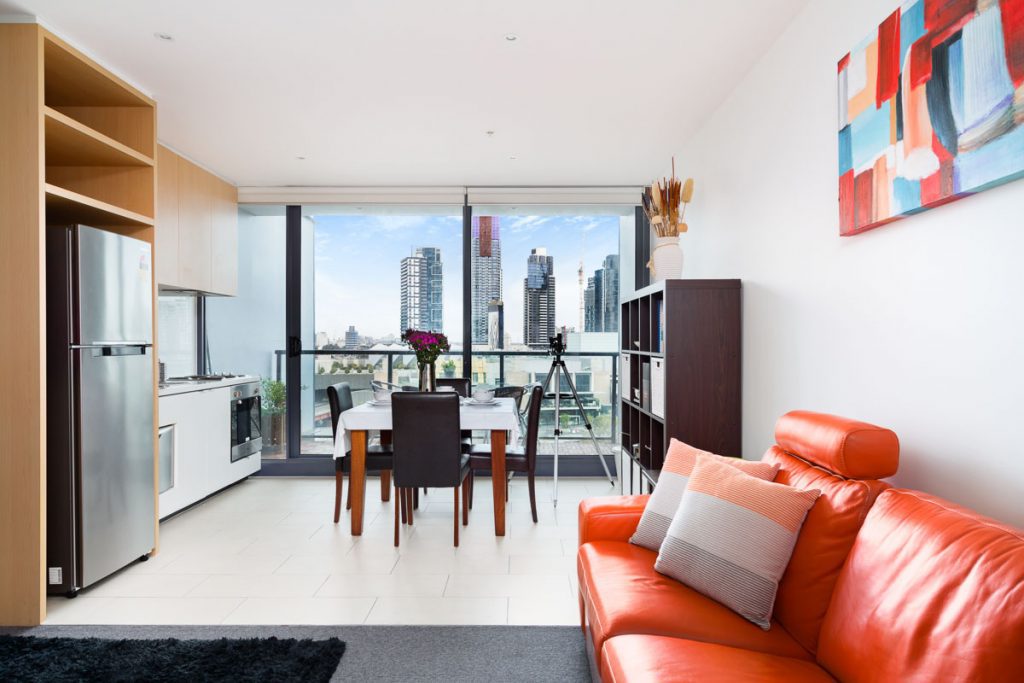 Viste Della Fortuna boasts a prime location on Melbourne's Flinders St, making it an ideal base o explore the city. The newly styled apartment has 1 bedroom, 1 bathroom and can sleep up to 3x guests. It's fully equipped, with a functional kitchen and four seater dining table, sunlight kitchen, linen and towels and central heating and cooling, With a Nespresso coffee machine, NBN wifi, Bluetooth speakers and a flat screen TV, you may never want to leave the apartment!
But when you're in the heart of the city, you won't want to miss out on the hustle and bustle of live music, wine and tapas bars, and waterfront restaurants. The apartment is only a short walk from local attractions like the Melbourne Quarium, Ethiad Stadium, Southern Cross Station and the South Wharf Promenades. There's a tram stop out the front and two major train stations nearby, making it easy breezy to navigate. 
Pets are welcome in the complex, provided they have the necessary vaccinations. Just BYO bedding and ensure that you don't leave your fur-baby unattended.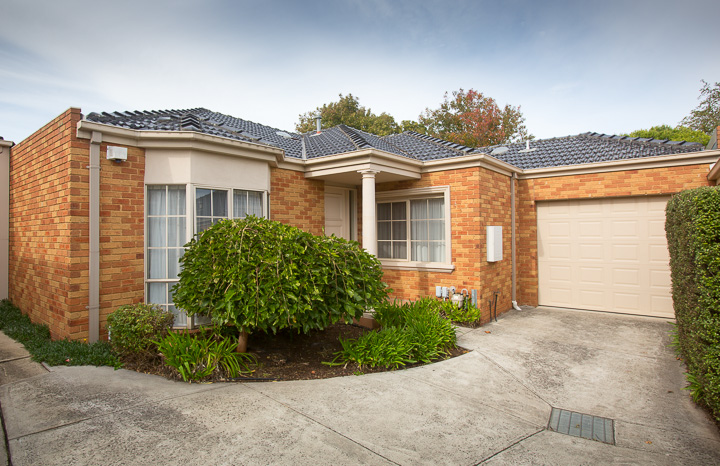 Apartments of Waverly is perfect if you want to take advantage of the city, without being right in the thick of things. Glen Waverly is a short 30 minute drive into the south eastern suburbs of Melbourne. This complex has 3 bedroom, free-standing townhouses and 1 & 2 bedroom apartments. All options are modern and spacious, with a 4 star cleanliness guarantee and elegant interiors. Amenities are all provided, with coffee, tea, linen, towels, toiletries and kitchen/laundry supplies on arrival. You'll be personally welcomed to the complex by a friendly staff member.
Whether you're lounging with a book on the balcony or in the courtyard or chilling out watching Foxtel, you'll have a relaxing and comfortable stay. And when you feel like venturing out, you're close to plenty of attractions, including the entertainment precinct of Kingsway, Century City Walk and the Glen shopping centre. If you're bringing your dog along for the stay, simply let the staff know prior to booking. 
This modern apart'hotel boasts stunning CBD views, contemporary amenities and a range of dog-friendly rooms. Whether you're visiting for business, or a relaxing long weekend,
Somerset on Elizabeth
is conveniently located to many city attractions, shops and cafes. The dog-friendly rooms are absolutely kitted out, with a pet bed and blanket, water, food bowls and poop bags. Not only that, but your four-legged friend will be gifted a special welcome pack featuring treats and toys. Plus, don't forget to let them know if it's your pooch's birthday, because they'll pull out ALL the stops! Each pet-friendly room can access the outdoor courtyard and there's even a doggie room-service menu available!
If you're on the look-out for pet-friendly experiences and activities while in Melbourne, ask their friendly reception team. You can take a tour with staff Tom and his buddy Captain, who hold adventurous walking tours, or enjoy Paws and Pours High Tea and Doggie Winery Tours with Gourmet Pawprints.
CAFES:
Your fur-baby will be right at home at The Farm Cafe. Set on the Collingwood Children's Farm, this gem offers a natural and blissful escape from the daily grind. Your pets are not at all out of place as you spot goats, lambs, horses and cows – plus children will be absolutely delighted by their new farm animal friends.
The menu is hearty and homestyle, with favourites like the 'farmer's breakfast'. Poached eggs, pork sausage, Berkshire bacon and spiced relish will have you salivating, alongside other breakfast classics. Also, hot tip? The scones and homemade jam are life-changing. Check out their dedicated Instagram account @dogsofthefarmcafe to see how happy your four-legged friend will be amongst this pastoral home away from home.
Lux Foundry is a gorgeous warehouse cafe based in Brunswick. They warmly welcome four-legged coffee date companions, particularly because the cafe boasts a large and unique outdoor space. It's north-facing, with the majority of seats covered and gets delicious sun during the warmer months. It's still a year-round destination though, with blankets and heaters provided in winter. Your pooch will be happy romping around the courtyard while you enjoy the speciality Proud Mary coffee, roasted in Collingwood.
The menu offers something to suit everyone, with classic eggs, rolls, banana breads, bircher muesli and a lip-smacking middle eastern brekky spread. Or if you prefer to come for lunch, you have to sample the pork belly bao, poke bowl or one of the many burger options. Kids are also warmly welcome and there's an extensive children's menu. Free wifi is also available.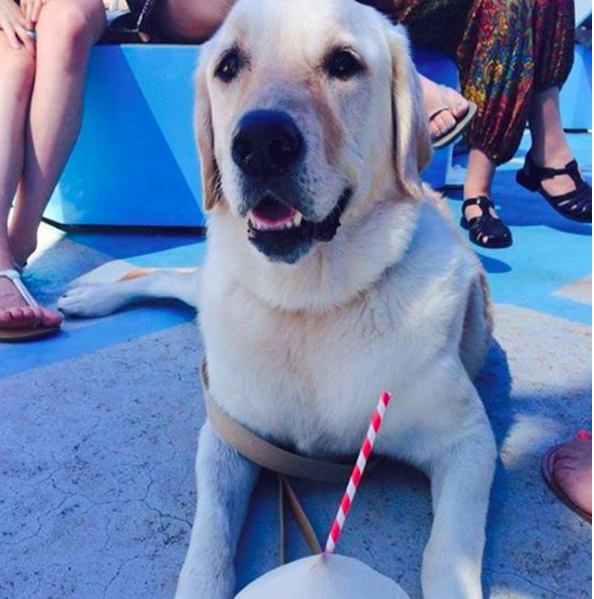 This is the ultimate beach cafe that welcomes pets and people alike. Originally built in the 1920's, the West Beach Bather's Pavilion has been wonderfully restored and now caters to the modern beach goer and their four-legged counterparts. It boasts a stunning location, right on the water and is the perfect place to watch the sunset. The menu is fresh, hearty and more-ish, with classic fish and chips, scotch fillets, salads and pizzas available for lunches. If you're stopping by after an early morning beach walk, you won't be disappointed with the breakfast fare. From fritters and granola to Benedict and buttermilk pancakes, top it off with a yummy coffee and pick something off the kids menu for your youngsters.
BARS: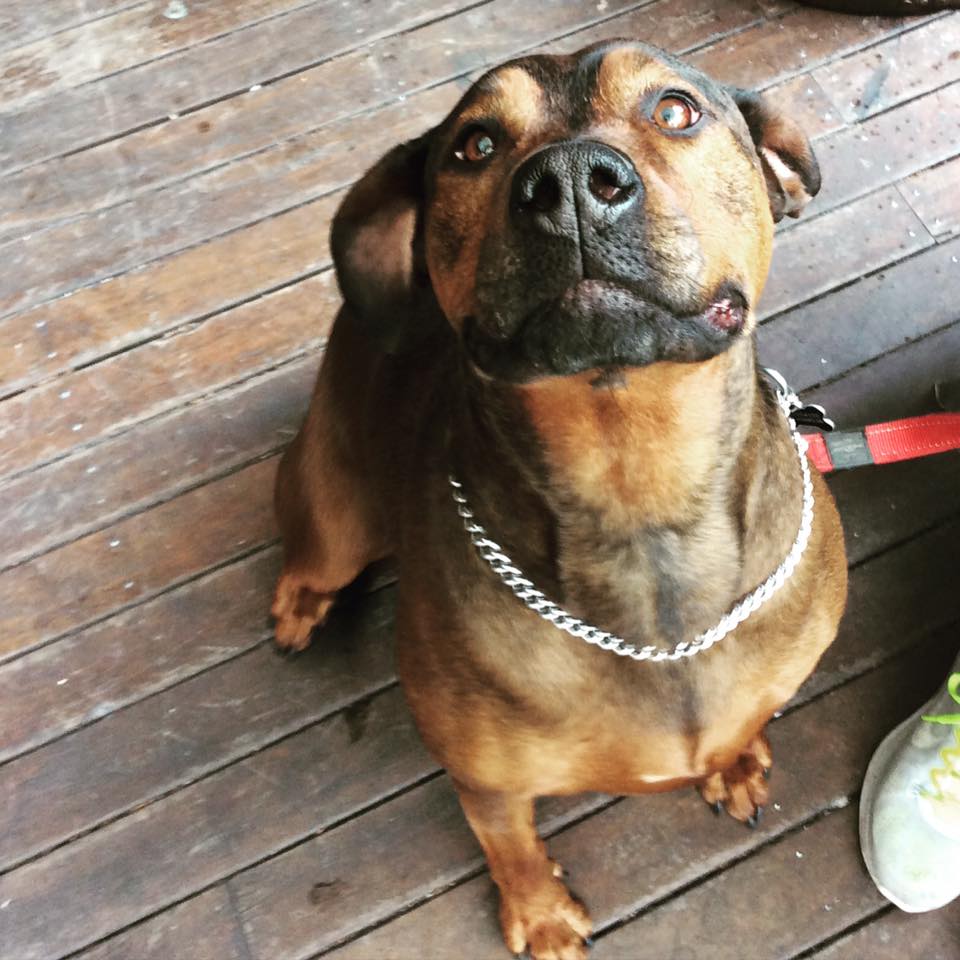 This Carlton North institution is so pet-friendly that it even has an Instagram account dedicated to it's pooch-punters (@dogsofgnh). With a super spacious beer garden, you can relax with friends and fur-babes alike. There's also a big outdoor screen where you can catch the football. 
You'll certainly never go thirsty, with 22 local and international beers on tap. On the menu, there's homemade pub fare that is as affordable as it is delicious. Tasting plates include crumbed brie bites, pulled pork sliders, nachos, quesadillas and spicy chicken wings, but the menu is always shifting. With a $14 parma on a Monday, $14 rump steak on a Tuesday and $15 burgers on a Thursday, you can grab a great feed any night of the week. Enter with dogs via the beer garden gate on Pigdon Street.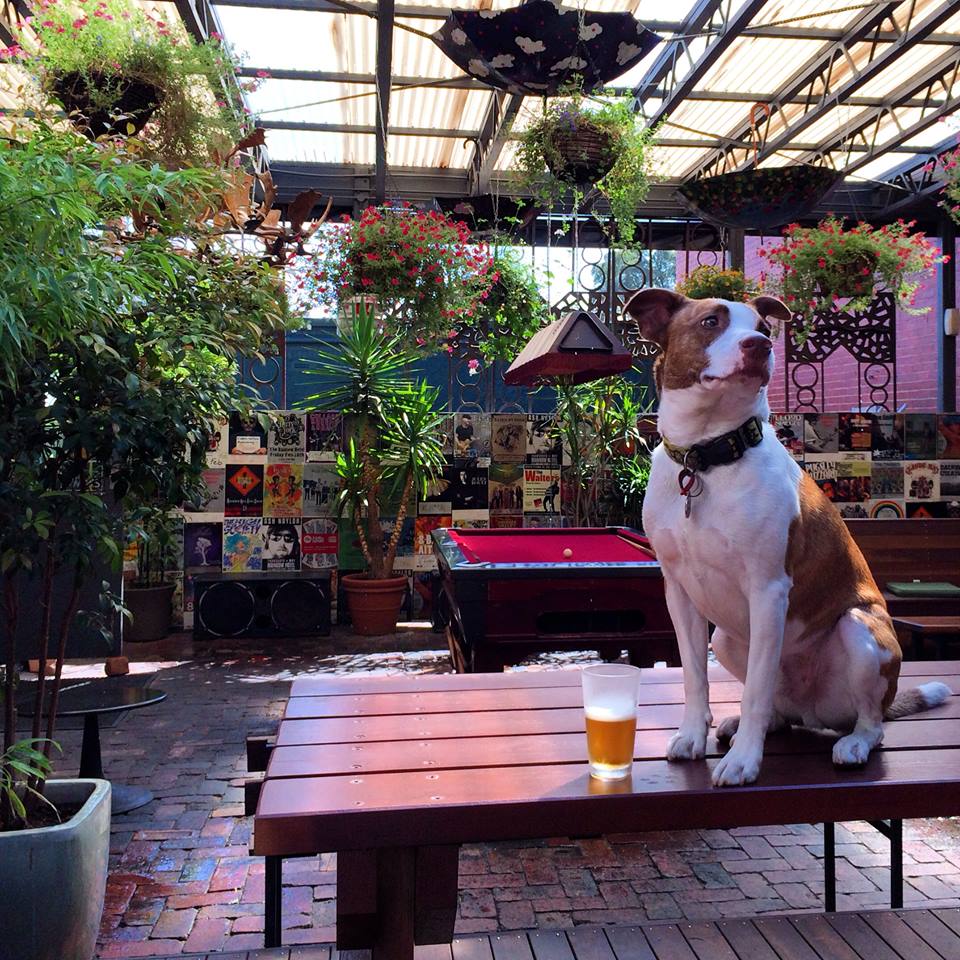 You'll find this classic pub on the backstreets of Fitzroy. The Rainbow Hotel ticks all the boxes for a great night out or a relaxed Sunday session. The outdoor space has it's own bar with a separate street entrance for when your four-legged friend is tagging along (via St David Street). You can play a game of pool outdoors and the beer garden is always full of friendly competition (and all different dog breeds – so your pooch will be in great company). 
There's 100 local and imported beers on offer, and the menu elevates pub grub to an art-form. Start with small plates of kimchi stuffed potato bombs, popcorn chicken, kung pao cauliflower and loaded fries, or go straight for the big guns with a juicy lamb backstrap, lentil and eggplant moussaka or a southern fried chicken burger.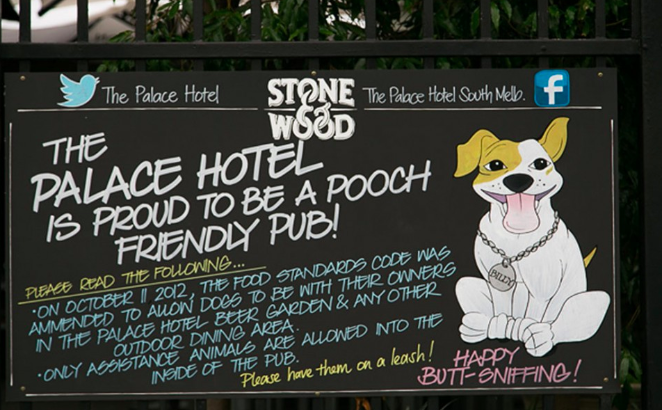 This is a must-visit if you're hanging around South Melbourne. The community atmosphere at The Palace Hotel is always pumping and the shady beer garden is full of people and pets alike. Speaking of pets, this place is so down with doggies that they even have a resident pub pup – a staffie called Billy! The pub is also AFL-crazy and it's the perfect place to catch a game on one of the multiple screens around the place. 
With 15 rotating hand-pump taps, you can sample a range of local, one-off and imported craft beers. In fact, The Palace is an official Good Beer Week venue and they undoubtedly earn that title. As for food, you can expect quality. Boasting the best buffalo wings in town, they also have more-ish curries, pies, steaks, pizzas and chicken parmas. There's a 'Little Tackers' menu for the kids and nightly specials during the week.