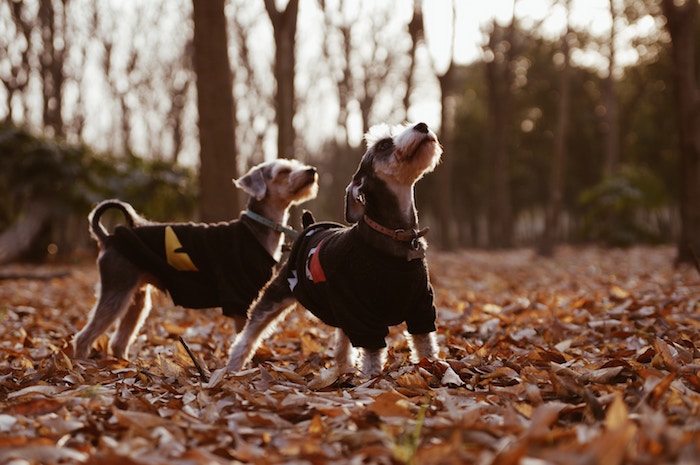 Planning a delicious mid-year break, with friends, family and your four-legged pal? We've rustled up some of Victoria's p'awesome accommodation, that's cozy, quaint and 100% pet-friendly. Read on for our favourites.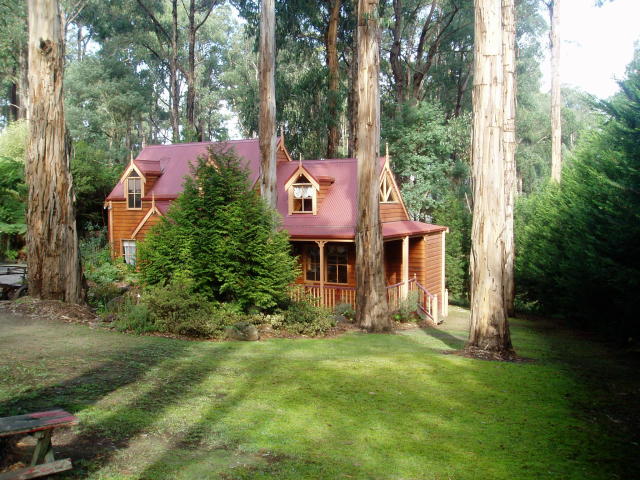 The  Whistle-Stopover is a luxury self-catering, pet-friendly cottage that will have you and your pup feeling relaxed and recharged in no time. Situated alongside the famous Puffing Billy track, this cottage is surrounded by a mountain ash forest setting and spans a one acre property. When pre-arranged, the train stops at Fielder Station, a mere one minute walk away from Whistle-Stopover.
Your host Lesley provides you a three bedroom fully self-contained accommodation, where your pets are completely welcome and able to sleep inside. You can enjoy the BBQ area and verandah, simply watching the myriad of bird-life, supervising your pup's playful exploration or going for a swim in the pool.
Catering for families, groups of up to eight, or the couple who are craving a relaxing weekend away in a serene and private location, this pet-friendly cottage has something to suit everybody. With plenty of activities and attractions close-by, you can enjoy everything from wineries, parks, local arts and crafts, to wildlife sanctuaries.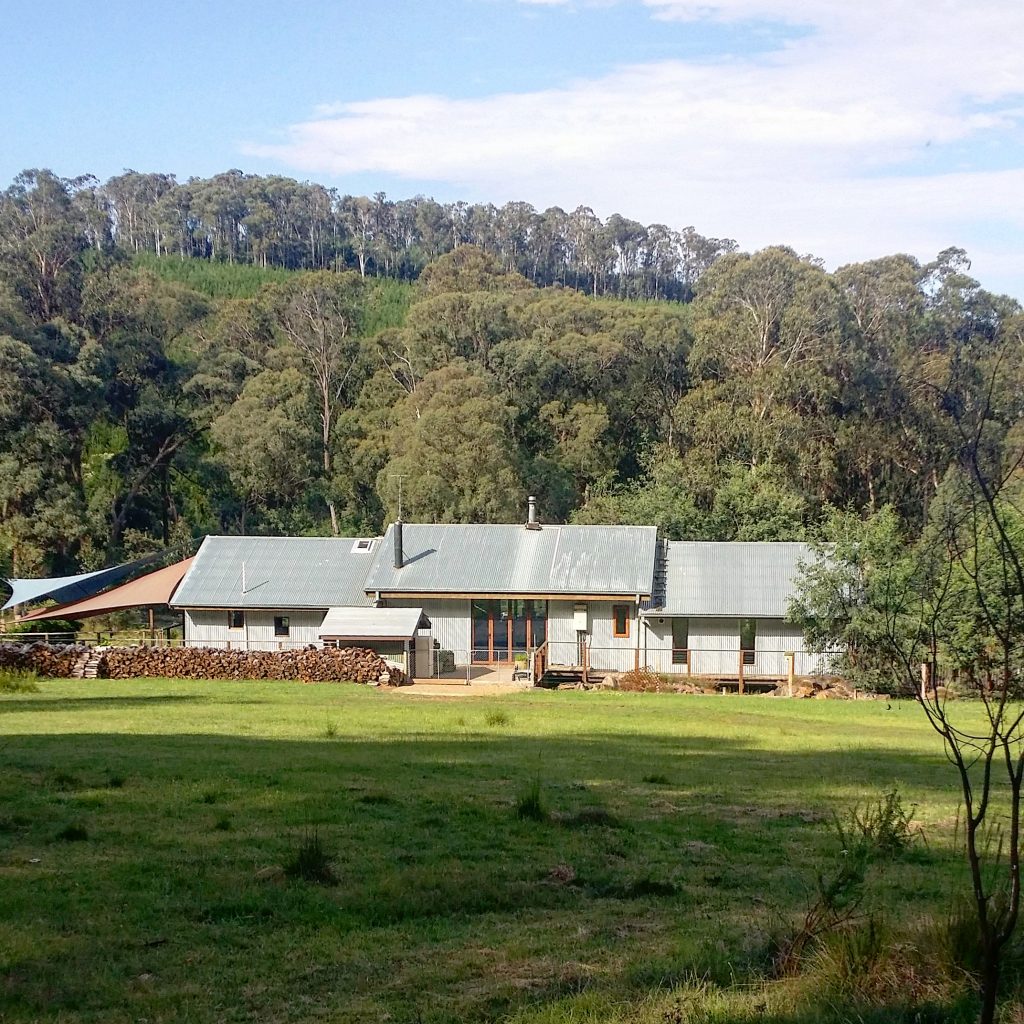 Bald Hills House and Sawyer's Lodge
is a perfect getaway for the Victorian winter. Set on 20 acres in picturesque Stanley, you can relax, rejuvenate and enjoy the serene surroundings of apple, nut and berry orchards.
Bald Hills House is perfect for large groups and bigger families, while Sawyer's Lodge is idea for a couples' retreat or families with up to three children. (And remember, young kids stay free!) Both houses and off-grid solar.
Your pets are more than welcome at this accommodation, where they can enjoy the best the region has to offer. Bald Hills House has 200 sq metres of fully enclosed decking with self-replenishing water trough and Sawyer's Lodge is particularly suited for smaller dogs as it contains a small enclosed deck only.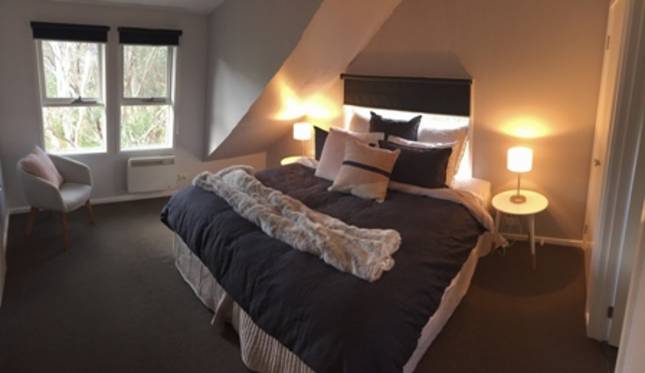 Apart from the fantastic pun, Snow Brainer also has a huge amount to offer as a winter holiday destination. Located in the Alpine Village of Dinner Plain in the Victorian High Country, this dog-friendly chalet welcomes your four-legged family member just as much as you. 
The chalet is toasty warm in winter with heaters in all bedrooms and a gas log fire in the central lounge room. All bedding and towels are supplied. The accommodation has three bedrooms and two bathrooms and can sleep up to 7. It's recently been refitted and renovated for your comfort, so you can enjoy a little bit of winter luxury. 
The village of Dinner Plain is very dog-friendly and features lots of scenic walking trails for you to enjoy together. Plus, the surrounding location is fantastic – you can visit Mount Hotham and the Alpine National Park with ease.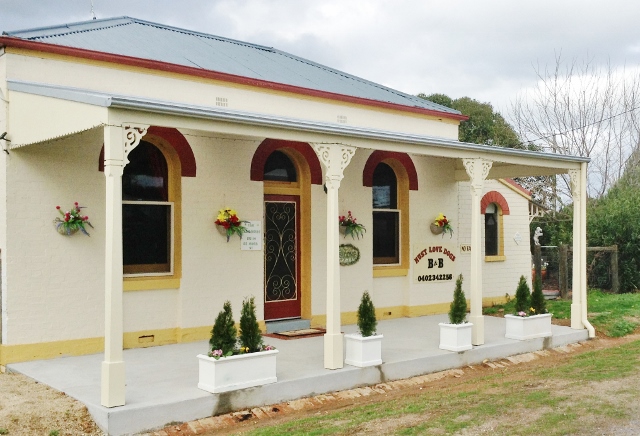 The 2014 winner of top 25 B&Bs in Australia, Must Love Dogs B&B is a pet-friendly accommodation located within the North East wine region of Rutherglen. Your fur-babies are 100% welcome, with large and small dogs allowed inside, fences to ensure security and homemade treats.
Charlie and Chris are even self-confessed specialists when it comes to custom-made dog coats, simply notify them of your needs on arrival!
Two suites are available and have been restored to their former glory, featuring secure shaded gardens where you can feel confident that your pet can explore safely. You can also kick back and relax in the heated pool or spa.
If you take out a picnic hamper on request, get ready for the finest local Rutherglen produce from local cheese, home-cooked meats, local pickles, salad and fruit to crusty bread rolls and crackers. Personal attention is a guarantee when it comes to the Must Love Dogs B&B and Cottage – and that goes for your pet too.
There's plenty to explore around the area, including winery tours, olive grove tours, chocolate factories, award winning Parker Pies, golf courses, walking tracks and cycling along the last leg of the Murray to Mountains Rail Trail. Bikes are available for hire. When you're out and about, there is free pet sitting available.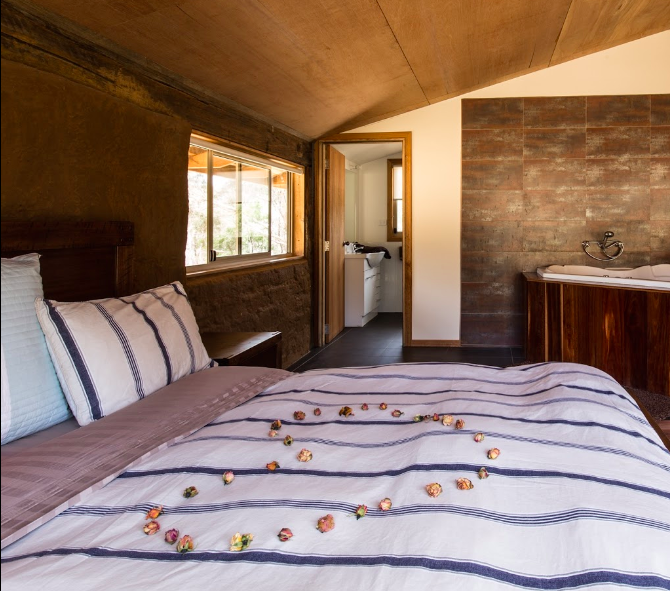 Whatever you're craving for your winter holiday retreat, Spring Creek Accommodation will have what you need. This pet-friendly property is located on 60 hectares and is the perfect place to recharge and enjoy the gorgeous local scenery. Whether you're keen surfers, enjoy hiking or mountain biking, or would love the chance to go horse-riding through the National Park, this secluded cottage can cater to your needs. 
Mud brick houses like this one have great thermal properties, staying cool in summer and toasty in winter. Sustainability is definitely prioritised and the lodging uses solar panels and tank water, as well as cultivating an orchid, vegetable and herb garden. 
This pet-friendly property welcomes dogs inside and has a secure yard for them to explore. Cats are also allowed onsite, though they need to stay inside wit BYO kitty litter and tray required. And if you're bringing along a pet that's a little bigger? Your horse is absolutely welcome to reside in the paddock!