For many Australians, it has been a tough start to 2020. With unprecedented bushfires raging across the country through late December and January, the impact on people, animals, homes and wildlife has been devastating. If you or someone you know has been affected, Take Your Pet sends you all the love, support and condolences.
And given that we spend our days supporting pet-friendly accommodation, cafes and services, our thoughts have been with all those businesses who have been doing it tough in bushfire-affected areas. With these fires coinciding with peak summer holiday season, many businesses have struggled without their usual influx of tourism and they continue to feel the impact as rebuilding and revitalisation efforts take time.
Recently, it's been heart-warming to see our communities rally around this cause. In particular, we've loved homegrown initiatives like @spendwiththem and @emptyesky, which are Instagram accounts that promote fire-affected businesses to encourage and bolster tourism. 
At Take Your Pet, we thought we'd do our bit to add to this positive community action. This month, we're showcasing pet-friendly accommodation from the South Coast of NSW. This region experienced devastating destruction, but is slowly rebuilding and remains one of our most-loved pet-friendly travel destinations.
Note: Before travelling to these areas, be sure to check Fires Near Me application and be attentive to all emergency warnings from authorities. Safety first, always!
Without further ado, here's our top 12 pet-friendly stays on the South Coast: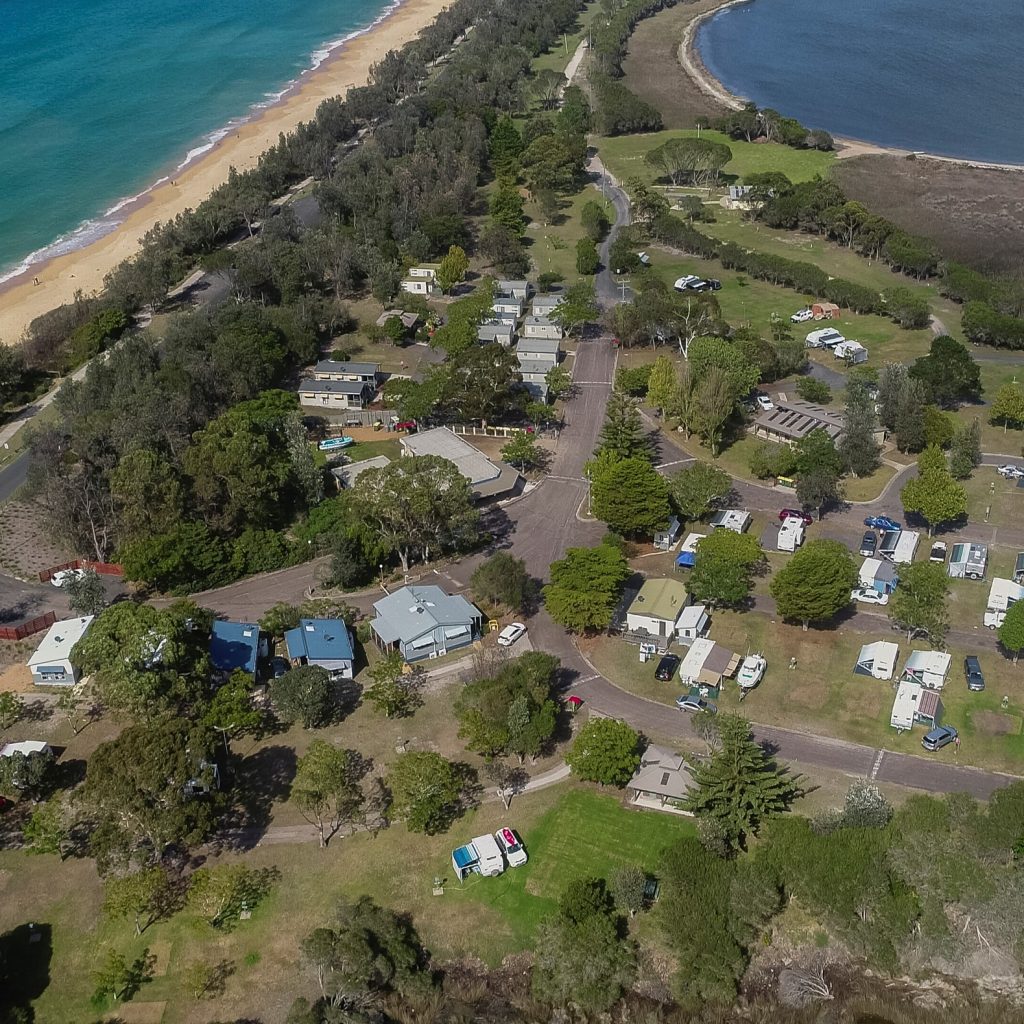 With a picture-perfect waterfront location, Reflections Holiday Parks Eden makes for the perfect coastal getaway. Set on the shores of Lake Curalo, you're a stone's throw from Aslings Beach. From biking along the boardwalk to fishing and kayaking, there's plenty for the whole family to enjoy. 
The facilities are ideal for groups of all sizes, with unpowered and powered sites and comfy cabins (with dog-friendly options available). With a camp kitchen, BBQs, a children's playground and a school holiday activity program, you'll be set for a relaxing, stress-free stay this summer. Plus, the park is totally pet-friendly (excluding 24th Dec – 15th Jan) so your fur-baby can make friends and take a dip down at the local dog beach.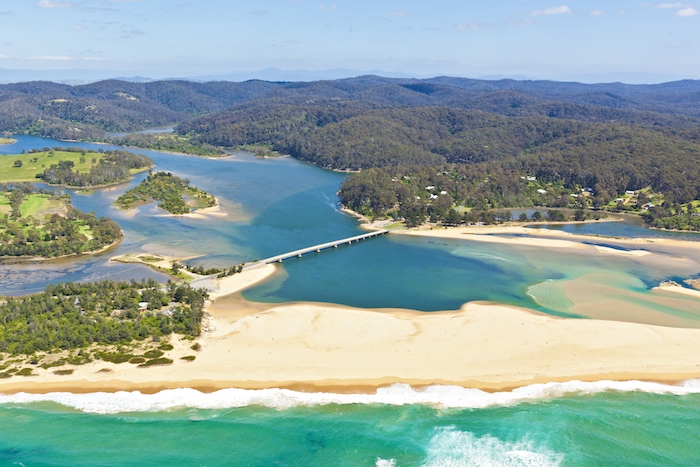 Tathra Beachside is an award winning park that boasts over 500 meters of absolute beach frontage. Situated in the pretty seaside town of Tathra on the beautiful Sapphire Coast in NSW's south, this stretch of coast has been recognised by Australia's Coastal Wilderness for its unspoilt landscape and absence of crowds.
This family park is 100% pet friendly and offers a diverse range of accommodation options to suit all needs and budgets, from luxury 3 bedroom beach houses to shady grassy campsites and everything in between. Most impressively, there's a serious waterpark to delight the young and young at heart.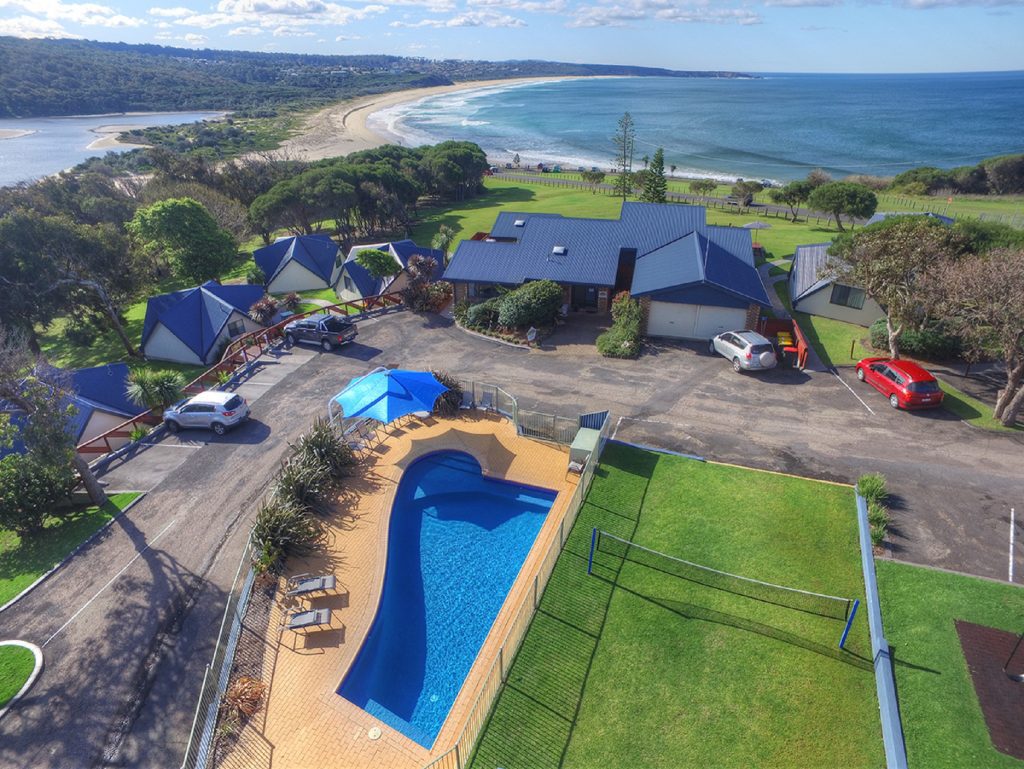 If you're looking for something kid and pet-friendly, Beach Cabins Merimbula has it all. A family-owned business located on a 2.5 acres of pristine headland and only two minutes away from town and 5 from the beach, this is a peaceful and personal accomodation choice.
You can select from studio, 1, 2 and 3 bedroom cabins with park, lakeside or beachfront setting. Offering panoramic views of the ocean off Short Point, the beachfront is definitely our pick.
The perfect place to take your pets for a leisurely walk or kick back at the picnic tables while watching the kids play. Boasting a heated pool, volleyball and badminton courts, a dog-friendly beach and off-leash reserve, this is truly family-friendly holidaying!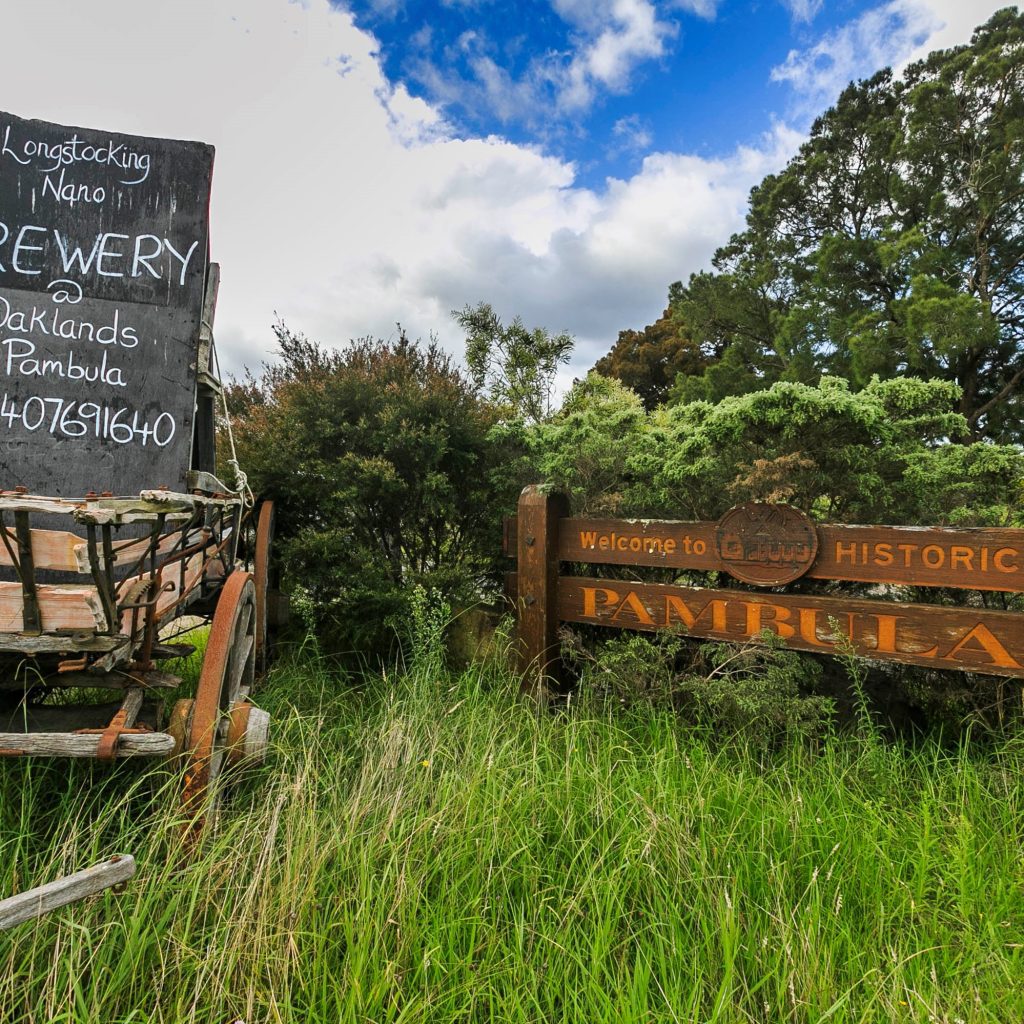 Conveniently located within an easy stroll of the cafes, art galleries, boutiques and restaurants of Pambula Village, Reflections Holiday Parks Pambula is the ideal pet-friendly accommodation to enjoy all the gems of the Sapphire Coast. With a range of powered and unpowered sites for tents, RVs and caravans, this is great for families of all sizes. 
The park is situated amongst some gorgeous natural surrounds, like Pambula River Mouth, Panboola Wetlands and the nearby attractions of Merimbula and Eden. Pambula is known for their oysters, so be sure to enjoy the fresh local fare. Sight-see by bike, go for a surf at Pambula Beach or simply enjoy a casual tennis game on the on-site court.
Dogs are permitted year round, provided they are on leashes and dog waste stations are available throughout the whole site.
Nestled between the Southern Highlands and the beautiful NSW South Coast, this pet-friendly accommodation is right in the heart of Kangaroo Valley village. Choose from the Apartment or the larger Residence depending on your needs.
The Apartment is well suited to a couple looking for a quiet, relaxing getaway and has 1x bedroom, a spacious living area and a fully functional kitchenette. The Residence is equipped with 2x bedrooms, a full kitchen and a fenced backyard where your pets are free to play to their heart's content. Each part of the property has private access and free, off-road parking.
You may choose to indulge in the complementary sparkling wine and kick back with a good book, explore the peaceful rural property and surrounds and take the easy walk to the local collective of cafes, shops and restaurants. The central location means there's no need to take a taxi home after dinner and drinks in town!
A mere 50 metres from the beach, this beachfront accommodation boasts spacious living and a relaxed coastal atmosphere. Callala Beachfront at Jervis Bay is a multi-story house with front, side and rear decks that show up 180 degree views of the bay.
With a fully functional kitchen, 2x bedrooms, 2x bathrooms and laundry facilities, you'll enjoy modern comfortable furnishings and appliances. From a Nespresso coffee machine, air-con, Weber BBQ and dishwasher to a wall-mounted flat-screen TV, Wifi, Netflix, Applie TV and Xbox, you'll have everything you need to kick back and relax! There's also a garage full of beach toys, tennis rackets, kayaks, push-bikes, fishing rods and table tennis.
The property is pet-friendly with a secure backyard. Plus, Callala Beach welcomes dogs, so you can take your fur-baby for a frolic. With the ocean just minutes from the front door, this holiday hotspot will cater to the whole family, four-legged and all.
Reflections Holiday Parks Bermagui combines charm and convenience and provides the perfect base to explore this gorgeous coastal town. Whether you're camping and making use of the clean amenities and a fully functional camp kitchen, or choosing an accessible, self-contained cabin, it's a great choice for couples and families alike.
You can choose from standard or superior cabins, sleeping from 2-6 people. Reflections Holiday Park is pet-friendly (excluding 24th Dec to 15th Jan) 
Enjoy close proximity to award-winning restaurants, gorgeous beaches and the best fishing the Sapphire Coast has to offer. Whether you want to scope out Horseshoe Bay, have a morning dip in Bermagui's famous Blue Pool or devour fresh seafood at Fisherman's Wharf, there's plenty to do and see. The park is also conveniently located near quality local supermarkets and cafes.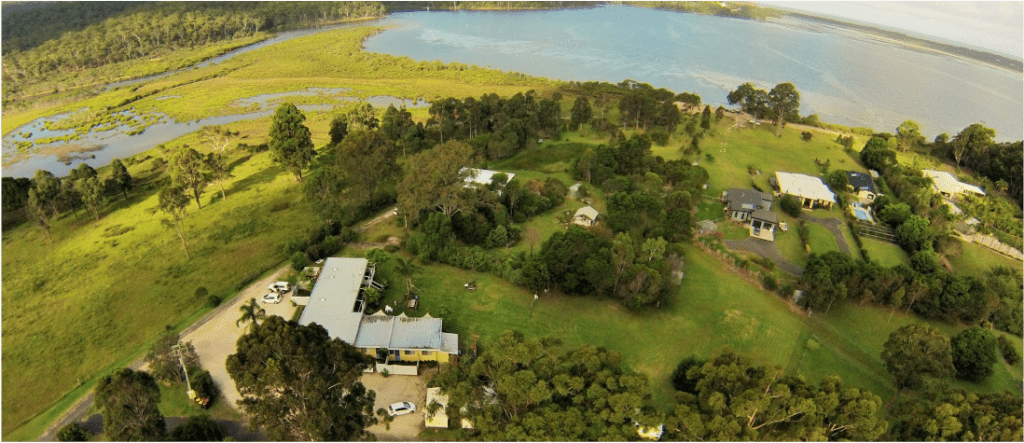 Situated on Merimbula's Top Lake in Millingandi, this dog-friendly accommodation is a must-stay. Top Of The Lake Holiday Units is surrounded by beautiful wetlands and a stone's throw away from the water, so you can soak up the views, spot local birdlife or explore the nearby beaches and national parks. Plus, Merimbula and Pambula are only a 5-minute drive away, with the rest of the South Coast right on the doorstep.
You have a choice of one or two-bedroom units – all of which have well-equipped kitchens, heating and cooling, complimentary linen and TV/DVD players. There's also a boat ramp, jetty, boat storage facilities, free quest laundry, communal BBQ and extensive shared gardens. The property is pet-friendly and all four-legged friends are welcome (just keep them supervised throughout your stay.)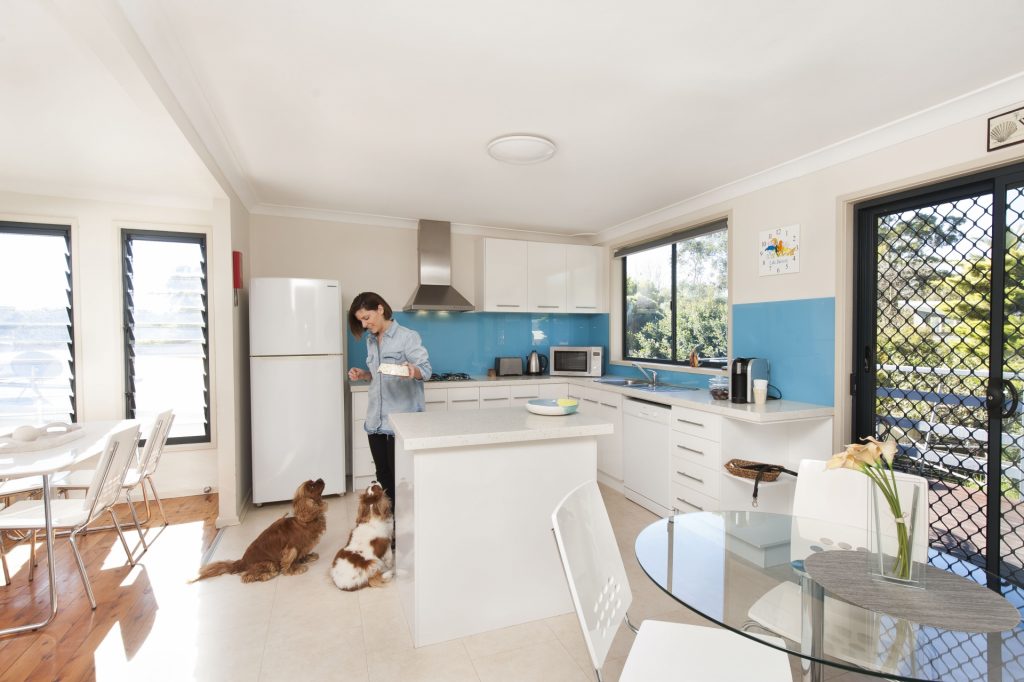 Just a short walk to Mollymook beach, Hank's at Mollymook is a spacious, renovated home for families and friends to come together and enjoy the coastal lifestyle that Mollymook has to offer.
It is ideal for a large family or 2-3 couples. Over two split levels, guests can enjoy 4 bedrooms, 2 bathrooms, 2 living areas and a rumpus room. All bed and bath linen is supplied.
The property is fully secured, with a 1.8 m colour-bond fence surrounding the large back yard, making Hank's at Mollymook the perfect choice for guests holidaying with pets. Spend time with family members and fur-babies over an outdoor BBQ or a game of table tennis or foosball.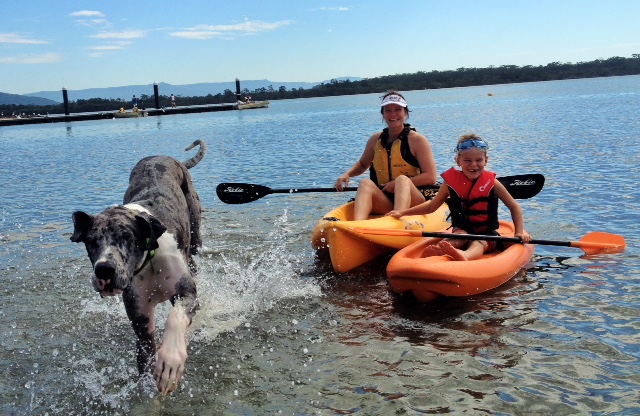 Located at Greenwell Point, just 2.5 hours from both Sydney and Canberra, South Coast Retreat is the perfect coastal getaway for you and your fur-babies. You can choose from waterfront cabins – and 'glamping' options. They're a member of Eco-Tourism Australia and have been awarded Certificates of Excellence since 2013 by TripAdvisor, as well as a Platinum Award for implementing eco-friendly initiatives at the highest level.
South Coast Retreat offers waterfront cabins – one large 4 bedroom holiday house, five 2 bedroom cabins, one 1 bedroom cabin and three studio cabins – as well as some glamping options in the form of four luxurious safari and large bell tents. Spread across 1.25 acres at the tip of Greenwell Point, South Coast Retreat offer kayak hire, free bike use, DVD loan and complimentary farm-fresh eggs and veggies (subject to availability). You can even take them up on a South Coast local tour, to soak up the sights and maximise your stay. 
All accommodation is dog friendly all year round, and South Coast Retreat prioritise keeping your pets happy, loved and well looked after.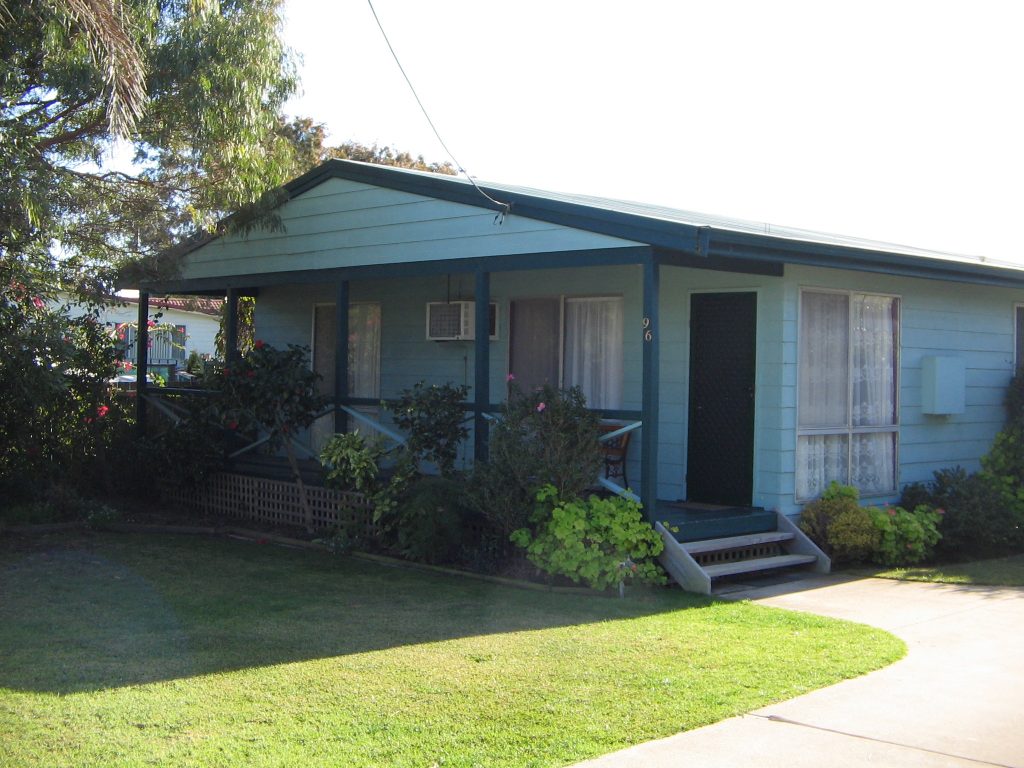 If you're seeking a coastal getaway, this lovely cottage is only a 2 minute stroll to Tomakin Beach. You're conveniently located close to neighbouring shops and cafes, and 100m from the local river. Go exploring outdoors and soak up the secluded winter scenery, or rug up and get cozy indoors with a great book.
Sunpatch Cottage has 3 bedrooms and 2 bathrooms and is comfortably furnished. Enjoy open plan living, a modern kitchen and a covered outdoor BBQ and patio. Linen, electric blankets, heating and pantry staples are all provided. 
The cottage is 100% pet-friendly and is fully fenced so your fur-baby can romp around outside. With Tomakin Beach being a 24hr, off-leash zone, you'll have no shortage of outdoor adventures. You can also visit the neighbouring South Coast towns of Mossy Point, Broulee, Malua Bay and Batemans Bay. Sunpatch Cottage promises a delightful family holiday for everyone.
This waterfront property will have you feeling like you've escaped to the tropics! Plantation Point Beach House is situated at Orions Beach and only a stone's throw from the magnificent Jervis Bay. 
Whether you're lounging on the verandah, enjoying a spectacular dive or snorkel, strolling the many beaches or heading onto a bush track, there's no shortage of things to do in the area. It's just a 3 minute drive to shops and five mins to Huskisson for restaurants and shopping. 
The open-plan house itself sleeps six people and is perfect for a family or group of friends. It has 2x bathrooms, 2x bedrooms, spacious lounge room, dining area and rumpus room, complete with air-con, linen and a fully stocked kitchen. It's very pet-friendly, with a secure and fenced front/backyard. That means it's perfect for 360 degree puppy playtime!