So your hitting the road with your 4 legged friend – How exciting. To help with your travels we have compiled what we think (and have been told) are the top 5 products for when caravanning with pets.
---
1. Pet Playpen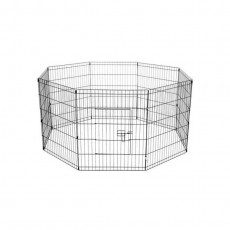 Playpens are fantastic for when you are sitting out under your awning and you need somewhere safe for your fury friend to run around in or to relax. They are extremely easy to set up and can be folded flat quickly for easy storage and transportation. This sturdy product comes with eight panels and includes latching system for extra safety. There are multiple sizes available.
Features:
Multi-configuration
Strong Steel Frames
Round Edges – Safer for your puppy
Suitable for a variety of pets from dogs to ducks
8 Panels
Bolt Latches – Easy to open the door
Durable Quality
Quick Set up without tools
Easy storage and transportation
Panel Dimension: 61cm x 76cm
Size: 30 inch
---
2. Training Pads
These are handy things to have in the cupboards for those times when someone doesn't quite make it outside in time or a loo stop just isn't an option. If your pet is trained to go on these pads it makes for an easier clean-up for when these accidents happen. These 60 cm x 60 cm pads have a super absorbent polymer filling, which turns liquid into gel and locks wetness in the pad. The plastic backing protects your floors and a thick top layer resists scratches and tears. It has a built-in attractant scent which encourages puppies to use the pad, and sealed edges to prevent leakage
Features:
60 cm x 60 cm Puppy Training Pads
Odour Control System
Extra Absorbent Pads
Protective Bottom Layer
Super Absorbent Polymer
Great Toilet Training Tool
---
3. Portable Pet Car Booster Seat
This is more for the smaller pooches that love to travel. We have heard so many great reviews for this booster seat that's its no wonder it makes our list. Because all dogs have that natural urge to look out the window, this booster seat ensures they can securely look at their surroundings whilst being transported from one point to another. For small to medium sized dogs, don't miss you chance to snap up this bargain today!
Features:
Portable Pet Booster Seat
Comfortably indulges your dog's natural urge to look out the window while in the car
Adjustable strap attaches to car seat headrest and around seat
Comfortable pad cushion protects seat from pet hair
Breathable mesh walls
Designed for medium size dogs or small dogs who like extra space
Inside leash attaches to pet collar or harness
Can be used on the front as well as back seats
Max. Weight Capacity: 9kg
Dimensions: (W) 40cm x (D) 40cm x (H) 26cm
Weight: Approx. 850g
Colour: Red
---
 4. Pet Car Seat Cover
There's nothing worse, you have just gone for a swim in a beautiful waterhole and then poochy thinks its time to go and jumps back in the car…wet. Well smelly wet dog upholstery no more. This is a durable quality car seat cover for dogs and cats. Hammock style discourages your dog from jumping into the front seat and is safer for sudden stops. Back seat can be split to accommodate a passenger, as well as your pet! This tough, water resistant seat cover will not only protect your expensive leather car seats, but also help to organize your leash and other supplies. This large rear seat cover measures 150cm length with 140cm width and it fits into almost any car to guarantee the comfort and safety for your pets.
Features:
Protect Your Car Seats from Fur, Water and Scratches
Give your Pet Comfort while Traveling in the Car
Water Resistant
Hammock Style Seat Cover
Install on Seats with Flexible Plastic Clips
Fits Most Cars (not suitable for vehicles without headrests)
Made from 600 Nylon
Durable Quality
---
5. Pet Trampoline Bed
Last but certainly not least we have the pet trampoline bed. When you are sitting back in your travel recliner your pooch will be spread out on the trampoline bed. The cover is double-stitched laminated and cleaning is a snap. You can simply brush away the pet hair and other dirt, then rinse it and let it dry.
Features:
Size: 110 x 80 cm
Durable weave resists rips and tears
Weatherproof-material prevents rotting, mildew and mould
Double stitched and heavy duty laminated cover
Light weight
Easy to clean
Easy to assemble
Free Carrying Bag
Have we missed any products you think are  must when caravanning with pets? Please let us know and comment below.