There's no doubt about it – Sydney serves up some seriously good cafe culture. With different options to suit every single palette and budget, there's no shortage of incredible cafes and restaurants on offer. And not only that, but there's plenty of bars to book-end all those culinary expeditions. Whether you're craving a fancy cocktail or want to sample local brews, Sydney's pub scene is second to none. 
But as pet owners, we all know that the most important criteria for your local haunt isn't the delicious menu – it's whether they're pet-friendly! Fortunately, Sydney priorities our pooches too! To help you out, we've pulled together a round-up of the cafes and bars in Sydney that welcome pets and people. 
CAFES:
There's no other leader for this collection than the formidable 
Cafe Bones in Leichhardt
. Touted as the world's first dog-friendly cafe, these establishment has long had the vision of a vibrant meeting place for people and dogs.
Offering outdoor seating only, seeing owner and pet alike out for a lazy Sunday brunch is the norm. Your pet can stretch out, sniff other dogs and enjoy a (trademarked) Pupaccino! Cafe Bones prides themselves on offering high-quality food and beverages for both humans and dogs. The cafe is open 7am – 6pm Mondays to Fridays and 7.30am – 6pm on weekends.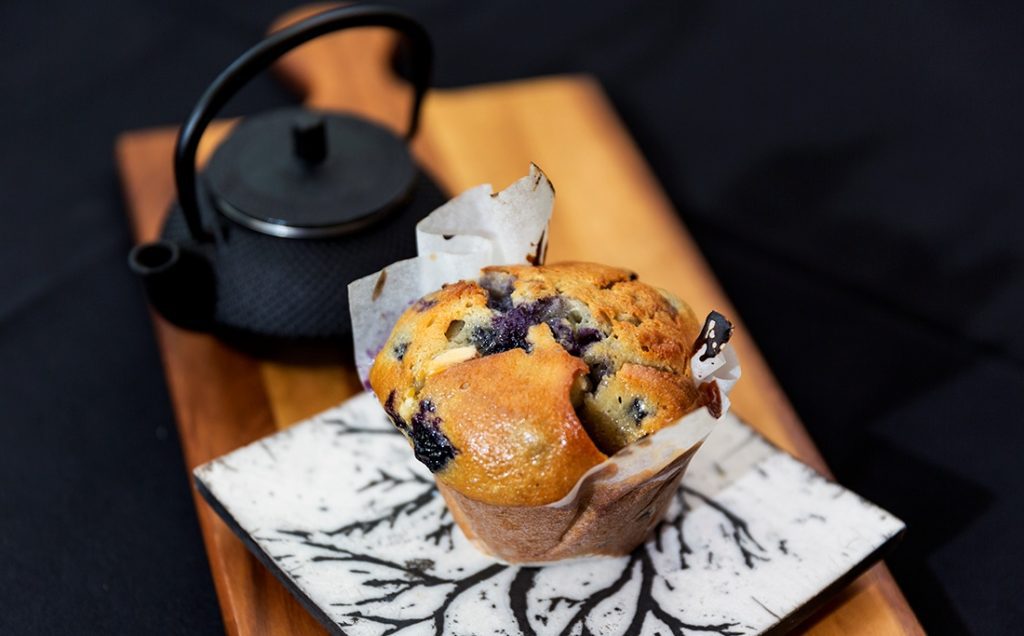 The perfect people watching location, Bar Sirocco is situated in the heart of Annandale Village on Booth Street. Street front seating on the all-weather balcony means you're in the prime spot to check out the comings and goings of people on a lazy Sunday morning. They're open 6.30am – 3.30pm Mondays to Saturdays and 7.30am – 3.30pm on Sundays.
Your dogs are more than welcome in the outdoor area, and they can rub noses with other spoilt pooches as you sip your cappuccinos. The food is substantial, quality and satisfying. Cinnamon French toast, eggs benny or a hearty Sirocco breakfast are our favourite morning fare. Burgers, pastas, salads and sandwiches dominate the lunch menu, all made to order.
Their delicious coffee goes down a treat with any of the house made sweet treats. PS: The blueberry and white chocolate muffins are without a doubt our favourite.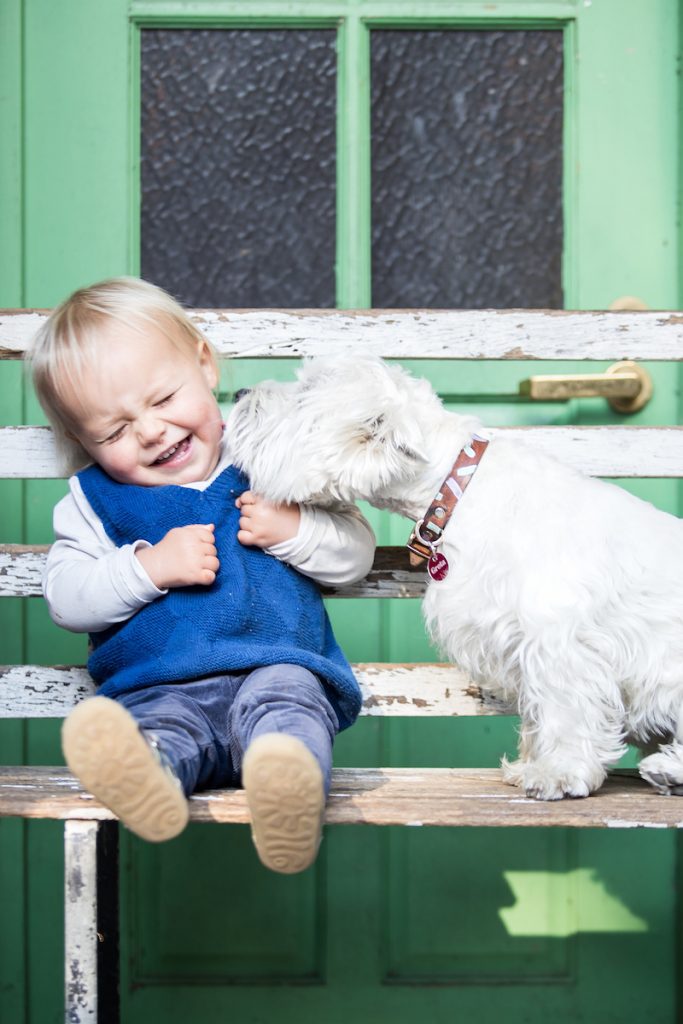 Easily the most photogenic cafe in Sydney, The Grounds of Alexandria will have you snapping pics of your fur-babies before you can say 'no filter!'. Set on a sprawling complex of organic gardens and rustic courtyards, the cafe celebrates Sydney's industrial past and throws in a contemporary twist. The menu is wholesome, home-style and produce-driven, with innovative choices that range from mediterranean brekkie bowls and roasted pulled pork and slaw sandwiches, to seared Tuna Niçoise, to zucchini and stracciatella tart.
There's also a coffee roastery on-site where you can enjoy freshly roasted seasonal blend and single origin coffees, and it's impossible to say no to an accompanying sweet pastry from the Bakery/Patisserie. Boasting a 800kg bread oven, you can feast on house breads, pastries and a signature potato and onion flatbread. Your fur-babies are totally welcome, and they aren't the only four-legged friends on site. Why not stop by and say hello to the resident farm animals! The Grounds of Alexandria is proudly pet and kid friendly and has a true community feel right in the heart of Sydney's Inner West. It's open 7am – 4pm Mondays to Fridays and 7.30am – 4pm on weekends.
The Mowbray Eatery is an absolute gem on the North Shore of Sydney. The menu is full of your favourite staples, with breakfast options like house-made banana, date and walnut bread, pea and corn fritters, eggs benny and big brekkies. For lunch, dig into a wagyu beef burger or steak sandwich, bao buns, chicken and poached salmon salads and fish and chips. 
It's a perfect spot for families – and fur-babies are included too! The lower deck area is open to pets, so there's plenty of space for them to recline. Kids will absolutely love it too, and can run around to their heart's content on the playground while you supervise from the deck and savour that cappuccino! There's a menu just for little ones, with choices ranging from farm eggs with bacon and sausage and french toast, to fish and chips, grilled chicken and kids pasta. The cafe is open every day 6.30am – 4pm.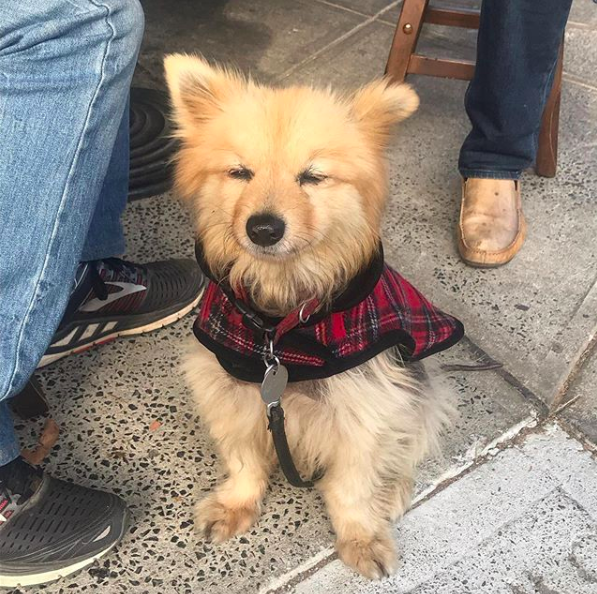 Petty Cash Cafe is a pet-friendly gem of the Marrickville cafe scene. It's gotten a formidable reputation as the go-to place for hearty, home-style vegetarian and vegan fare. There's a standard cafe menu for meat-lovers, with free-range scrambled eggs, eggs benny and bacon and egg sandwiches, but the owners can do magic things that would turn even the most staunch carnivore into veggie fiends. Whether it's the vegan bacon that is scarily close to the real deal (made from beans and buckwheat), scrambled tofu, or vegan, fruit-piled pavlova and dense, peanut-y brownies, you'll be fed well here! 
The decor is full of personality, with mismatched vintage finds and lots of outdoor seating. It's an incredibly welcoming place, with an emphasis on creating a safe, LBGTIQ-friendly and community-focused space. You can even take your lunch across the road to the park and dogs and kids alike will find lots of room to play. It's open 7 days a week, 7.30am – 3.30pm.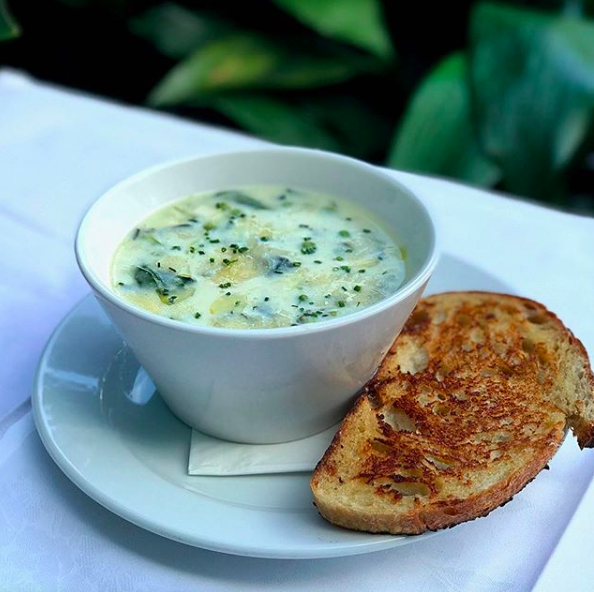 If you're in the Darlinghurst area, it's hard to go past this classic cafe haunt. Established by the Stables Group,
Posto No 19
has a distinctly Italian flair and feels chic and communal all at once. The decor is all potted ferns and timber tables, with outdoor seating that welcomes canine customers. The menu includes all-day breakfast with eggs of all iterations! Whether you're loading up on the scramble with chives and feta or choosing poached with avocado and coriander, the meals are good value, filling and delicious. Porridges and granolas are also available.
Lunch features scrummy sandwiches like their roast pork, swiss cheese and slaw creation, or Italian-inspired plates of orecchiette. There are daily specials on offer and dinner is served from Thursday through to Sunday. The cafe is open 7am-3pm weekdays and 8am- 3pm weekends.
Want even more?
BARS: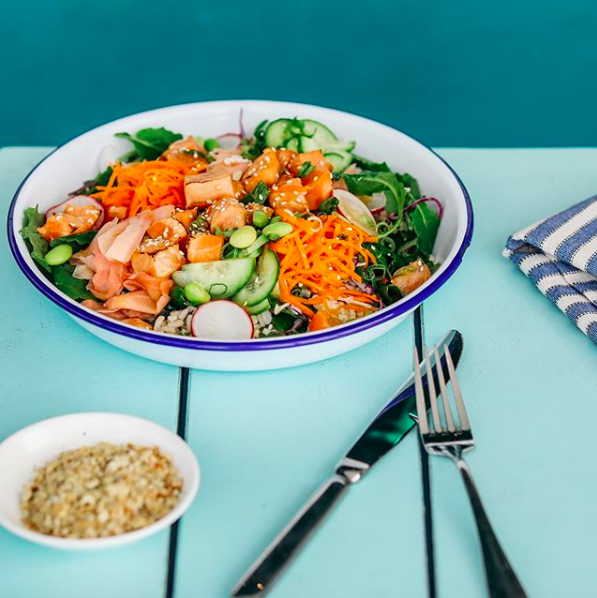 The Bucket List was originally canvassed as a pop-up bar, but it's cemented itself as a clear favourite in the Bondi scene. Boasting divine views of the iconic beach, it's the ultimate place to celebrate with friends and fur-babies alike. It's Bondi after all – there's pugs and poodles aplenty! Pets are welcome outdoors if on a leash. When it comes to food, there's a range of small plates and large sharing plates, as well as go-to favourites of tacos, burgers and seafood. Try out the pork crackling burger, the crumbed eggplant parmigiana burger, the BBQ lamb skewer plate, the cured and smoked fish plates or the scorched miso poke bowl. 
And the cocktails can't be missed! Whether you're in the mood for a classic pitcher of sangria or a signature 'Life's Peachy' with aperol, absolut peach and lemonade, you'll find something delicious. There's also a solid range of easy-drinking beers and ciders too. The Bucket List is open Monday and Tuesday 11am til 5pm, but stays open late Wednesday to Sunday.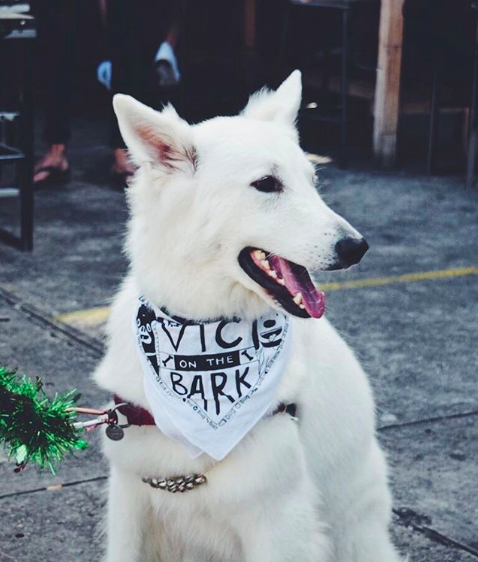 Dogs aren't just welcome at this Inner-West institution, they're absolutely celebrated. The Vic on the Park is known for it's spacious outdoor area, quirky wall art and basketball court, and pooches rule the roost out here, with breeds of all shapes and sizes enjoying the atmosphere and sneaking some pub fare from their owner's plates. With Enmore Park right across the road, you also have an easy escape strategy if your pet needs a quick break and run-around. Best of all, there's even a doggie badge draw, with all proceeds going to Maggie's Rescue. 
The food is quality, with upgraded bar fare of buttermilk fried chicken burgers, anti-pasto boards, crispy potato skins with sour cream mayo, mushroom risotto and vegan/vegetarian options always available. On weekends you can grab a tasty chicken, vegan or Gyros Rotisserie lamb roll, complete with chips and tzatziki. Local breweries Batch Brewing Co and Young Henrys are favourites, but you can always find a sharing jug of Carlton Draught. There's often special events of weekends, and you can live bands and DJ sets. It's open Monday/Tuesday 10am – 1am, Wednesday -Saturday 10am – 3am and Sundays 11am – 10pm.
The Grand National is one of Paddington's favourite pet-friendly haunts. After a recent renovation, this institution has certainly got an upgrade but retains everything a good pub should be. With a menu of burgers, pastas, schnitzels, salads and salmon, as well as a classic grill selection and tasty appetisers, you'll always be satisfied with lunch or dinner here. There's a full bar on offer, with local favourites on the line-up. 
Not only is your dog welcome in outdoor areas, the whole front bar is also pet-friendly! With high tables and chairs inside that your pup can sit underneath, this hotel is the ideal pet-friendly watering hole for the winter months as well. Just steer clear of the bistro when your four-legged drinking mate is in tow. Staff even have dog bowls and treats on hand, so that they don't feel left out when you're chowing down at the pub trivia night! The Grand National is open 12pm til late every day of the week. 
This Surry Hills favourite is an art-deco pub that has undergone a stunning renovation in recent years. Whether you're in the mood for a weekend cocktail, a lazy Sunday session or a delicious dinner, there's something on offer for everyone. You can enjoy daily lunch specials, happy hour from 5pm-7pm daily and live music on the weekends. The menu boasts a delicious range of home-made foccacias, finished off with toppings like green olives, picked eggplants and grilled lamb skewers. You can also sample options like their slow-cooked lamb shoulder, poached prawns or Mafalde pasta with goat ragu. There's a classic kids menu of scnitzel, cheeseburgers and pizzas (plus they eat free Monday to Thursdays!) and the outdoor courtyard is perfect to bring the whole family along. The drinks range from Pimms cocktails and Espresso martinis, signature concoctions like the Ghettoblaster and all your favourite beers and ciders. 
The Beresford Hotel is known for being incredibly pet-friendly, even putting on an amazing annual dog show with prizes. Dogs are going to be comfy and care-free in the courtyard – but just be warned, it's the place for pooches to see and be seen, so this is the time to groom them up and get them noticed! The Beresford is open Mondays/Tuesdays 12pm – 12am and Wednesdays to Sundays 12pm – 1am.
Balmain Hotel is a chic, cozy, pet-friendly find in Sydney's Inner West. It dates back to 1869 and boasts the title of Balmain's second oldest pub, but it's recently been upgraded with a stunning, spacious beer garden with a shady tiki hut and tropical-themed interiors. Your four-legged friends are welcome in the outdoor seating area.
The pub menu is a cross between the Deep South and Asia, and the combination surprisingly works wonders! Between Balmain baos and poke bowls, teriyaki and buffalo chicken swings, chicken and fish tacos and a beer cheek, ale and bacon pie, the servings are filling and delicious. There are also $15 steaks on Wednesdays, $12 daily lunches, a Happy Hour held 5pm – 7pm and cheap-as-chips seafood platters on Sundays. Oh, and don't miss out on the dessert menu, complete with churros and salted caramel sliders! Balmain Hotel is open everyday, midday til late.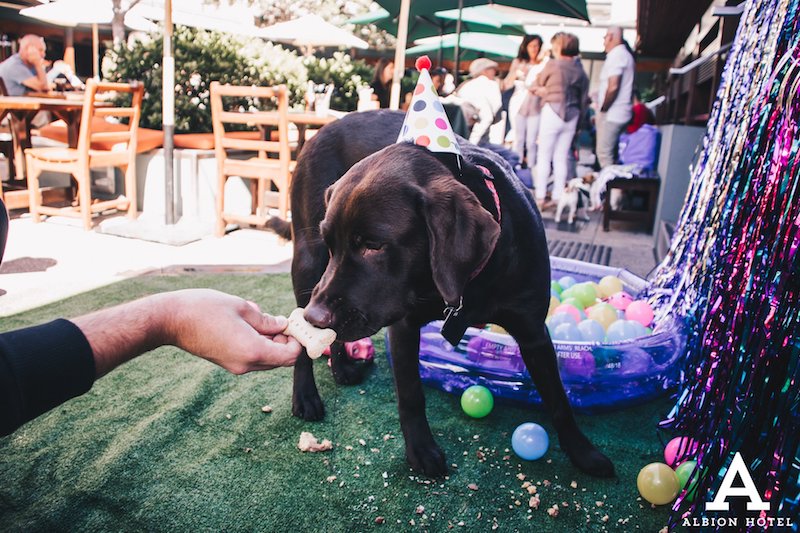 The Albion Hotel is a Parramatta institution. Once known as 'Annie's' down by Gasworks bridge, this watering hole has always been a local favourite. Offering classic pub fare with a modern twist, the menu includes prawns with artichoke, mozzarella and mint, chickpea burgers and grilled snapper fillet with asian greens and Japanese broth. The cocktails are similarly inventive, with signature offerings of 'Right Hand Man' (12 year old whisky, amaro and rhubarb bitters), 'Ladies Doing Lunch' (gin, peach liqueur and velvet falernum) and Cucumber Margaritas. 
Dogs of all breeds and sizes are absolutely welcome to dine in the beer garden (they just ask that they're home by 8pm). Plus, you can make it a whole family affair, with kids welcome in the Lounge Bar and Garden Bar until 9pm, especially when major sports matches are on. The Albion is open Monday to Thursday 10am – 4am, Fridays 10am – 6am, Saturday 9am – 6am and Sundays 9am – 12am.