Australia has without a doubt some of the best beaches in the world, and what better way to discover them then with your fury little companion in tow. Why should they miss out on the fun too.
To help you get your travel juices flowing and your bucket list ready for travel when its safe to do so, we have compiled what we think are the 10 must-visit pet friendly coastal destinations Australia has to offer.  Each pet friendly destination has miles of things to see and do, including offering pet friendly accommodation, pet friendly caravan parks, leash free parks, dog friendly beaches, pet friendly cafes and ensures you and your best friend won't miss out on the trip of a lifetime! As always, remember to read the signs, pick up after yourself and the pooch and always have your pooch under control.
Here are 10 must see pet friendly coastal destinations in Australia: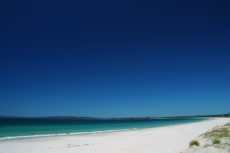 1. South Coast, New South Wales
The South Coast is extremely popular with holiday-makers in Australia and from around the world.  Fortunately there's loads of pet-friendly accommodation there for you to choose from like Batemans Bay Pet Holidays or browse the many caravan parks, B & B's, fully furnished houses to chic cottages. Take your pick!
Shoalhaven provides a huge range of off-leash areas for dog owners. On the beautiful Callala Beach promenade, you can let your dog explore the sand and lovely beaches without a leash from 4:00 PM to 8:00 AM each day. One of the many dog friendly beaches the South Coast has to offer.
Check out pet friendly South Coast, NSW or download our Pet friendly Travel Guide to South Coast NSW
---
2. Great Ocean Road, Victoria
The Great Ocean Road is far more than just tarmac – it's 243 kilometres of fun and sun and considered one of the world's most scenic coastal drives.
In addition to a huge range of pet-friendly cottages and B&Bs throughout the area, you can also take dogs on trail walks into Peterborough township. There are also great off-leash areas at Port Campbell recreation reserve, and at Camperdown Lakes and Craters. 
Check out pet friendly Great Ocean Road or read our blog post Travelling The Great Ocean Road With Pets
---
3. Gold Coast, Queensland
Get lost and unwind with all the attractions and entertainment the Gold Coast has to offer. There are dedicated areas where you can take your dog for a nice run or walk. The Spit and Palm Beach both feature three-kilometre areas where you can ditch the leash and let your furry friend have a bit of fun. It's the perfect way to burn off the calories you've taken in at pet friendly cafes like Social Brew or Parc-Bah Espresso where they sell gourmet dog ice-cream for your pooch!
Looking for pet friendly accommodation on the Gold Coast? Quest Robina offers pet friendly rooms decked out with food and water bowls, pet futon, lounge cover, treat on arrival, and their very own outdoor terrace to roam and play in.
Checkout pet friendly Gold Coast
---
4. Port Stephens, New South Wales
This beautiful harbour has something for everyone – swimmers, whale watchers, walkers, and more. There are ten designated parks and reserves for exercising dogs, while you take in the beauty of Nelson Bay or Solider's Point with your best friend right beside you.
Hawks Nest on the North Shore has 'LEASH-FREE'  dog friendly zones on all of their stunning beaches & parks.
Be sure to check out BotanicaBleu at Nelson Bay, with pets allowed inside and 2 fully fenced yards all within walking distance to the Marina and pet friendly beaches. I'm sure you will find this pet friendly accommodation caters well for all.
Check out pet friendly Port Stephens
---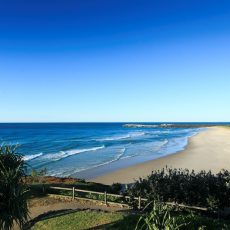 5. Byron Bay/Northen Rivers, New South Wales
Byron Bay is home to the most eastern point on mainland Australia, but it also has some hidden gems for pet owners alike. Belongil Beach is home to beautiful sand dunes where you and your dog can run and walk close to the centre of town. Another must visit pet friendly beach is Tallows dog friendly Beach, it even made our top 10 pet friendly beaches in Australia list
The Northern Rivers is an unincorporated area that offers a chance to get away from the hustle and bustle of life itself and soak in the beauty of the coast. Pet-friendly accommodation is located throughout the Northern Rivers and Discovery Parks Shaws Bay is just one of many places to unwind and soak in the sunsets.
Check out pet friendly North Coast
---
6. Sunshine Coast, Queensland
The Sunshine Coast has 13 dog friendly beaches and 24 dog friendly parks for you and your dog to sniff, run through fields and relax to your heart's content. There is a huge array of pet friendly accommodation on offer like Saltwater Villas and Trove Studio; not to mention the pet friendly cafes, such as The Velo Project (which has it's own doggy menu), Murray's Cafe, and New Earth Cafe just to name a few.
Check out pet friendly Sunshine Coast
---
7. Fleurieu Peninsula, South Australia
The Fleurieu Peninsula, located just south of Adelaide, offers incredible views over vineyards and beaches, but it's also a great spot for pet owners to visit. Many of the parks in the region, including the Onkaparinga River Recreation Park, allow dogs, meaning that you can walk along rivers, valleys, and gorges as you take in the natural scenery. From beaches and trails to cafes and cellar doors your pooch would love to come on your next South Australian adventure.
Check out pet friendly Fleurieu Peninsula
---
8. Tasmania
It can be a little tricky getting here but it is doable and totally worth it. Tasmania is home to a dedicated dog-walking community. You can catch some fresh air and make new friends – both for yourself and your pet. The island is chock-full of dog-friendly parks and beaches in Hobart, Kingsborough, and Huon Valley as well as further afield.
Would highly recommend Tasmania for travellers caravanning with pets as there are loads of pet friendly holiday parks on offer.
Check out pet friendly Tasmania
---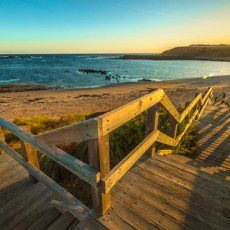 9. Phillip Island/Gippsland, Victoria
Just southeast of Melbourne, Gippsland offers hundreds of kilometres of stunning coastal scenery, carefully-preserved natural areas, abundant off-lead dog beaches and walking trails and an array of gorgeous accommodation for you and your pets. 
Across the bay is Phillip Island, which offers a great wildlife park and walks along the coast. You can walk your dog along Bass Coast Shire and the parks at any time from May to November and from 7am to 10am and from 5pm to 8pm from December to April. You certainly wont go hungry or thirsty either with loads of dog friendly venues on the island like Ocean Reach Brewing.
Checkout pet friendly Phillip Island and Gippsland
---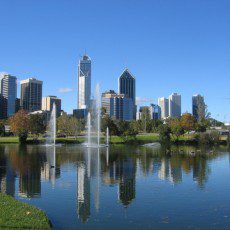 10. South West, Western Australia
The South West region offers unlimited potential for pet owners to have loads of fun on their trips. Perth offers city sights and dog-friendly parks, such as the Ashfield Flats in nearby Bassendean and North Floreat Beach in Cambridge. You can even find places to go camping with your pets along the coast in addition to pet-friendly accommodation, including caravan parks, dotted throughout the region. You can drive down the coast to Mandurah, where there are over 17 kilometres of off-leash beaches and parks for you to explore.
Check out pet friendly South West, WA
---
Have you visited any of these coastal destinations? Where is your favourite pet friendly destination? Comment below.